Not often a will a dealer restore an older sportbike to mint condition, rarer still if the bike is not a bargain purchase but someone's polished showbike.  But the Kawasaki ZX-7R K-model can have that effect on people, and the low-mile machine was a good place to start a great restoration.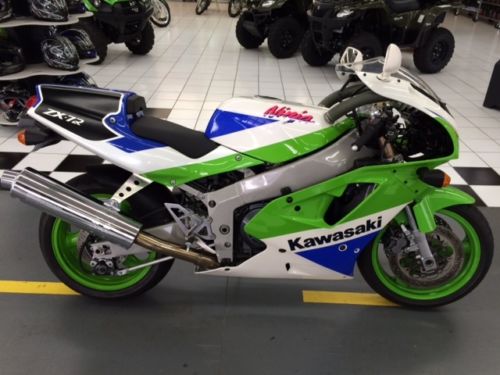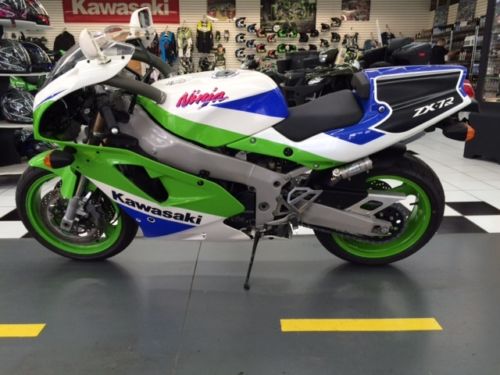 Built as an homologation special in very low numbers, the K variant has a few key upgrades from the standard.  Flat-slide carburettors which are just a millimeter larger, and after un-doing the factory restriction on the J-model result in 121 hp – a 20% improvement.  A close ratio transmission and slipper clutch are more track-oriented.  Front and rear suspensions are fully adjustable, overcoming the reported poor ride of the base version monoshock.  The exhaust hanger is done differently and of course there's the solo seat fairing.  Superb standard aluminum frame and floating disc brakes complete the package.
Evidently the previous owner's baby, the aluminum perimeter frame and swingarm had been mirror-polished .  Part of the restoration was disassembly and painting most of the polished parts the factory gray, however some of the polished bits still show here and there.  The rest of the bike looks cherry, stress cracks in the seat fairing repaired and painted.  Though it only has 8,000-ish miles, the ZX-7R has also been treated to a comprehensive mechanical service, as the eBay auction states:
Our Service Dept has gone completely through this bike from top to bottom. Did a full service on the engine including valve adjustment, valve cover gasket and all fluids and filters are OEM new. The chain and sprockets were replaced with new OEM parts from Kawasaki. Brand new Bridgestone Battlax BT106R tires were installed front and rear. New OEM brake pads and brake fluid were replaced front and rear.
While it's easy to find a ZX7-R, the K and accompanying enhancements make it a very special machine, must've been neat as a bike show winner.  A very well designed and high performing special edition, the fact that it has been returned to factory original make it part of a longer story.  The results appear to have been worth the hours poured into this rare bike…
-donn