Last seen here in 2010 with some 1,200 less miles, this FZR600 is as special as speed yellow and magenta.  Together.  A long-lived model built 1989-99, the FZR600 was the lightweight of the 600s, often winning the late braking segment and occasionally the overall shoot-out.  The Vance & Hines colors are a 1992-only edition, and at number 505 0f 636, this FZR600 offers great performance if only an apology to the pillion.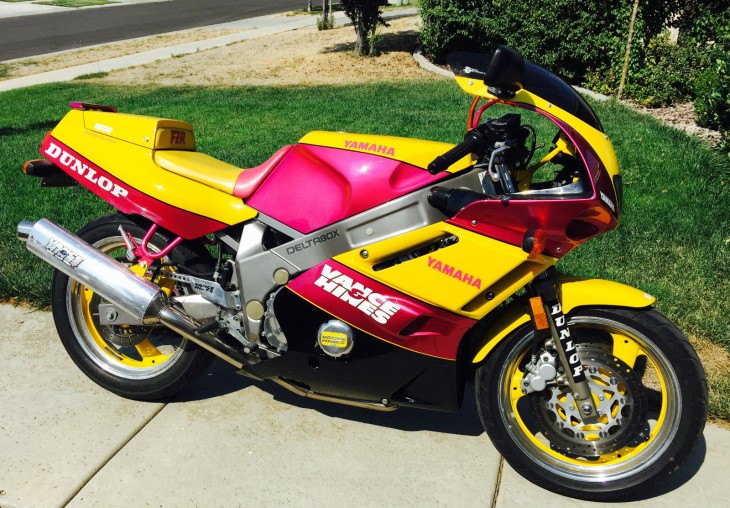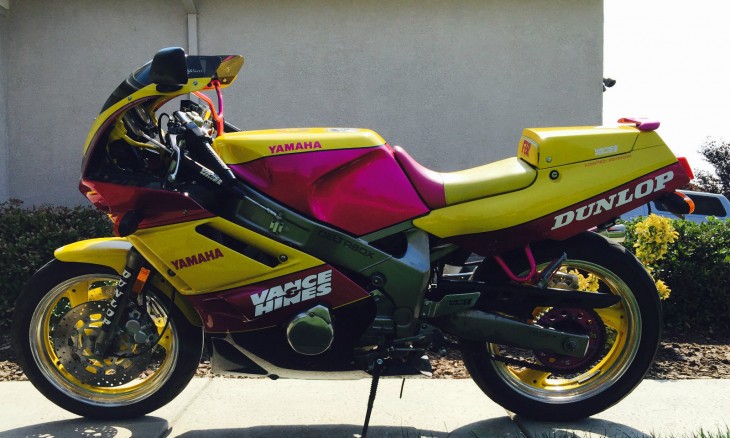 Using a light-gauge steel Deltabox perimeter frame, the FZR600 kept the weight around 450 lbs. fueled, not bad for the time.  The carburetted 4-valve engine delivered 91 hp via a 6-speed transmission.  Yamaha's EXUP controlled exhaust valve system was on some bikes in this era, but just as well not this one.  Dual disks in front of 298mm diameter, with single 214mm rear, are mounted to 17-inch wheels.
This Vance & Hines edition could use a detailing but looks good overall, having been mildly customized.  The color-coordinated seat looks great, and the rim edges have been polished.  Not sure the steering damper is factory, but it is Vance & Hines.  Exhaust system is polished and the owner states the engine is also, in the eBay auction:
– V&H SS2R Stainless Muffler
– V&H Stainless Steel Header
– K&N Intake Air Filters
– Has Rear Seat Cowling Cover
-Stabilizer Bar
-Engine Has been Polished
-Has Alarm
-Bike has custom neon lighting at night
-Has Come Seat with FZR in purple on back.  Comes with Original seat as well.
Not to mention alarm system, neon lighting, and the world's smallest banana wing on the tail cone.  The fairings look pretty good, and any mechanicals required should be easy.  With some judicious neatening up, you could have a single-year performer that could again be a show bike…
-donn