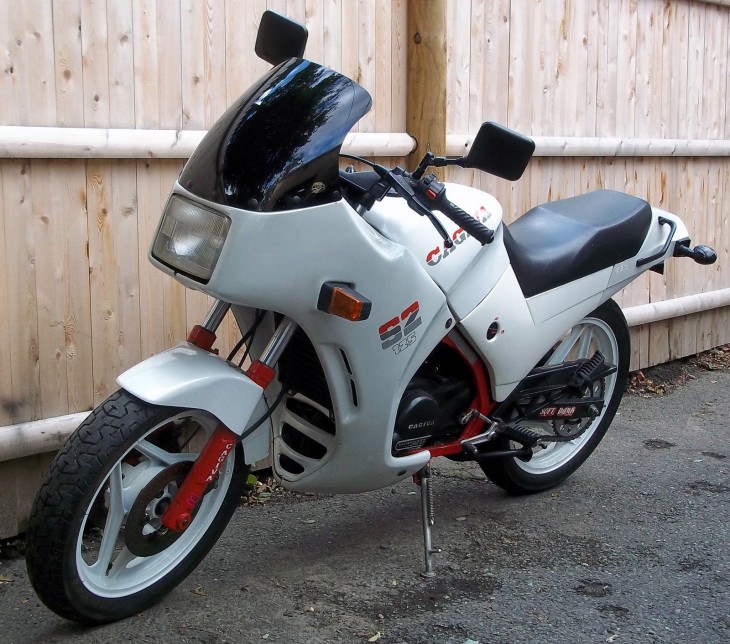 Cagiva's "Aletta Oro" S2 was designed to be a stylish, entry-level sporty motorcycle for countries where a "starter bike" is defined as something other than a 600lb, 883cc machine with no cornering clearance. The name translates as "gold wing" and the little bike offered up the usual light weight and nimble handling required to compete in the class.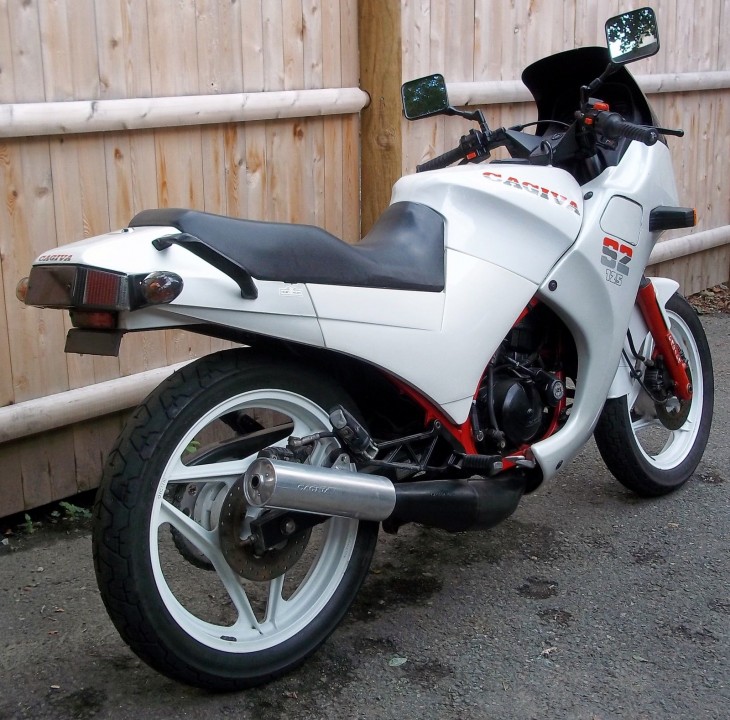 This is no race-rep corner-carving two-stroke like Aprilia's RS250, and had comfortable ergonomics, oil-injection, a six-speed gearbox, and a convenient electric-start that set it apart from other bikes in the class. Interestingly, that little door in the right-side fairing doesn't cover the fuel cap. Instead it allows you to access the water-cooled bike's radiator filler. And that comprehensive dash looks like it was taken straight off the Alazzurra 650, something that can't be said about too many bikes…
So while this was really never intended to be much more than a starter sportbike, it is still very cool and a far-cry from the Ninja 250s that passed for beginner "sportbikes" here in the USA. With 23hp and a sub-300 pound dry weight, it should be fun and very manageable.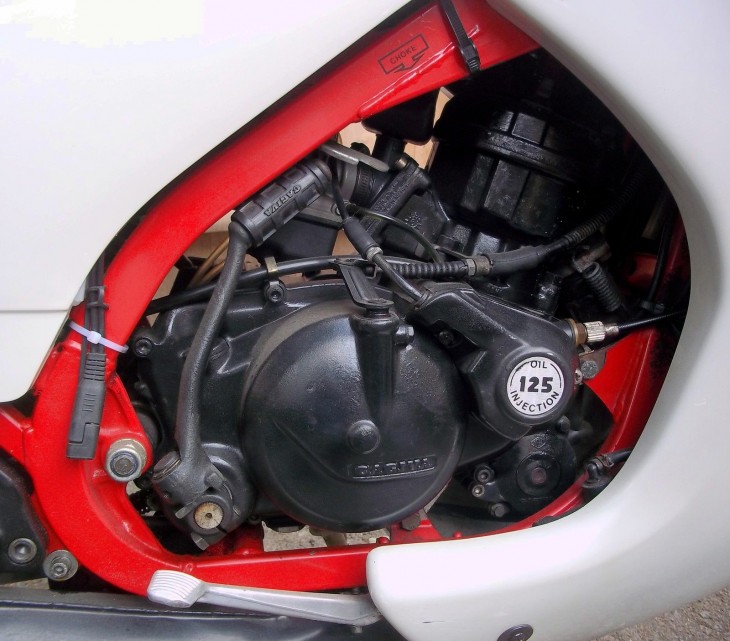 This example isn't in absolutely perfect condition, with a few minor chips and scrapes and those aftermarket rear signals, but looks to have been well cared for all 2,500 miles, and the body panels appear to be in good shape, a serious concern when shopping for a weird budget bike.
From the original eBay listing: 1986 Cagiva S2 for Sale
Up for sale is a clean, and very rare 1986 Cagiva S2 125cc motorcycle. We are a multi-line motorcycle dealership, selling new BMW motorcycles in addition to Honda, Suzuki, Kawasaki, and a few other brands. This Cagiva S2 125cc is both electric start (although there is no battery currently installed) & also kick start too.  Motorcycles like these are getting rarer & rarer each year & a bike like this deserves to be part of somebody's Italian motorcycle collection!  This bike has not been started in the past 2-3 years, but was in great running condition last time it was on the road.

A hard to find and rare motorcycle like this needs to be preserved in this original condition.  This Cagiva has just over 2,517 miles and was previously registered in New Hampshire, which does not issue titles for motorcycles older than 1999.
I'd expect parts to keep the engine running wouldn't be difficult to obtain in this era of eBay, although shipping times could have you waiting a while. Bodywork however, could be a pain and/or expensive to ship, so while this will probably prove to be a cheap buy, don't drop it or you might find yourself creating the world's first S2 "streetfighter…"
-tad