Up for grabs today is a RSV1000R produced as a tribute to the venerable Colin Edwards. Aside from being one of the most like-able personalities in recent racing history, Colin was also explosively fast and competitive. It is a shame that the last few seasons in MotoGP did not showcase his true talent, yet his absence from the grid is missed all the same. This replica was inspired by the Aprilia RS Cube machine that was raced in MotoGP, and was produced in pretty limited numbers. Somewhere between 450 – 461 were created (numbers vary), and only 50 were imported into the US. This is bike number 45 of 50. Performance wise, the CE machine sported the same track package as the Haga replica, with intake, airbox and injector mods, Akropovic exhaust and computer updates. These are rare and pretty collectible machines – check out the Edwards archives to learn more about previous editions posted on RSBFS.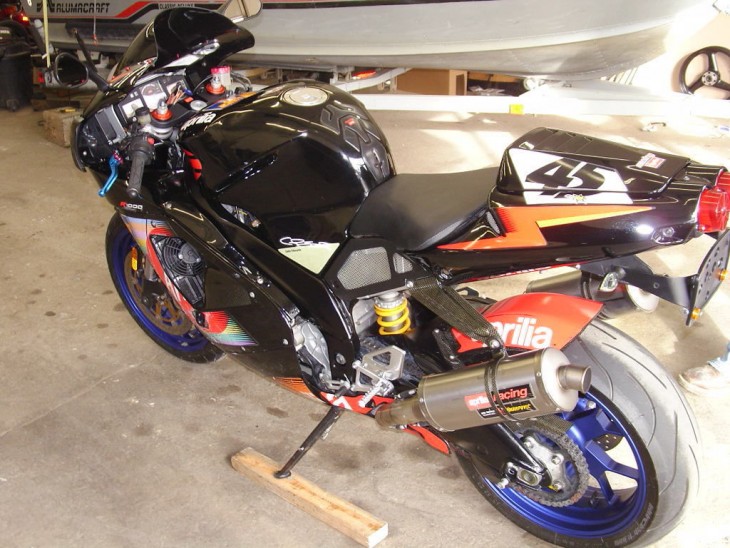 From the seller:
This is a very nice Aprilia in great running order!! Brand new Michelin tires)New Chain and sprockets less than 1k ago. All fluids changed synthetic Oil new brake fluid-Air cleaner etc. Runs out very strong. Has Colin Edwards 154hp engine and tons of carbon fiber parts factory Akrapovic titanium exhaust sounds awesome. Very fun bike to ride or race. Only 50 were released to the US and only 450 were produced so grab it up for a steal of a price on this Great Italian Beast!!!
The seller notes some damage to the bike, but no real detail as to the why. It doesn't look terrible in the pictures provided, but all the same let the buyer beware. We don't see these models every day, and given the spec level these are quite the gem in the Aprilia lineup. Besides, this one has only 6,000 miles. Check it out here and revel in the greatness that is Colin Edwards!
MI