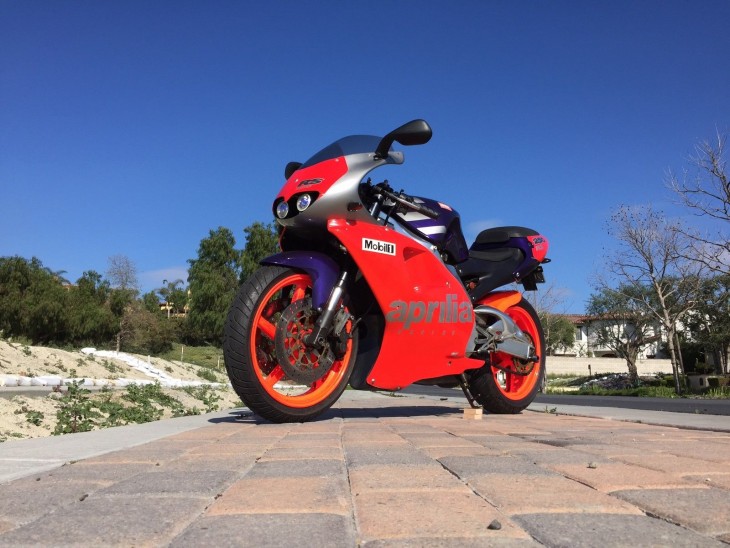 Fans of Rare Sport Bikes for Sale are obviously familiar with Aprilia's raucous two-stroke masterpiece, the RS250. Powered by a modified RGV250 engine and shaped to look like their winning GP250, the bike was introduced in 1995 and produced in road-going form until 2002.
Here in the US, where GSX-R600's are often referred to as "learner bikes, the RS250 was a bit unusual. With razor-sharp handling, light weight, and high-specification suspension components, it was an incredibly focused motorcycle designed to put handling and race track performance above all else. Beautiful details are found all over the bike, like the distinctive and racy "banana" swingarm that allowed the shotgun style exhaust pipes to stay as close as possible to the bike's centerline, increasing cornering clearance.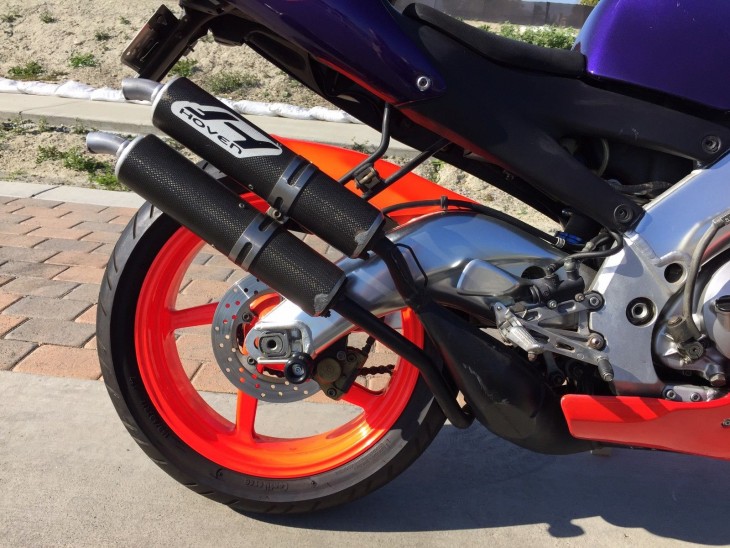 This is an earlier example, which I prefer, with a simplified, more traditional dash compared to the later designs. And although the later bikes do look great in silver and black, I happen to like this garish, black/orange/purple scheme.
From the original eBay listing: 1995 Aprilia RS250 for Sale with Clear California Title

2-stroke.
Clear California title, registration and pink slip. Impossible to find. This is reflected in the reserve price.
Runs well. Starts on first kick. Very powerful and screams when it hits the power band (9000-12000 RPMs).
No owner's manual or literature.
Good rubber, new rear sprocket and mirrors, carbs recently cleaned and tuned and new power valve.
Selling because I have a NSR250SP and since I have a baby on the way, one of them has to go and it's this one.
This is an excellent, extremely difficult to locate (titled, that is…) 2-stroke. It is, as listed, not perfect. However, if you want it to be perfect, parts are readily available and with a little wrenching you can have a mint bike. Or, enjoy riding it as is. Or, take it to track days.
Comes with a new (in box) Barnett Kevlar Clutch and 4 new spark plugs.

Flaws that I see: dent on left swing arm, looks like it was re-painted in areas, Some fairing bolts missing, slight (2 drip per week) leak from left shock, headlight cover missing, scratches on windscreen and fairings, left headlight doesn't work, aftermarket blinkers (one of which is broken), seat faded, end of clutch lever broken off, choke cable pulled from mount, speedometer cable missing (I just took it off because frayed, planned on getting new one), crack in temperature display plastic, couple dents/scratches on exhaust, I only have one key. Check the photos, which show everything.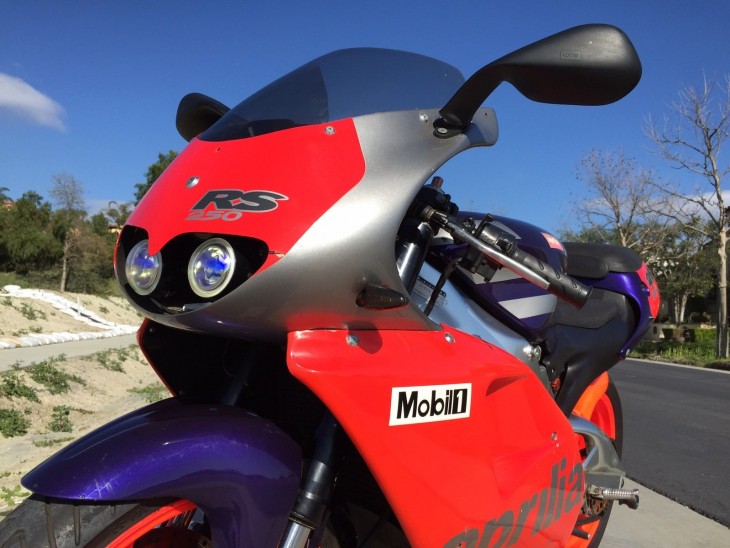 This is obviously pretty far from the nicest example we've featured on the site, but is honestly represented by the seller and does come with a pretty important accessory: a clear California title, which is something of a rarity in the Golden State, especially among smog-spewing two-strokes. Some scuffs and scrapes are clearly visible in the photos, but it doesn't look like the bike's had more than a minor low-side. The headlight lens is missing, and the funky projector-beam lamps poking out through the gap don't look stock, but those minor flaws just mean you can use this bike hard, without worrying about destroying a pristine example.
And while it may not be perfect, that clear title makes this an excellent choice for racing fans who don't ride on the track, or backroad heroes looking for a scalpel instead of a hatchet.
-tad