2.19.15: Posted first about a month ago, this tasty carbon fiber special is back on eBay and nearly $4k off at $26,400. Links updated. -dc
Does an acre of carbon fiber bodywork ever get old? Not in my book. And probably not in the mind of most of our readers. Carbon fiber is like oxygen to mouth breathers, cheerios to toddlers, or profanity to Gordon Ramsey. With its light weight and superior strength, carbon has become the wonder material of which (nearly) all things can be made. For everything else, there is of course aluminum alloy, titanium and magnesium. But I never get tired of carbon weave…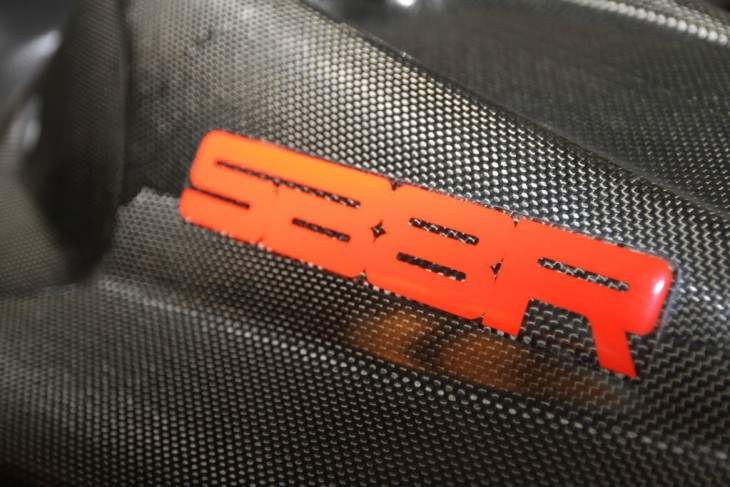 The Suzuki-Bimota 8 model utilizes a TL1000 twin in an aluminum wraparound style chassis. In typical Bimota fashion, somebody else provides the motor, trans and electrics, and the little Rimini firm hand crafts a work of art by supplying everything else. The TL motor is a torque monster to be sure, and can be serviced at your local Suzuki dealership as needed. And this particular bike should not need much servicing, given that it is being listed as essentially being brand new – only 26 factory test miles on the unit. Note that this bike might look familiar, as we have posted a similar example years before. So similar is that post that the pictures look the same, but the mileage is different. RSBFS recommendation: If you are serious about this bike, do your homework and ask lots of questions. Better yet, see the bike and seller in person if possible.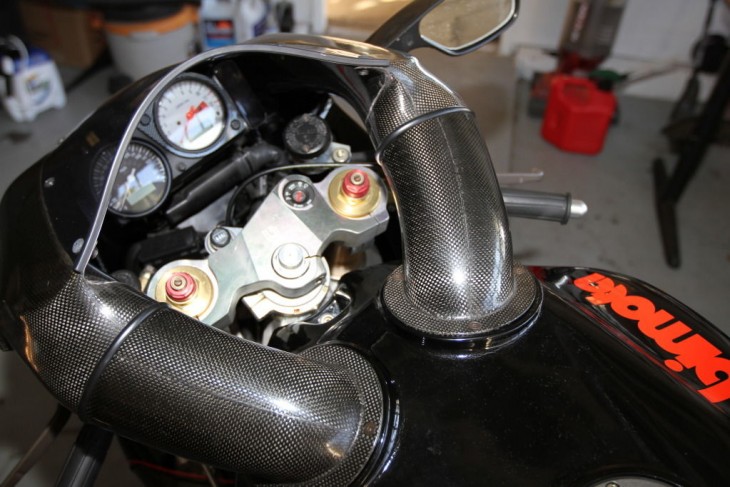 From the seller:
I am selling my New 2000 Bimota SB8R-S (Special). Very Very RARE. Only 150 of these built worldwide, and are very collectable. It has only 26 miles (only the test miles from Bimota Factory). This BIMOTA is just out of the crate and has been in my collection for years. I have 2 of these and only need 1. This is one of only a few new condition SB8RS bikes in the world. It is 100% stock with zero mods. This is a museum quality piece as well as a collectors dream bike.

Aftermarket parts that were put on by Bimota USA as a special order.
– Marchesini 5 spoke rims – $5200 (only produced for this bike as an addition)
I have everything that came with this bike. Manuals, Certificates, Extra keys, brochure, and leather key cover. This is truly a collectible and will be worth twice as much in no time.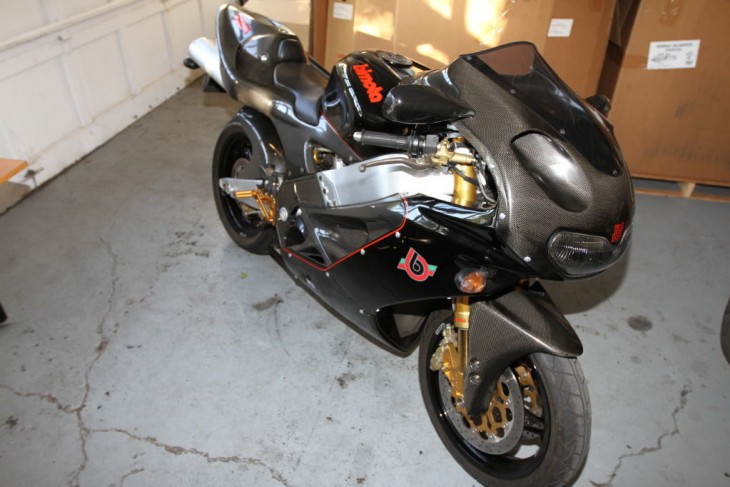 The SB series Bimotas are quite popular – possibly the most popular examples in the storied history of Bimota. The SB8 with the TL motor is a very desirable machine, and the R-S model even more so: With miles of carbon tow and limited to just 150 units, the SB8R-S is a good showcase of making a rare bike even more rare. With next to no miles, this is basically a new bike. Does the name Bimota start a Pavlovian drool reflex? Does carbon shining in the sun make you weak in the knees? Looking for something rare and unique? Sign up here and check it out. $30k or the closest reasonable offer takes it. Good Luck!!
MI