2004 Ducati 749R For Sale
Location: California, MD
Mileage: 12,241
Price: $14,000.00
Update 12.16.2010: Sold!
There's little that gets the RSBFS.com heart pumping faster than carbon fiber painted Ducati red in a limited edition Super Bike.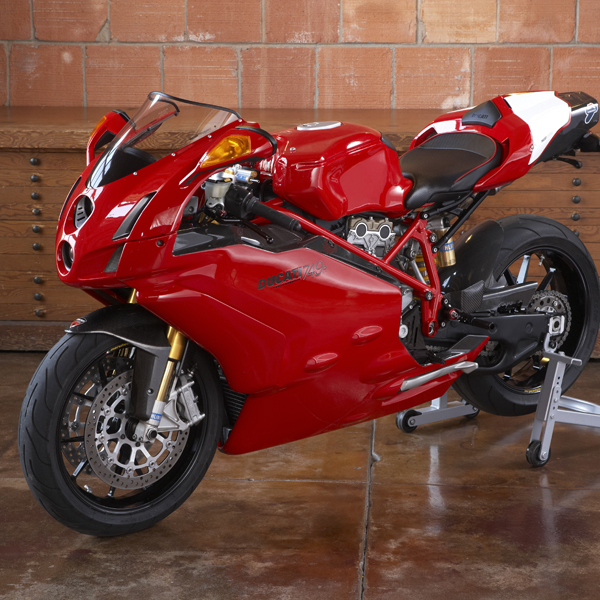 In 2004 Ducati produced a road going pure bred race bike and called it the 749R. In typical Ducati fashion they made it a LE and liberally sprinkled it with high quality upgrades over the standard and S versions that were also offered the same year.
The 749R came standard with Ohlins 43mm, ti-nitride coated forks and radial mounted Brembos up front that complimented the fully adjustable Ohlins shock out back. Of course the HP was raised on the Testastretta V-Twin R version to 116 which is 13 more than the standard 749. Ducati put all of that power to the rear wheel via a race spec slipper clutch that was designed to handle the added HP and the demands of Super Bike racing.
From the seller:
This "R" has been maintained throughout it's life under the most scrupulous detail possible. I fully intended to keep the bike forever, but strongly believe these bikes should be ridden; not stored away to stare at.
Like most Ducati's this one has a few personal touches to compliment an already purpose built motorcycle. My favorite has to be the full set of Ti Termi's that allow it to breath and let us listen to that classic Ducati music the way it was meant to be heard.
ALL Books, Records, Keys (Red/Black)
ALL Receipts since new (GP Motorcycles/Moto Forza- San Diego, CA)
12k Service Complete (GP Motorcycles)
Full Termignoni titanium/CF Exhaust System (w/Baffles)- Rare ($4700)
EVR Slipper Clutch (replaced w/12,147 miles)
Cyclecat Billet DRS Rearsets (GP Shift)
STM Billet Frame Plugs- Full Set
Paulimoto Clutch/Brake Levers
Paulimoto Clutch/Brake Reservoir Covers
Sargent Cycle Saddle (Carbon FX Upgrade)
Per the owner, this one has never been down and as mentioned before it has been lovingly cared for since purchased new. These don't come available very often and much less in this condition with all service up to date. So, if you're in the market for something different I wouldn't delay!
You can contact the seller via email at ross.simpson22@gmail.com or by phone at
858*539*5307.
Cheers!
dd