After spending the weekend at Indy and admiring this Wes Cooley that won one of the Cycle World classes, I went looking. Here is the bike that we spotted Peter Egan judging this weekend, and ended up winning it's class.
This 1979 model for sale on eBay has covered 20k+ miles but looks great, especially with the period Krauser bags that are color matched.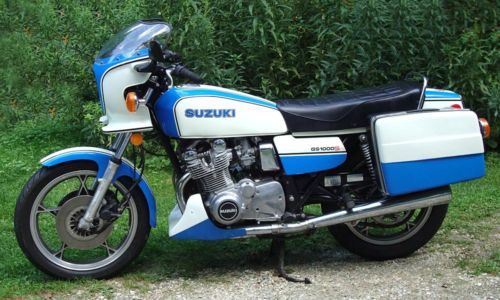 The seller is clear on the condition and states the reserve is set at only $2000 considering it has some flaws. As of this writing it has surpassed $2700 and has a little under 2 days to go.
quote from the seller:
I am listing my 1978 Suzuki GS1000S for sale with just under 21,000 original miles. This 1000S is cosmetically in very good condition. I have added a 'nose' fairing and vintage Krauser saddlebags. This is my 2nd GS1000S and I have loved them both. This came to me from Washington State 5 years ago. In addition to the items already mentioned also included in the sale is an extra set of factory exhaust pipes, and a spare engine, a cover, a pair of Avon tires bought last fall which have about 200 miles on them, an original factory repair manual with the periodic updates and misc. extra parts.

Originally, it also had an after market seat and a Vance & Hines 4- into 1 exhaust which I didn't like because it was jetted wrong and when you would try to pass someone it would flatten out so badly, it would almost slow down. First, I traded the exhaust for an original set which made a world of difference. Then I kept looking and finally found a '78 GS1000 for sale locally with all original equipment. I sold all of the parts I didn't want on eBay and kept what I wanted. As you can see, I was buying things to keep it for the long haul. The saddle bags are removable, I have a key for the latches which keep the bags closed but not for the bags to the bike locks. Should one not want the bags on the bike they come off and you can remove all of the mounting hardware and move the rear turn signals back to where they started. There are some cracks on the tops of the inside of the shells from no doubt, stress vibrations over the years, but they don't impact the strength of the bags.

Cosmetically, the bike is quite good, a few chips here and there, probably the worst from where the guy I bought it from failed to tighten the bars down when shipped to me and they put several chips on the top of the tank see photo. I found that the mirrors were too close to the sides of the fairing to see around my shoulders so I made 2 blocks to extend them out far enough to be able to see clearly. The bike has fallen over twice when standing still on grass and the only damage from those are that my mirror extensions put the mirrors out far enough that they hit the grass before the bar ends and the fairing was tweaked. No damage but the paint popped off and I've hand painted it in. To my knowledge, it has never been 'down', never been in an accident. The left side of the tank has a small indent about where one's knee would rest. Don't know where it came from but it is barely visible.

Known mechanical issues- there is a crack in the glass on the instrument cluster between the clock and the oil temp gauge. All the gauges work fine. The auto- canceling turn signal has a problem- works perfectly when activated to go left but not to the right. If I move the switch momentarily to the left and then go to the right turn position it works fine. Go figure. With the engine, after it has been ridden and gotten hot- on restart, there is a tapping sound. No one has any idea where it originates. It does keep pace with the rpm's but not at a pace that would indicate it was coming from a piston or tappets etc. It is slower than the rpm turns. At 1000 idle speed the sound is about every second or second and a half. Hasn't gotten any worse in the five years I've owned it and sometimes it is not evident at all. I'd planned on keeping this for a long time but now find that as I'm 63 my reflexes aren't keeping pace with the speeds I want to ride it. So I'm letting it go. Because of all the money and time I've invested in this bike, I'm putting a modest reserve of $2000 on it. This is really a lovely bike great handling, lots of power and people always admire it when it's out in public.
This really should be posted on Classic Sport Bikes For Sale but after seeing a similar example at Indy I'm inclined to post here for anyone else who might have been smitten with seeing a nice one.
dc