Today's bike is a bit of a flashback, something a bit older than we'd normally feature here on RSBFS. But this Suzuki GS1000S Wes Cooley Replica holds a special place as the last, and maybe best of the twin-shock sportbikes.
Prior to the monoshock, endurance-racing GSX-R that we all know and love, this was Suzuki's big bruiser from an era when Japanese literbikes' chief virtues were power and stability. But while the Suzuki didn't bring anything particularly new to the party in terms of straight-line speed, the ace up its sleeve was handling, and the bike was much nimbler than rivals from Honda or Kawasaki.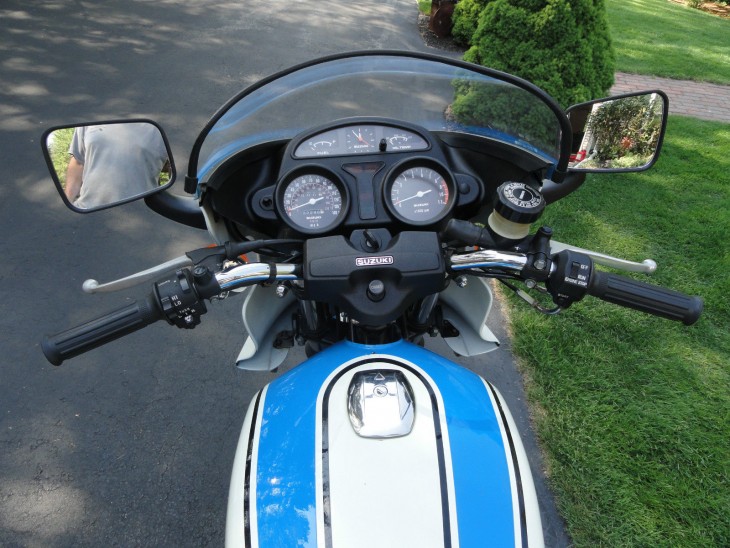 It was that complete package, tuned to perfection by "Pops" Yoshimura and raced by Wes Cooley, that led to this bike's fame. The 1000S was really intended for the European market, but Wes rode the bike to victory in AMA Superbike racing and the nickname, while never official, stuck: the blue-and-white GS1000S has been known as the "Wes Cooley Replica" ever since.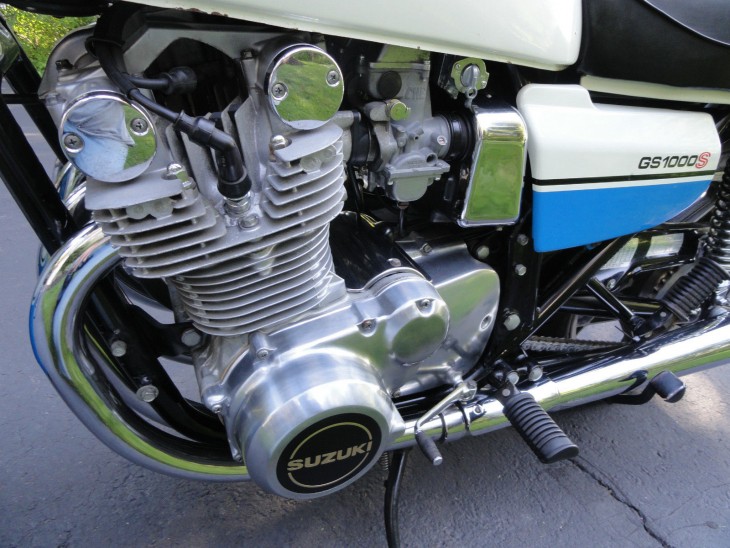 Powered by a dual overhead-cam four that displaced 997cc to meet racing requirements, the GS1000S weighed in at 525lbs wet and made 90 honest horses, enough to propel the bike to a 130mph top speed. Interestingly, that engine was based on the GS750 powerplant, but was actually almost 20lbs lighter, which was a bit of a theme throughout the bike. There was nothing revolutionary here, but the bike went around corners and stopped better than other bikes of the period. And these are definitely rare: just 500 were made in 1979, with 700 the following year.
From the original eBay listing: 1979 Suzuki GS1000S Wes Cooley Replica for Sale
This 1979 GS1000S, also know as a Wes Cooley Replica has under 2,300 miles.  This bike was owned by a Suzuki dealership owner in PA for most of it's life. Early in it's life, the bike would be used around town by the owner.  

I acquired the bike a couple of years ago after the bike had been sitting in a shed for many years. The bike is in very good, unrestored condition.  I have owned a few of these GS's over the years and this one is a special bike.

The low miles and originality make this a great bike for your collection!

The bike runs and sounds great.

The following maintenance items have been addressed:

New tubes and tires ( the original tires were on the bike)

New Chain

New brake Lines

Rebuilt calipers and Master Cylinder

Carburetors disassembled, cleaned and bench synced and new fuel lines

New OEM Fuel Petcock

Valves clearance checked ( inside looked new) swapped out one shim

Replaced fork oil and fork seals

This bike is remarkably original with the right patina.  It does have some chips, dings, scratches etc., as it is a 36 year old bike.

If you want a low mileage original Cooley……….you will probably wait a while to find another like this.
This is certainly one of the cleanest, lowest-mileage examples I've ever seen. Aside from some damage to the striping on the left side of the fairing, it looks like it just rolled off the showroom floor.
There are four days left on the auction and bidding is very active although, at $5,300 the reserve has not been met yet. While speculating on motorcycle values is always a gamble, the Wes Cooley Suzukis are very rare and represent an important stage of sportbike development. A bit of a dinosaur, if you will, but Suzuki's modern DNA is still visible in this brute: while the styling is a bit vintage, the bike's combination of power and handling set the stage for the later GSX-R that defined the modern sportbike.
-tad