During the 80's heyday, Honda showed a graduated selection of displacements with two- or four-stroke engines in various configurations.  The early CBR250R was destined for an upscale beginner and came to the U.S. only via the grey market.  This 1988 four cylinder 250 looks good and its black/gold livery doesn't stretch the truth with racey graphics.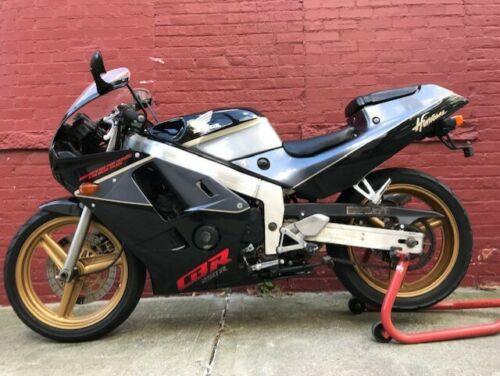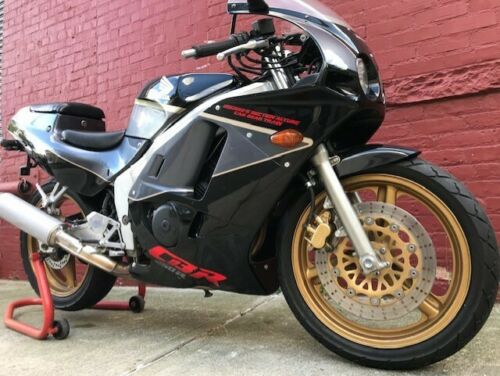 When introduced in 1986, the CBR250R was at the high end of sporty convention with alloy spar chassis, Pro-Link monoshock and big front disk brake.  The 1/4-liter inline was nicely oversquare, almost a requirement when pushing the 2-inch pistons to 18,000 rpm.  With gear-driven cams and 4-into-1 exhaust, no trouble putting together the legislated limit of 45 hp.  For 1988 there were twin headlights on the full fairing, and pillion accommodation for a JDM teen from thirty years back.
This NYC owner has several classic sportbikes at auction, none with hi-res photos however.  Showing just over 4,000 miles with no particular damage or corrosion.  Though it's shown without plates, the owner states clear title and good running condition, and in the eBay auction can't argue with pretty clean:

PRETTY CLEAN 1988 HONDA CBR 250  MC19 WITH ONLY 4,123 ORIGINAL MILES (6,636 KM).  THIS BIKE RUNS AND DRIVES GOOD.  EVERYTHING WORKS LIKE THEY SHOULD.  IN MY OPINION THE BIKE IS IN EXCELLENT CONDITION FOR A BIKE OF THIS AGE.  HOWEVER, THERE ARE IMPERFECTIONS DUE TO AGE.  GOT A BUY IT NOW PRICE OF $8,500 OR WILL CONSIDER THE NEAREST BEST OFFER.  GOT A CLEAN AND CLEAR TITLE IN HAND.
Different than fire-breathing superbikes or more powerful smokers, this early CBR still has rarity on its side plus the gem-like engine.  The dual headlight look is classic and this one might be a nice rolling resto as cosmetics are tuned up.  Not much to compare it to, but the buy-it-now might be a little rich for 249 cc's – however the Make Offer button is lit.
-donn