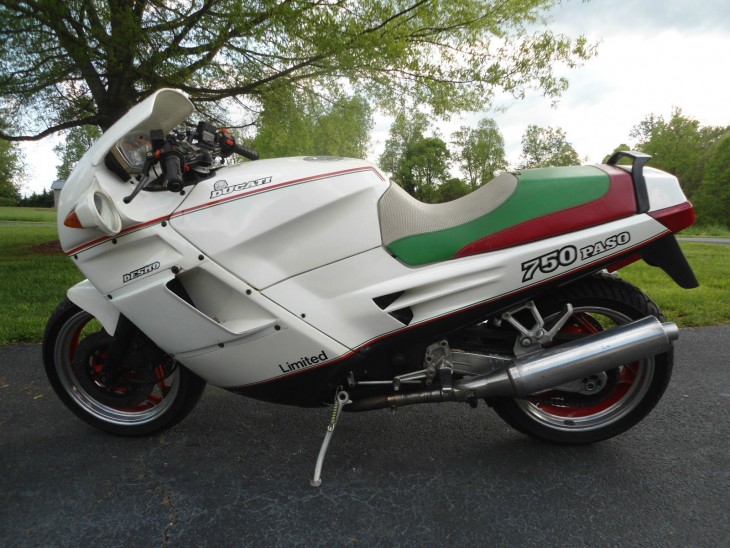 The Paso has long been the low-cost entry into Ducati ownership, an often overlooked bike maligned for its slab-sided styling. Shockingly different when introduced and unfairly shunned by the oddly conservative Ducatisti, sales were disappointing.
But in spite of its red-headed-stepchild reputation, the bike has the usual Ducati pedigree: it was designed by Massimo Tamburini, named after the famous rider Renzo "Paso" Pasolini, and powered by the classic Taglioni-designed belt-drive Pantah L-twin. The 748cc version in the Paso made a claimed 72hp and could propel the Paso to 130mph top speed. The Paso even has Ducati's traditional trellis frame hidden under all that bodywork, although it's welded up from square cross-section tubing and not particularly nice to look at.
Unfortunately, Ducati owners Cagiva elected to use a Weber automotive-style carburetor in the Paso that caused no end of headaches. The 16″ wheels can also present a bit of a problem when selecting tires today. An upgrade to 17″ wheels is possible, but fairly involved, so if you like the Paso's look but absolutely need top-shelf rubber, just go find a later, fuel-injected 907 IE that basically solved all the Paso's mechanical quirks but kept the styling.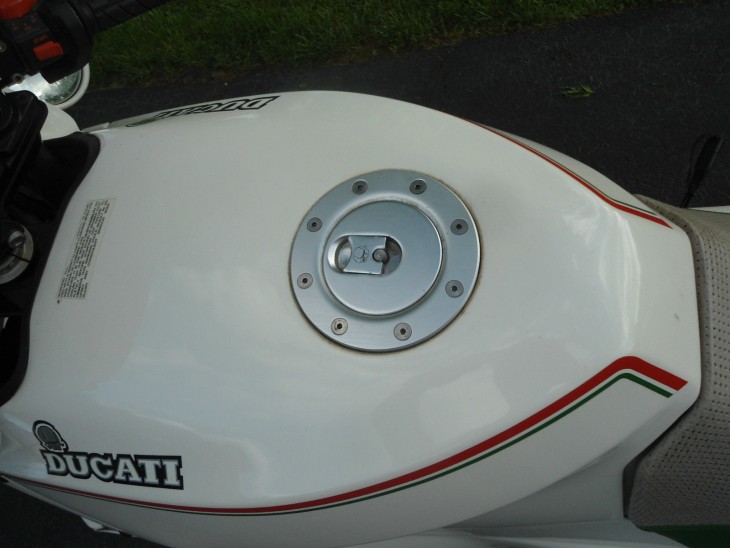 Today's bike is the "Limited" model that came with very 80's white bodywork. It has a few minor cosmetic flaws and does need a bit of mechanical attention, but the mileage is very low and the work that needs to be done is very straightforward and can be easily tackled by a half-decent shade-tree mechanic.
From the original eBay listing: 1988 Ducati Paso 750 Limited for Sale
TIMS has a very rare (only 50 imported into the us) 1988 Ducati Paso 750 Limited Edition for sale with only 5095 miles on it- this is the rarest of the US import Pasos made back in the day, a must for any  collector- the bike runs great and everything works-it is mostly original including extremely nice OEM pipes- it does have the tri color Corbin seat and i do not have the original seat-it also has the upgraded flat slide carbs on it so that gets rid of the terrible factory carbs that came on the bike-there are a couple issues that need to be addressed  -1 at around 6000 rpm the clutch starts to slip so it  needs new fiber  plates 2- there are  some cracks in both mid fairing vents as well as the front windscreen fairing but I'm including a like new front fairing  with the bike that only needs painting and you can source the mid fairing vents cheaply on eBay as well-the tires are like new and the chain and sprockets are in good condition also-the timing belts are 3-4 years old so they may need replacing in the near future  -TIMS will help with shipping any way we can at new owners expense-don't miss this rare low mileage Ducati as they definitely don't come up for sale often
First of all, let's clarify: "the timing belts are 3-4 years old so they will need replacing in the near future." Conventional wisdom says 2 years or 12,000 miles for these items and the job is fairly simple, but very important: the Pantah twin is very durable when properly maintained, but snap one of those belts and you'll lunch the motor. The clutch plates are a very straightforward job as well. Parts should set you back just a couple hundred bucks, although replacing the steel plates at the same time would make sense as well while you're in there.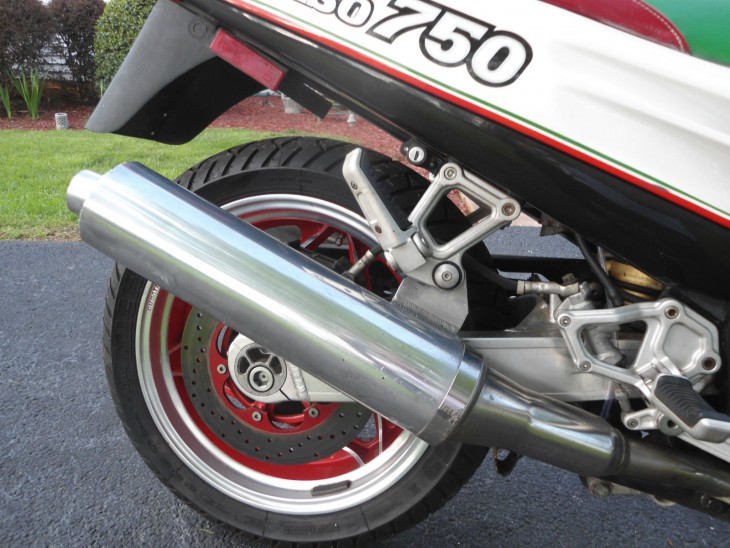 Also, those don't look like the "OEM pipes." Instead, they appear to be the F1 pipes that were a popular choice to replace the stock "Silentium" mufflers that unfortunately lived up to their name…
Flat-slides should fix that aforementioned carburetor issues and provide a nice boost to performance as well, although they usually end up deleting the choke and can't just be whacked open at low revs. Many owners replaced the factory setup with a pair of Dell'Orto's that should solve the rideablilty issues nicely and be a bit nicer for day-to-day use.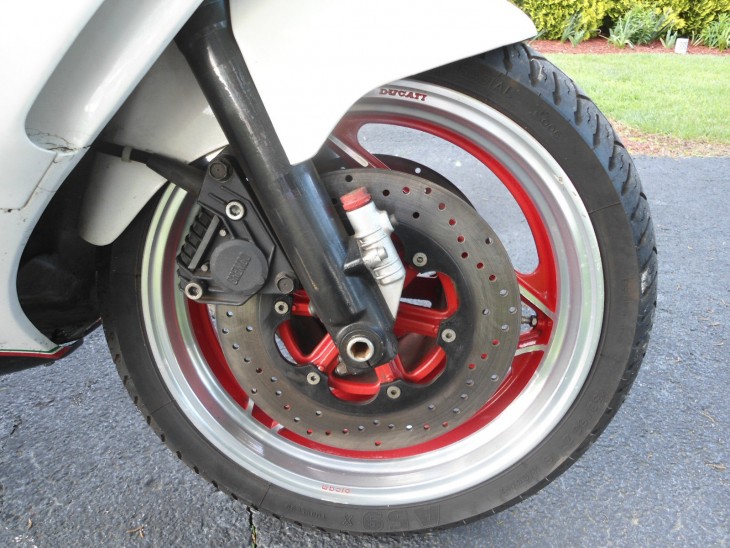 All-in-all, this is a rare, low-mileage Ducati from an overlooked era that just needs a bit of cosmetic TLC. I've always liked the Paso, and I think it's aging pretty well and, considering what the earlier F1's are currently trading for, now might be the time to snap up a nice example.
-tad