Update 7.6.2014: The reserve was lowered and has now been met at $4,999. I doubt you'll see another RVF400 stateside, title or not, for this little. Good luck to buyers and seller in the remaining hours! -dc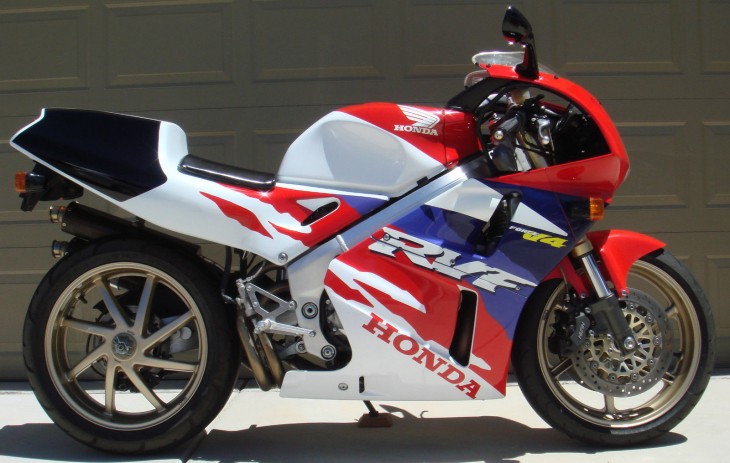 In combat sports, welterweight is considered to be heavier than lightweight but lighter than middleweight. That seems apropos for the NC35; larger than a chicken chaser or 250, but smaller than the current 600cc crop of what we consider middleweights today. The RVF400 has long been considered a jewel in the 400cc field – more rare and more potent than the cheaper FZR400. With a gear driven cam sound unique to these Honda V-4 models and sporting a single-sided swingarm, it is clear that the NC35 is not your average small, "starter bike" machine. This is a baby RC45, scaled down in displacement. And price.
From the seller:
Attention collectors – rare chance to buy one of the highly sought after Honda V4, 400cc sport bikes. For a 400cc motorcycle it has amazing performance and world-class handling. I acquired this U.K. bike in 2006. The reserve is set low.

*** THIS MOTORCYCLE DOES N O T HAVE A TITLE *** bill of sale only

Speedometer is in Kilometers. It has 40,984 Km or 25,466 miles on the clock.
This motorcycle has significant upgrades; (a) aftermarket "shotgun" exhaust system (which was very expensive), (b) custom painted single seat rear cowl to match the original bodywork, (c) custom foot pegs, and (d) gold anodized wheels. This motorcycle is in very nice condition. It does have a few small nicks here and there but it looks exceptional for it's age and mileage (please see all pictures and look closely). No rust anywhere. Chain & Sprocket Kit from D.I.D. X-Ring Gold installed at ~15,000 miles. Oil change every 3,000 miles. New OEM wind Screen installed January 2014. I do NOT have the OEM tool kit or owners manual.
I'm not sure how the owner is riding this around yet the bike has no title and no visible license plate. Maybe a track only ride? If so, this must have a lot of laps under its belt. The lack of title might be enough to scare off many buyers, but then again not everybody lives in a state where it is difficult to register grey market motorcycles. Check out the details here. This is a great looking bike, and I imagine it will receive lots of interest. Bidding is at the $4k mark with reserve in place. How high will it go? Let's watch and see!