Warning!
This post is in our archives. Links in this post have been updated to point to similar bikes available to bid on eBay.
Every post will be sent right to your inbox every morning when new posts are made. We will never sell our list or spam you. Plus you can click links to bid or buy right from the email and skip the site entirely. Subscribe to Rare SportBikes For Sale today!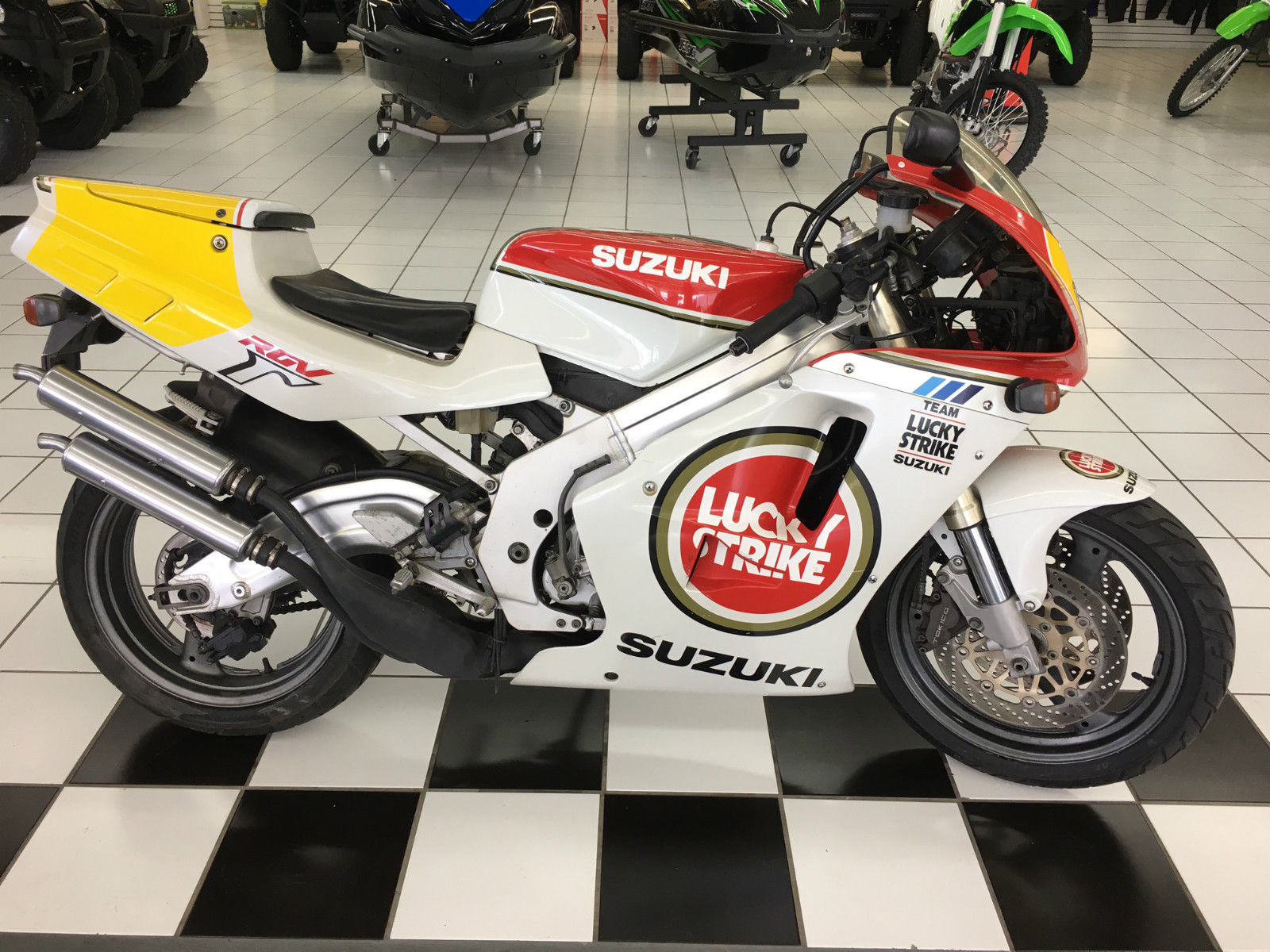 NO RESERVE – That is an ironic term considering that it covers both the auction as well as Suzuki's intent when designing the motorcycle. The RGV250 has risen to legendary status among riders and collectors due to its performance and balance (even Aprilia agrees, having purchased VJ22 power units for their own RS250 models). With a two stroke v-twin engine, aluminum chassis, upside down forks, asymmetrical banana / gull swing arm and racer bodywork (and riding position), the Gamma is what two stroke riders pick to ride.
Today's bike is a VJ22 model incorporating commemorative Kevin Schwantz Team Lucky Strike livery. Lucky Strike bikes are reasonably rare in the world of Gammas, as they were produced in low numbers and only for limited markets; they were also not produced every year. As all Gammas are grey market bikes in the US to start with, the LS model (even though cosmetic only) is an extra bit of topping on what is (now) a street-legal registered motorcycle. Things just keep on getting better and better.
From the seller:
Up for auction to the highest bidder with NO RESERVE is a 1992 Suzuki RGV22A Lucky Strike with only 10,809 kilometers (6717 miles). HIGHEST BIDDER WINS!

Just had a bath and ready for its photo shoot! This RGV250 two stroke runs like a raped ape, just like the day it was new. Its been serviced and ready to go with a new battery and new fluids. This RGV has been well loved and well ridden. Lots of scratches, rubs and notorious boot marks lol, but NO cracks in the plastic, NO broken tabs & NO dents in the tank. This bike would make an excellent candidate for restoration, or just wring it out as a weekend knee scratcher. Bike comes equipped with OEM mufflers and OEM stingers and the dry clutch sounds awesome. Suzuki owners manual, Suzuki drivers guide, first aid kit, Lucky Strike onboard tool kit and two keys. This RGV250 comes with a Utah State title and is titled as a motorcycle for street use.
One thing that jumped out at me is the dry clutch. Regular edition VJ22s do not come with this race-bred bit of trickery. The dry clutch is an Sport Production item (the SP model also included a close-ratio gearbox), which could either mean that the base bike is an SP, or the clutch was a retrofit to a standard LS-branded bike. I'm sure there are Gamma-pedia types reading this now, and I welcome you to chime in on the comments; let us learn from your collective wisdom. Other than that discrepancy, this appears to be a solid, imported smoker; there are requisite scratches from use over the years, but otherwise this is seemingly unmolested (i.e. OEM chambers and stingers, rear fender still attached).
The seller has listed this as a No Reserve auction. That means this bike is definitely going home with someone when all is said and done. The opening ask was a paltry $1,500, but there is good interest in the bike and the price is climbing quickly. While this is a titled and registered motorcycle in Utah, that does not guarantee your state will be as willing or complicit. As always, RSBFS recommends you check with your local constabulary prior to purchasing something not officially imported into the US (i.e. if you live in California, consider this an excellent track day steed). Check it out here, and thank you for smoking.
MI