Update 7.13.2022: Tom has confirmed this bike has SOLD! Congratulations to buyer and seller! -dc
RSBFS reader Tom's RGV250 is almost half way through the 1988-1998 model run, but a gem with just a year's worth of miles.  The Lucky livery recalls riders like Kevin Schwantz and a wild ride to team success.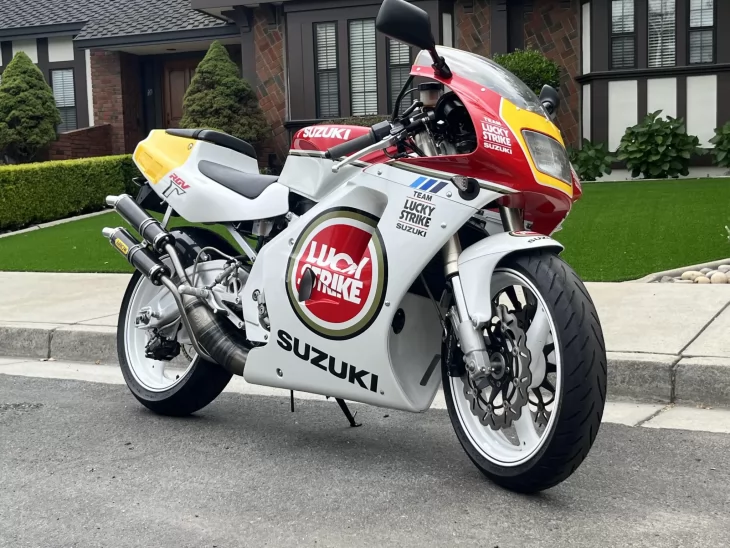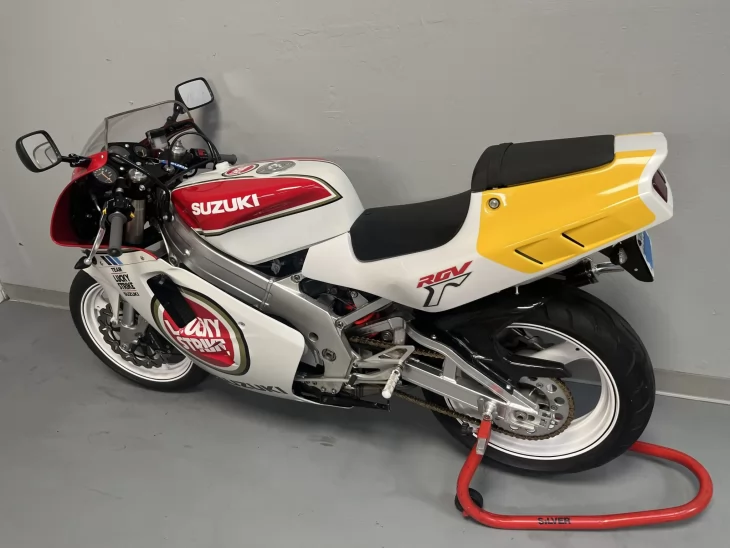 62 hp is the quote from RGV250 reviewers, but the lightweight package claims a power-to-weight ratio of a larger bike.  The 249cc twin is at its best, with multiple acronym-ed systems to optimize the exhaust power valves, mixture and ignition timing.  Though the riding position was uncompromising, components like dual front brakes with four piston calipers, usd cartridge forks and gull-wing swingarm make it worth the workout.  Shifter action was optimized, a help since RPM's will want to be kept above 7,000.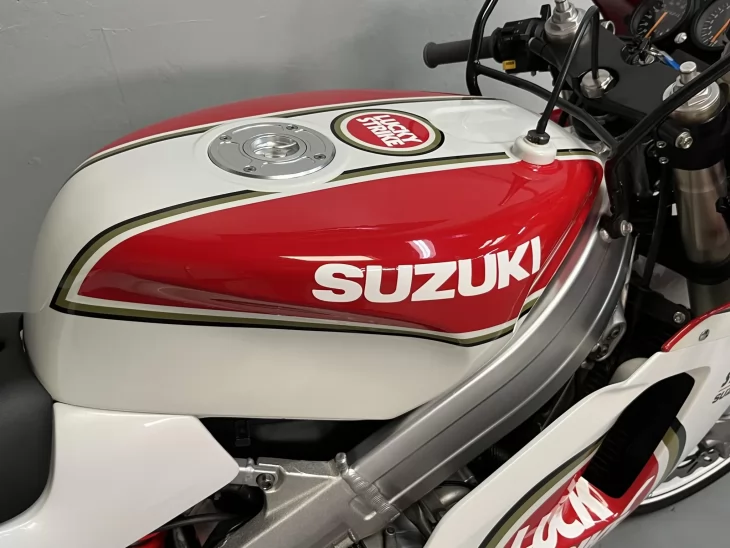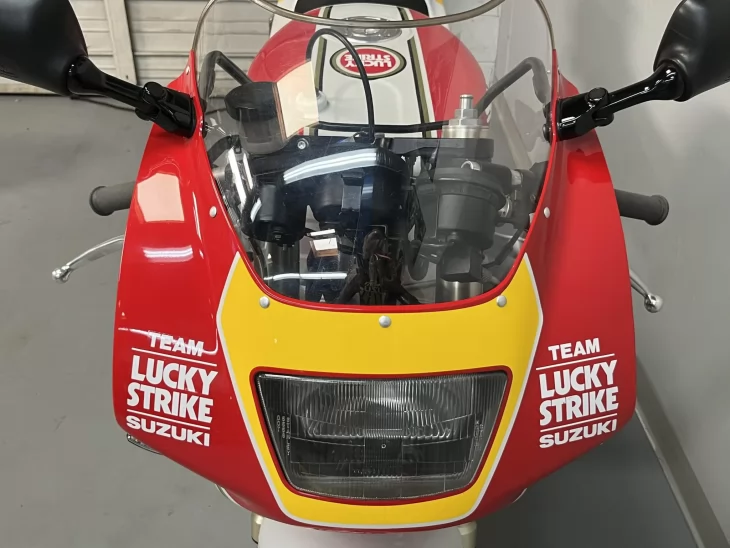 Tom's RGV250 has a flawless presence and ICU cleanliness.  The stainless Arrow exhaust is noticeable at first glance, with scaled-down blinkers and braided brake lines.  A start-up video is offered along with a walkaround, and quite a few detailed pictures – plus Tom's notes from – the BaT auction –
This is an authentic Lucky Strike limited edition VJ22. All bodywork and fuel tank are original OEM Suzuki, and paintwork as well with the exception of a respray on the tailpiece. It had some scratches. This RGV has some tasteful mods that greatly enhance the riding experience. Including new Arrows coated stainless pipes, NOS Fox shock, billet rear-sets etc. Mileage on speedometer is not actual. The original broke right before 4,000 km's. An NOS speedometer was sourced from Japan. Total KM's is just under 4,300 (2,654 miles) It has an ultra-rare, clean California title in my name.
Aprilia's comment on the VJ22 engine was that they adopted it to use in their own road-going 250 two-stroke, extending the engine's post-RGV career.  Never offered here, the age of the RGV's has made importation easier, but a lot of grey-market bikes have been heavily worked and worked over.  Tom's has been carefully tended by him and previous owners, with just over 2,600 miles and a tune-up this spring.  Though it is said that a special rider is needed to pilot an RGV250 effectively, it probably has a lot to teach any rider willing to listen.
-donn