Update 8.28.2021: Sold for $11,500 before we could publish. Congratulations to buyer and seller! -dc
Before the days when tobacco logos came in bar code, Kevin Schwantz rode Lucky's RG500 to a MotoGP championship and two runner-ups.  Apparently a home-grown commemorative, today's GSX-R has a bunch of nice mods to an excellent year.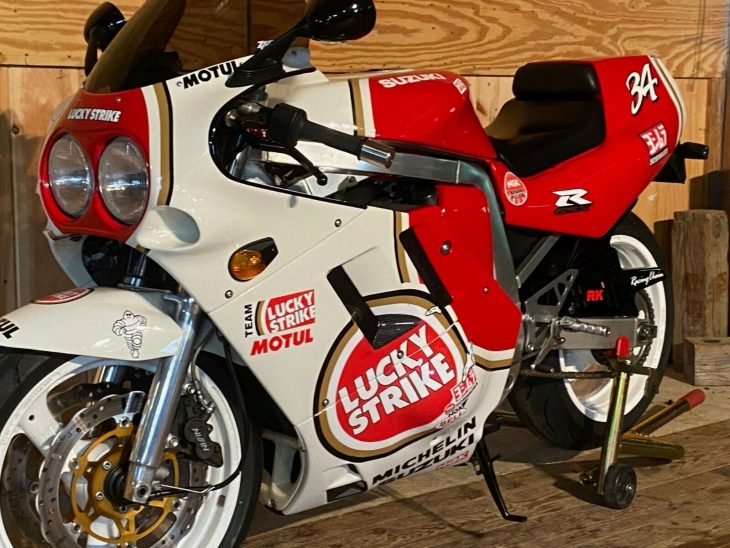 Looking for more torque, Suzuki returned to a longer stroke crank for 1990, and used a host of small changes to keep the new engines revving to 11,000 rpm – like lighter weight pistons and connecting rod bolts that were threaded right into the rods.  The two-stage oil pump and a curved cooler kept the engine alive through 115 hp, some saying it was the best oil-cooled year.  The chassis is perceptibly beefier and though most sources expect USD forks, they don't appear on U.S. models until 1991.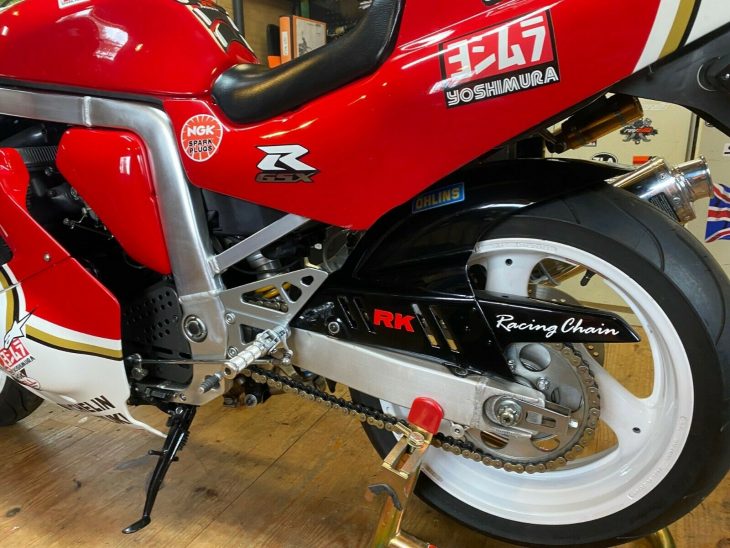 Though it strays from the factory livery occasionally, this R750 certainly gets the point across.  The compact turn signals are well done, the polished exhaust is a beauty, and wave rotors are a nod to the present day.  The wrapped headers might be a squawk, but it should keep the fairings cooler.  Comments from the eBay auction:
Total restoration, rock solid motor, straight frame, carbs rebuilt, new plugs, Air Tech enlarged air scoops, carb covers and race tail, Kevin Schwantz Lucky Strike custom race paint ($3500), powder coated wheels, new Michelin pilot tires, powder coated fairing and tail brackets, 3 new brake rotors, new pads, brake reservoirs front and rear, steel braided brake lines, new clutch and brake cables, Yoshi exhaust with custom fabricated mid pipe ($900), painted and wrapped header, Ohlins shock ($1,000), forks rebuilt, Fuel tank coated with POR15 protective coating, new hand controls and levers, new instrument lights and display, new turn signals front and rear, all new bearings and fasteners on wheels, rear shock and swing arm, custom fabricated exhaust bracket (eliminated rear foot pegs), custom fabricated seat lock mechanism (relocated under tail), new chain, front and rear sprockets, powder coated and anodized rear sets, new ignition, zero gravity windshield, new fuel cap and bracket, all new OEM fasteners, hoses and springs. $16,800 invested, 19,572 miles, bike runs like new, Carbs professionally tuned by expert who specializes in early GSX-Rs, I road the bike so some nicks on fairing behind front tire (can't be prevented) and small imperfection on right side of tail, other than that the bike is beautiful.
Even though the investment this owner made might never please the accountant, it certainly would make a splash at the next bike night.  Riders who remember the 500cc two stroke GP's might be in short supply, but the GSX-R750 is an evergreen model, and this tribute started from a great base.  Combining all of these interests, this splashy GSX-R might get the make offer button working.
-donn