Update: this listing expired overnight, but is still worth a look !  Push "See original listing"  -donn
Most RG500's seen on RSBFS chronicle the lucky-if-you-can-hang-on 500 two-stroke, but this Aussie example has been bored out to 570cc and well equipped to handle the extra ponies.  It's finished in a very good dub of Heron Racing's 80's livery, and looks just about flawless.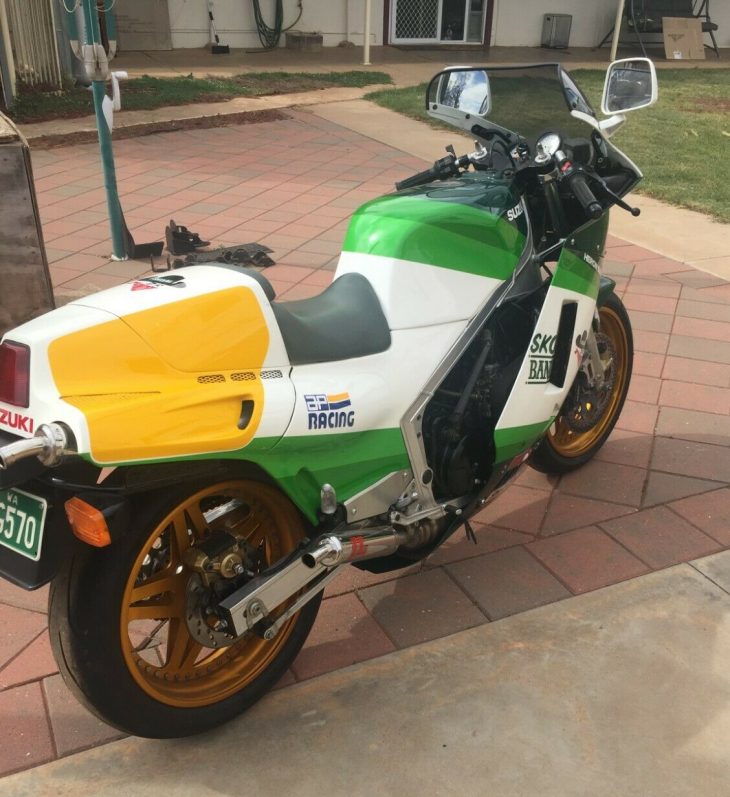 Suzuki had delayed the road-going RG500 until GP technology had moved on a bit ( and engineers had also wrapped up their work on the GSX-R750 ) but it was still heralded as a race bike for the road.  Its 95 hp were a revelation for a ride weighing under 400 lbs., though the square four's airboxes filled out the fairing.  Using a small cross section alloy chassis, Hamamatsu carefully engineered the RG500 to handle the power, along with air adjustable forks with anti-dive.  Smallish 260mm brakes and staggered 16 and 17-inch wheels were along the smaller, lighter line to quickness.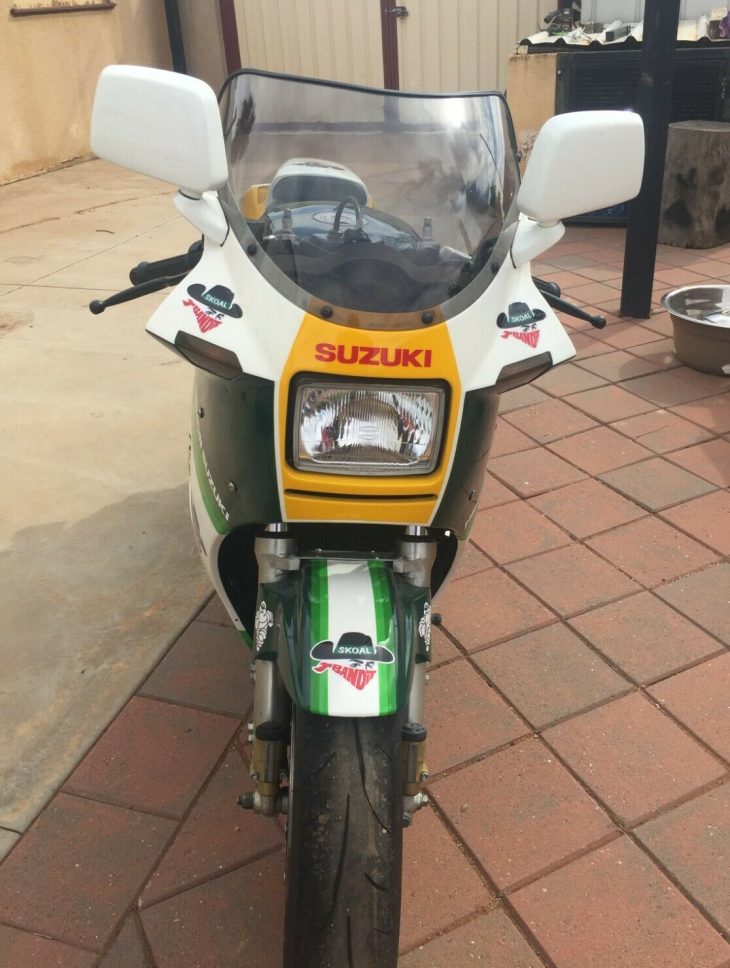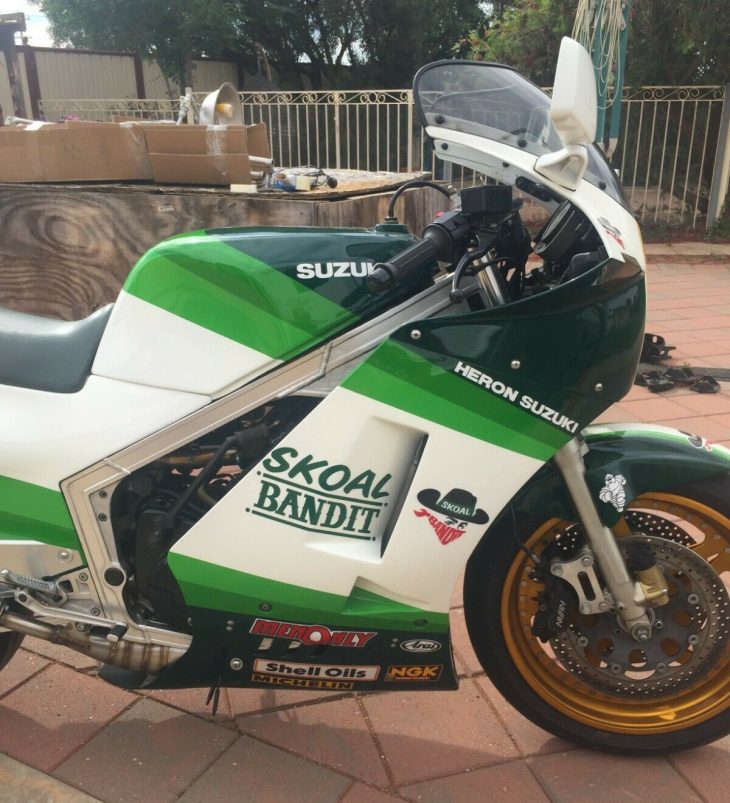 Evidently built and imported from England, this RG500 shows beautifully and has some later, larger brakes to go with its additional horsepower, and lightweight modular Astralite wheels.  Not quite sure what year this animal is, but there're no significant differences over the three model years.  Suzuki had their own Skoal livery for a few limited editions, but this more faithful replica has a bit more flash.  Comments from the eBay auction:
Well this is a hard one as I absolutely LOVE this bike.

Bike was built in England and I have many many receipts, can't remember when she was brought into Australia but it was a long time and has been previously registered in WA, so no issues there.

The bike is now a 570 with Jim Lomas pipes, Astra Light Wheels and bigger brakes etc, all of the original parts paper work and workshop manual go with the sale.

Plastics are all original Suzuki, also have the original pillion seat.

I ride this bike at least twice a month and it absolutely beautiful to ride, I am fortunate enough to have two RG's and this is my favorite but due to downsizing she has to go.

This bike is an absolute show stopper and I doubt you will see another one like her, irreplaceable in my mind. 
Team Heron was contracted when Suzuki took a break from a works GP team, and had some significant success with factory support.  They even commissioned a series of – carbon fiber chassis and swingarms – which gave the fire breathing lump a stable if all-enclosing platform.  Suzuki's Skoal livery was a tribute to the team's efforts, and appeared on a few different models.  Nice to hear this example is ridden regularly, and looks so great even so.  The ask is right up there and the post-transaction costs won't be insignificant, but could be a smart investment given the current market.
-donn