In the 90s, it was foolish to take the Japanese Big Four head on: they were on a roll, and if you wanted to compete, you needed to offer something else, something different. They had the high-tech theme down cold, but no one can be all things to all people, and there has always been room in the margins for players with something unusual to offer. And a reborn Triumph had just such a machine with the Daytona Super III.
Sheer economic necessity dictated the design. The bike's spine frame meant versatility and the same basic component could be used as the foundation for a series of bikes with vastly different missions: sportbike, roadster, tourer, cruiser. But the downside was inherent compromise: that configuration carried weight high up and meant that the resulting bikes were generally heavier than more focused rivals.
Engines had the same issues: Triumph's three and four-cylinder designs were versatile, but they could never be as light or as powerful as something designed for screaming revs and maximum aggression. But although inline fours are powerful, Honda, Kawasaki, Suzuki, and Yamaha's reliance on them to power sports motorcycles during this period made the whole class a bit same-y, which likely explains some of Ducati's contrarian appeal.
Freed from the need to fit into displacement restrictions imposed by racing classes, Triumph was able to create a sportbike focused for the road. The Daytona came in two flavors originally, one powered by the three cylinder and one by the four. The triple was lighter and ultimately more popular, but was very outclassed in the performance stakes compared to Japanese rivals. So Triumph introduced the Super III to at least close the gap and make the bike a viable alternative to more focused sportbikes.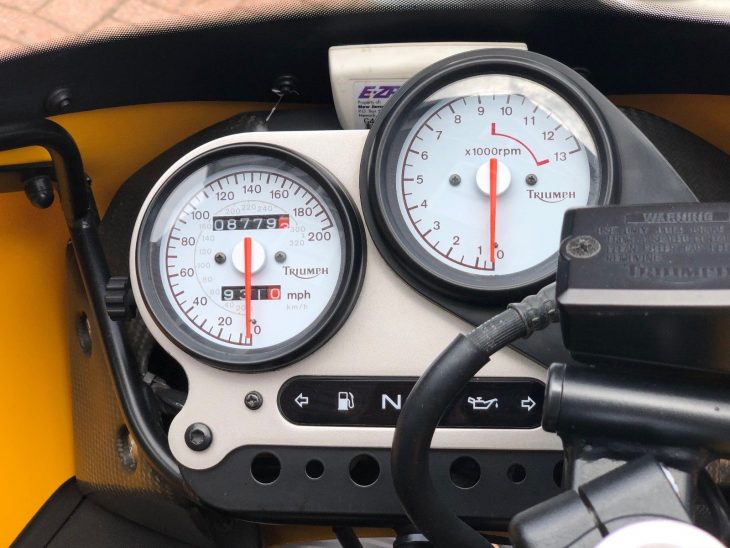 Cosworth tuning increased power from 98 to 115hp and gave the bike a 140mph top speed, along with six-piston brakes. Performance was at least within shouting distance of other sportbikes, but the Triumph offered that charismatic and torquey three-cylinder that had great midrange punch, stable handling, reasonable comfort, much higher build quality and paintwork, along with classic styling that was a complete 180°, compared to the wild graphics and lurid colors found on bikes like the GSX-R750.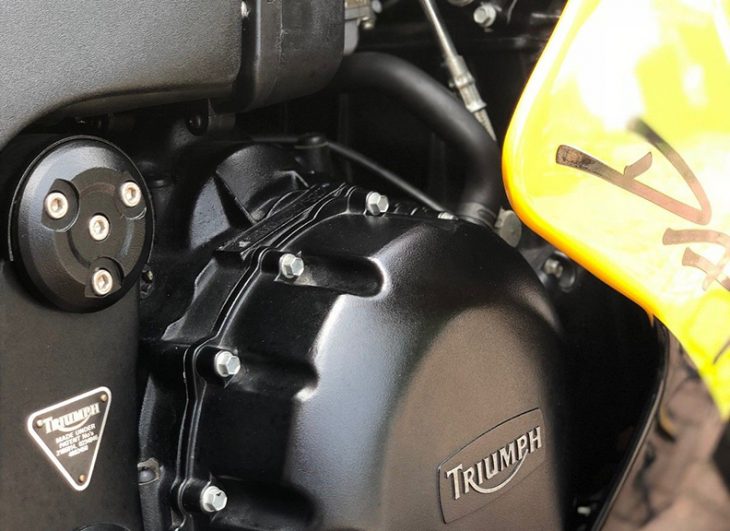 From the original eBay listing: 1995 Triumph Daytona Super III for Sale
Between 1992 and 1997 Triumph produced the much appreciated but ultimately underpowered 3 cylinder Daytona 900. This bike was a successor to the original Daytona 750 and boasted a more acceptable riding position designed to increase its sporting ability. But the power to weight ratio was still a problem, especially when compared to other bikes at the time such as the GSX-R and the ultra-light Fireblade/CBR. So for the 1994-96 model years Triumph produced the Daytona Super III, and exported a very limited production run of ~150 bikes to the USA (numbers are approx 1000 worldwide).


Having been bitten by the Triumph triple bug, I searched for 2 years for a Super III and was ecstatic when I came across this extremely clean and well cared for example. Sadly, priorities have shifted and looking to thin the herd. This is not a divorce sale, baby sale, or other emergency sale. I'd like this to go to someone who will appreciate it as I have.  

Bike details: 8779.3 miles although that may go slightly up. 1 season old Michelin Pilot Power tires with less than 1k miles. Forks serviced at the end of last season with fresh oil, seals, and .95kg springs. Everything on the bike is OEM except for e-code halogen headlights for better night vision. All bodywork and paint is original. All factory carbon fiber parts are present, original, and unbroken.  

Extras: extremely rare Sprint Fox Fairing and custom made carbon fiber fill pieces. Comes with an extra fairing mount. Sudco FCR39 carbs (true triple carb setup for the 885, not a re-rack). Spare seat for re-upholstering. Can include some German basketweave vinyl (60's Porsche restoration supply) if desired. It is very similar to the 60's Triumph seat covers, albeit much higher quality.  

Very minor cons: small scratches on each muffler, less than 2″. Right side lower fairing has a few light scratches. Some chipping on fairing V behind front wheel.  

This is one of the lowest mileage original Triumph Super IIIs in existence. Extras worth $2,500 alone. Will not separate at this point.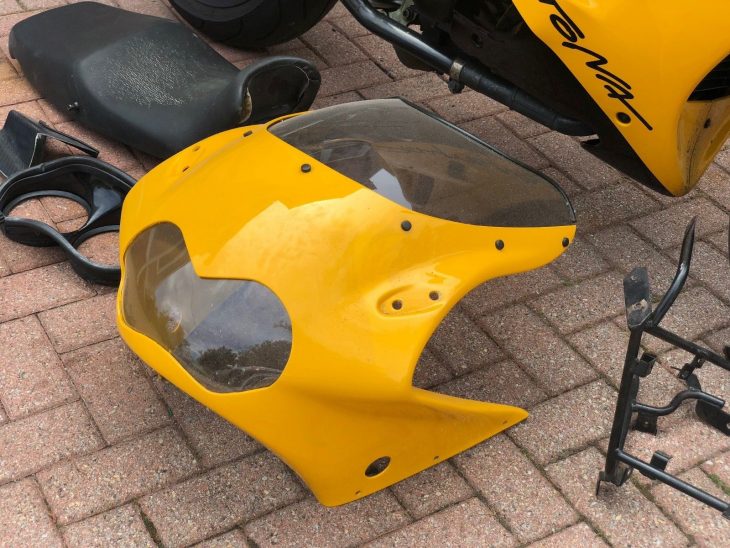 Japanese sportbikes of this era are old enough that the splashy graphics and DayGlo colors have become cool again, but the simple lines of this bright yellow Super III still appeal. These are very rare and certainly the most valuable of the early Daytonas, but still pretty affordable compared to other exotic machines. The $6,500 asking price is pretty high for a Super III, but the bike appears to be in superlative condition and has been enthusiast-owned, with low mileage, and comes with some very desirable extras. Speaking of: the seller mentions "Sudco" carbs, but I'm assuming they're actually Keihin flat-slides, since Sudco doesn't actually make carburetors, they just sell them.
-tad