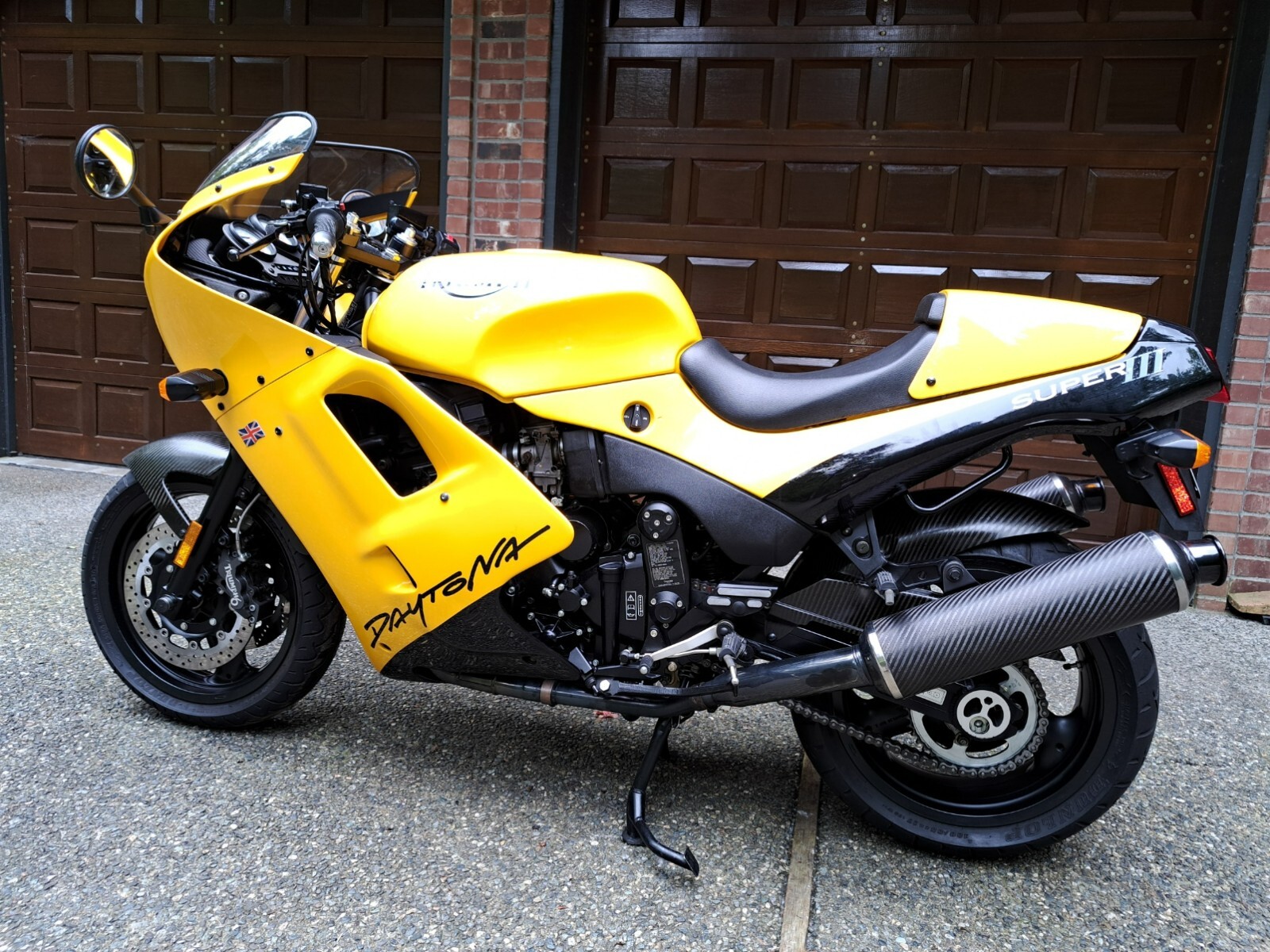 In the early 1990s and 2000s, the British were never really able to compete in the race to have the fastest or lightest bikes. The business had hit a bit of rough patch and had them playing catchup to other manufacturers but that didn't stop them from finding their niche and creating faster and faster bikes. The Daytona 900 Super III is a good point of reference in their ascent as it illustrated their ability to make a good bike a even better and also the early stages of life for the now infamous Daytona.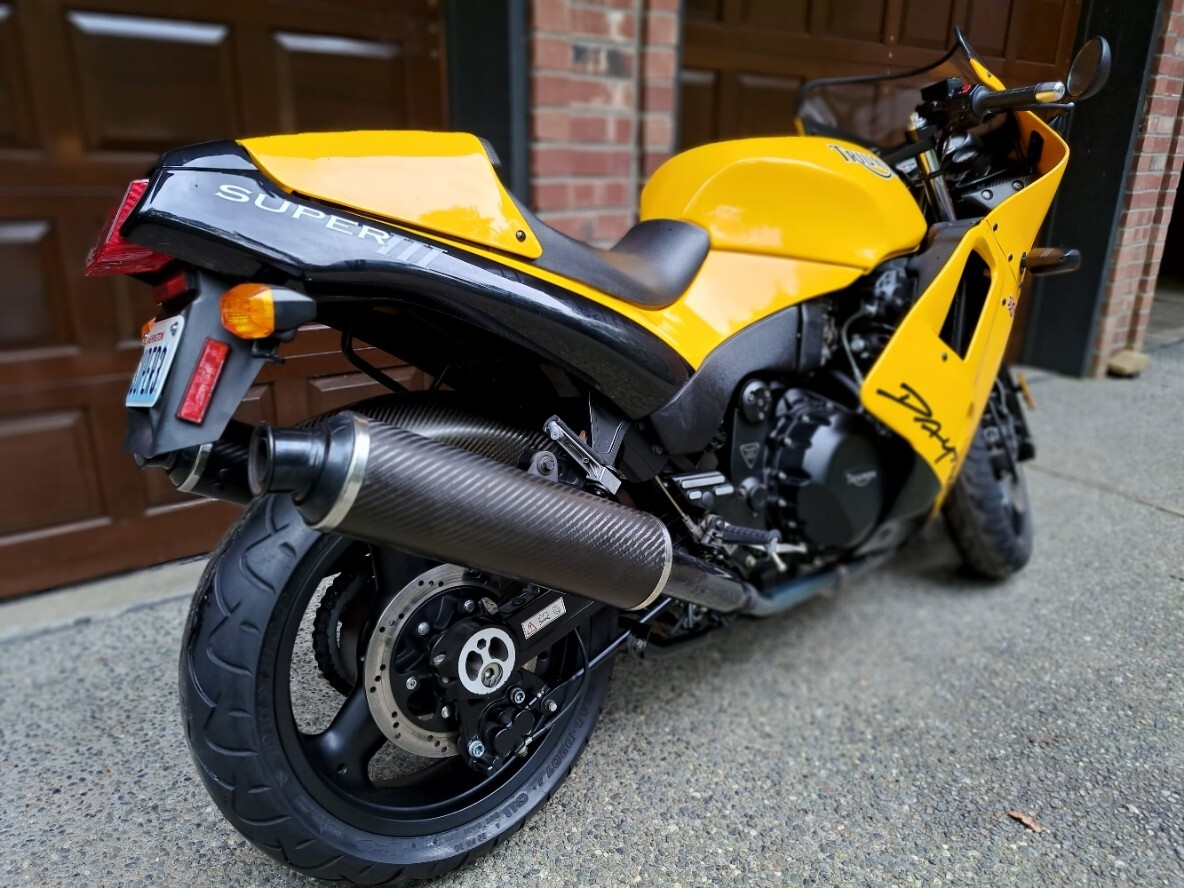 After Triumph opened it's shiny Hinkley factory in 1990, they released released a number of models including the 750 triple and followed that up with the 900 triple. The Daytona 900 was a good bike at the time for Triumph. Its engine differentiated it from Japanese competitors and that certainly made it an interesting option for buyers but it was never on the same level of performance. To make the bike a bit more relevant on the international stage, Triumph iterated on the Daytona with the 900 Super III even if it only had 800 units to show for it.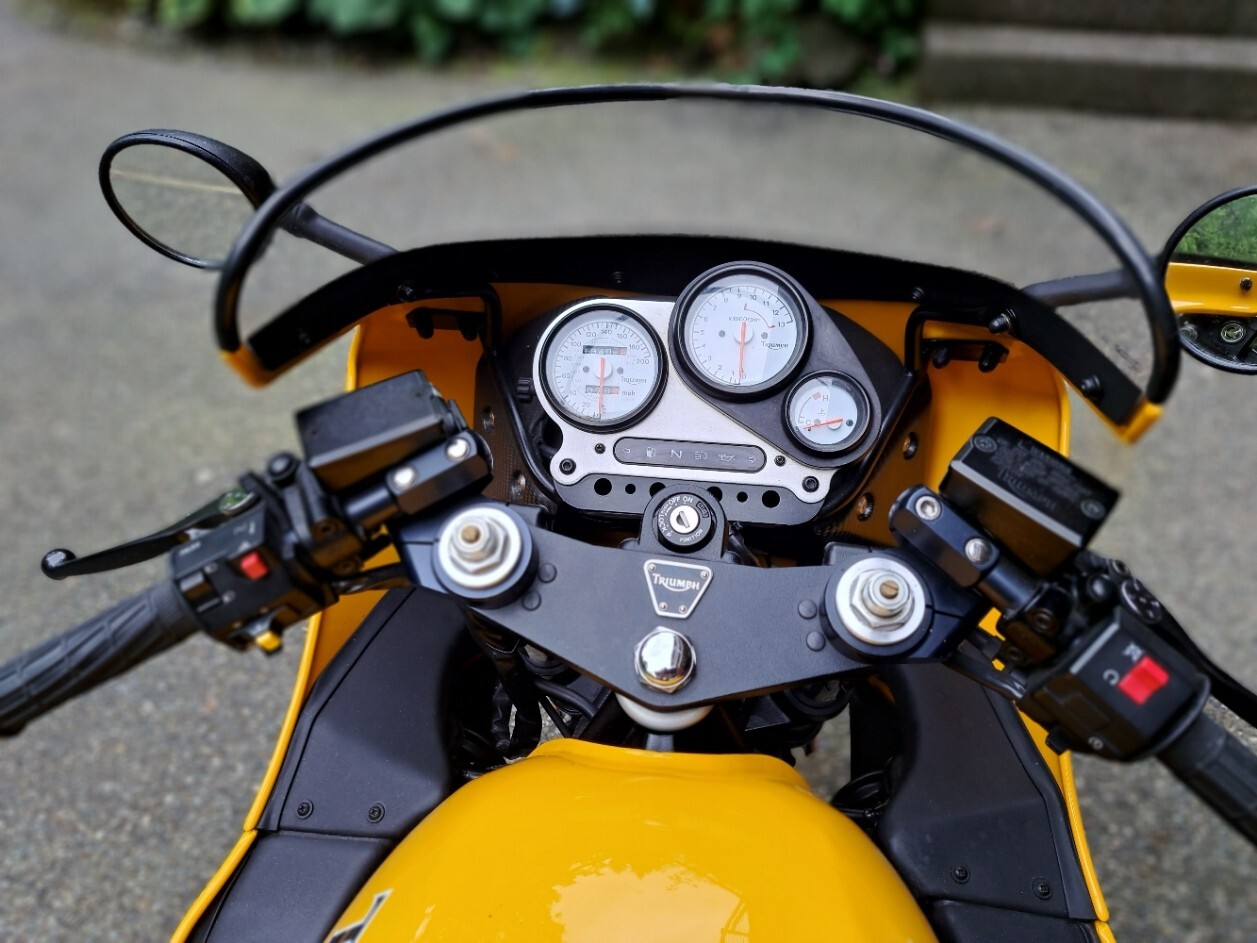 The Daytona 900 Super III certainly did not have an exotic redline or top speed but the original engine was reworked for the Super III with the help of Cosworth. Cosworth reworked the heads and used higher compression pistons along with a proper tune to pump out an extra 18 hp out of the 900 triple. With more power, you also need more brakes and Triumph addressed that by adding two more pots to each caliper.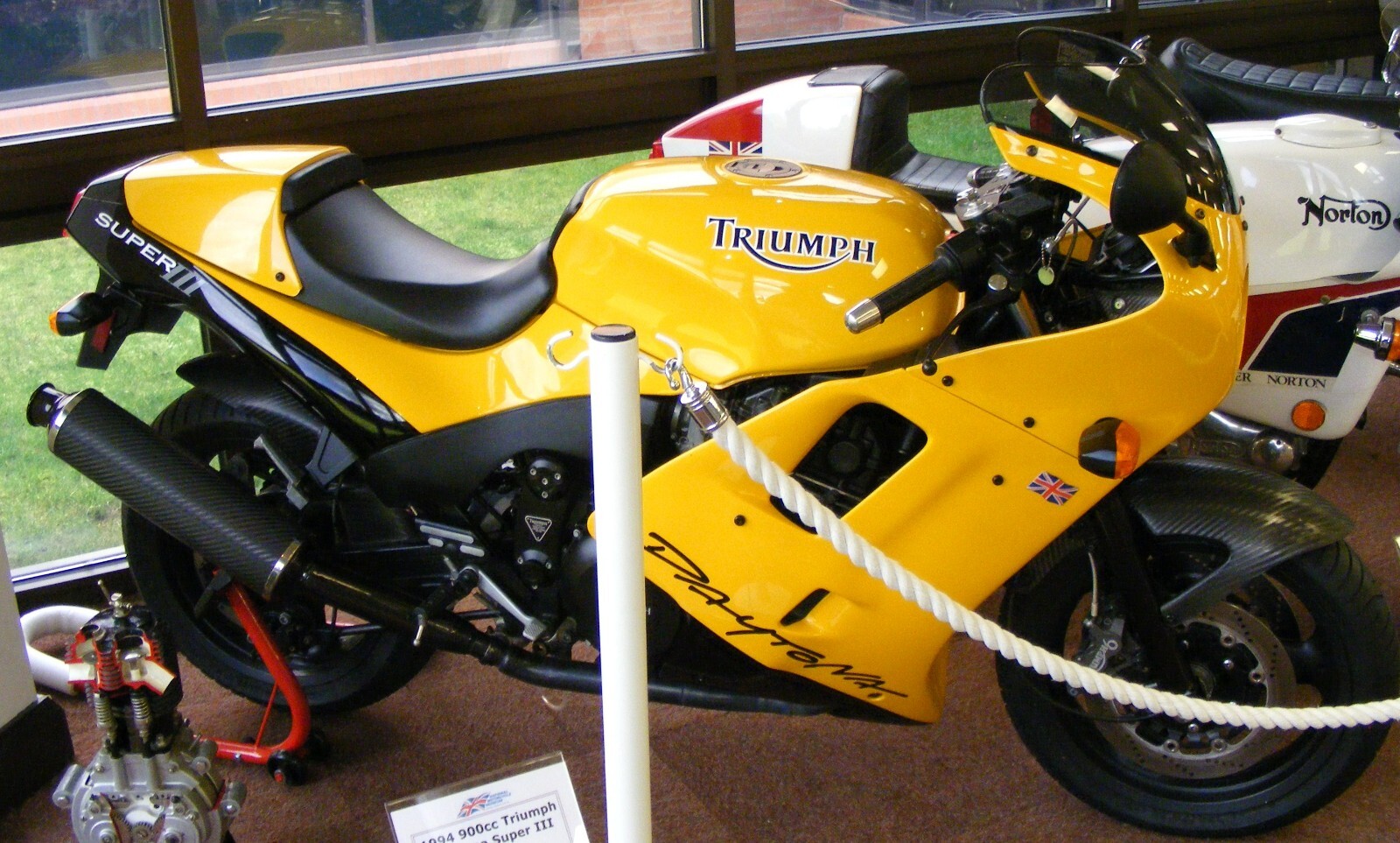 From the seller:
"1995 Triumph Daytona Super 111. Rare and highly collectable, this 1995 Triumph Daytona Super 111 is one of only 800 produced between 1994 and 1996. Only 170 were imported into the U.S. The bike is completely stock, in mint condition and has only 13,405 miles showing on the clock. This motorcycle is a prime example of Triumph's Superbike from 1995. Produced from 1994 through 1996 in very limited numbers, with engine tuning by Cosworth, this 885cc triple is rated at 115 horsepower, with an estimated top speed of nearly 150mph. This bike was just taken out of dry storage after 20 years. It is ready to roll, quick, and nimble…"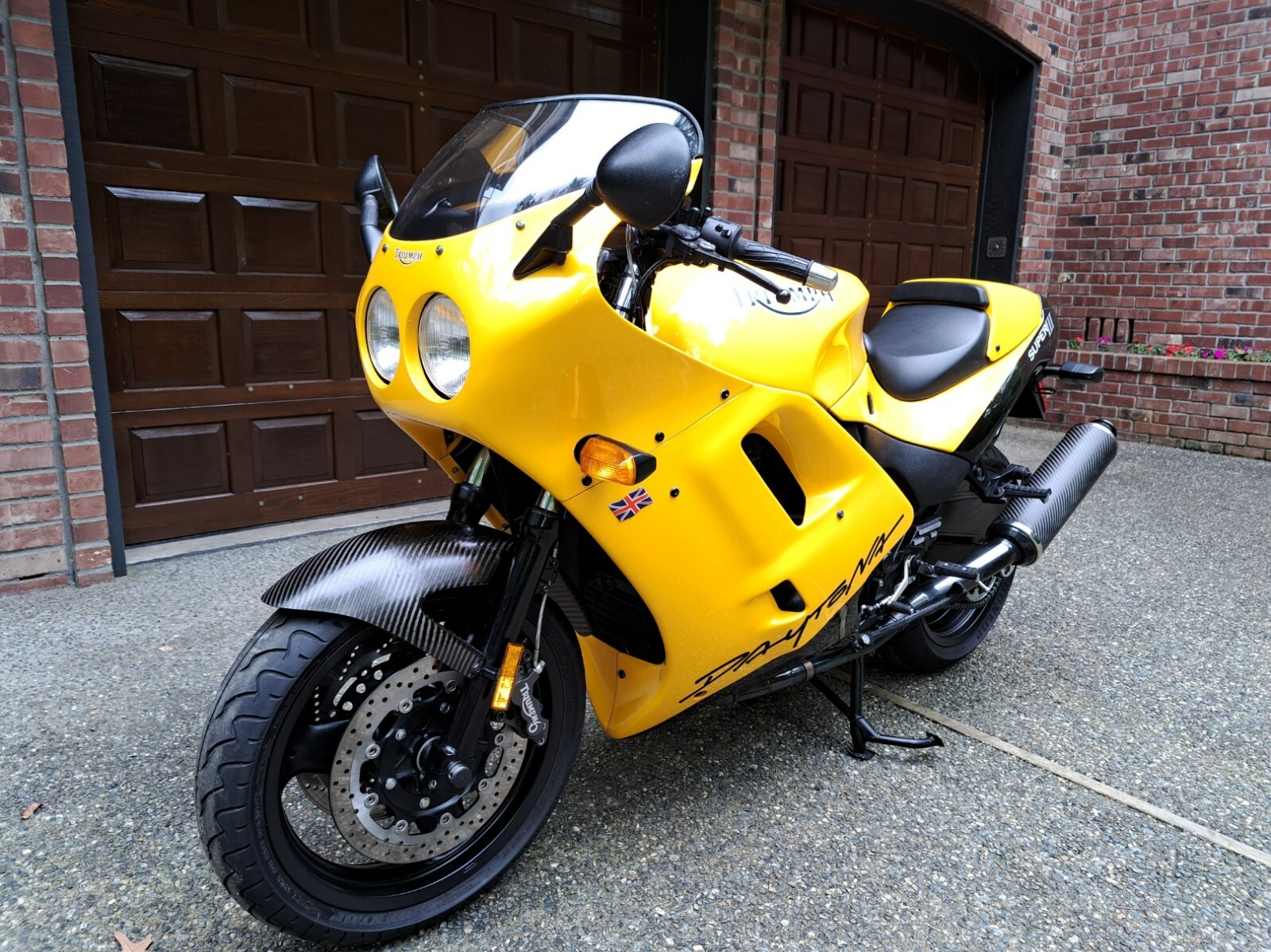 The additional power and brakes made the Daytona a much more responsive motorcycle on the street where easy power is king. The biggest gripe with this bike was always the power to weight but that's a problem most of us face ourselves at one one point or another. Triumph didn't design this motorcycle exclusively for the track and the weight only added to its street competency on windy British B roads.
Overall, this bike seems to be in very good condition with virtually no cosmetic defects. The seller mentioned the bike has been in dry storage for quite some time so it may need some parts refreshed here and there. As far as price and value, the bikes were rare and the US only saw 170/800 examples. RSBFS had one up in 2021 so they still come up from time to time. $3-$5K seems to be the going range for past examples and the seller's reserve is at the upper limit and has seen no bids.
-Norm