After a long, slow fall from grace into obscurity, Triumph had some soul-searching to do. Once, a premier manufacturer of sporting motorcycles, the storied brand needed a brand new strategy when businessman John Bloor chose to resurrect the company, instead of turning their facility into upscale condos… Instantly creating a line of motorcycles to topple the Japanese brands from a pure performance standpoint was out of the question, so Triumph chose instead to play to their strengths: heritage and old-world build quality. Why build engines to racing specifications when racing is so expensive, and you're likely to lose more prestige than you gain? The result was a line of bikes that included this very simple, brutish Triumph Speed Triple T309.
Originally, Triumph's modular range included both three and four-cylinder engine variants that powered a range of sport, naked, and touring machines that were all built around a spine frame. The lighter, more characterful triples ended up being more popular and, although it may not look like much, the Speed Triple could be credited with keeping the newly reborn company afloat, since it's a mainstay model even today. This first-generation model isn't nearly as polished, but has plenty of old school charm.
Chief among those charms was the beefy, 885cc triple that gave the bike its name and was also a callback to the 1937 Speed Twin. Backed by a five-speed gearbox, the engine was a modern, liquid-cooled design with machined details that evoked the cooling fins on earlier, air-cooled Triumphs. Styling was very simple, basically a Daytona with the fairing removed and a simple, round headlight and simple, monochromatic paint. Available colors included "Fireball Orange" and basic black. Classic. Suspension was adjustable at both ends, for all the good it did.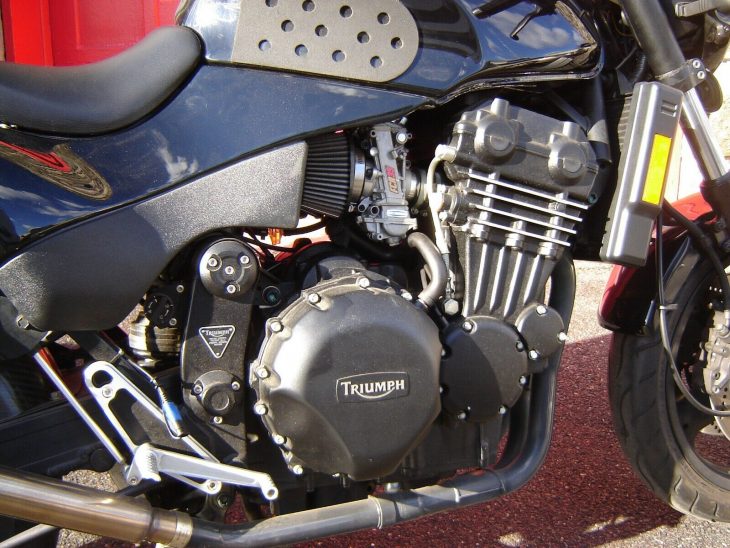 The T309 version of the Speed Triple definitely not an ideal basis for a track-day machine: Triumph's original modular concept had many virtues, but the spine frame carried weight relatively high and the Speed Triple was considered a bit of a pig, although things can probably be improved if that's what you're into: there was a Speed Triple Challenge single-make race series to promote the bike when it was introduced. Better to just enjoy this low-mileage example for what it is, and take it out for late night blasts around town in your black jacket with black helmet and dark-tinted visor, squirting from stoplight to stoplight and hoisting fat wheelies. Or sipping tea on sunny Sunday mornings at your local cafe, whichever you prefer.
From the original eBay listing: 1995 Triumph Speed Triple for Sale
Triumph 3cylinder 900 cc Condition is Used. Please notice this is an extraordinary example of the Triumph Speed Triple with low milage @1700 miles a 2nd owner well maintained great running bike. Hi performance carburators re: flat slide Keihin smooth bore Venturis jetted and matched to the carbon fiber mufflers. Kept and garaged in a heated pest free environment. This bike does it all and sounds really good when gassing it twisting it open and bracing against the acceleration. Owner is downsizing his collection. We recently sold a Ducati Paul Smart classic from this same collection. No expense spared in the up keep of these bikes. Recent additions are a new battery and fuel petcock valve. The gas tank is clean inside without corrosion or swarf to contaminate the fuel system. Tires are excellent. Brake fluids and the oil and filter were changed before posting to sell.
With only 1,790 miles, this example is pretty much perfect for collectors. The Micron cans seen here are a great period touch and the flat-slide carbs should add some great induction noise, along with a few extra horses. Cosmetically, the biggest problem here is that set of oddly-shaped tank grip pads. Grip pads are great for fast riding, but this particular design doesn't match the tank cutouts and cheapens the look. Obviously a very easy fix.
-tad