Update 8.2.2021: This bike has SOLD! Congratulations to buyer and seller! -dc
The Ducati Supersport line has been wildly successful for the Bologna manufacturer, and it is not difficult to see why. Based more on what is NOT there than what is, the Supersport is about agility and lightness. This is a bike that reduces riding to the raw level of man and machine, as opposed to man coddled by electro-mechanical machine. This is a booming, throbbing and visceral experience that is a class all unto its own. An amazing motorcycle because of what it isn't, the Ducati Supersport remains a standout of the era, and a reminder of how good it is to get out and ride.
Featured Listing – 1995 Ducati 900 SS/CR Hot Rod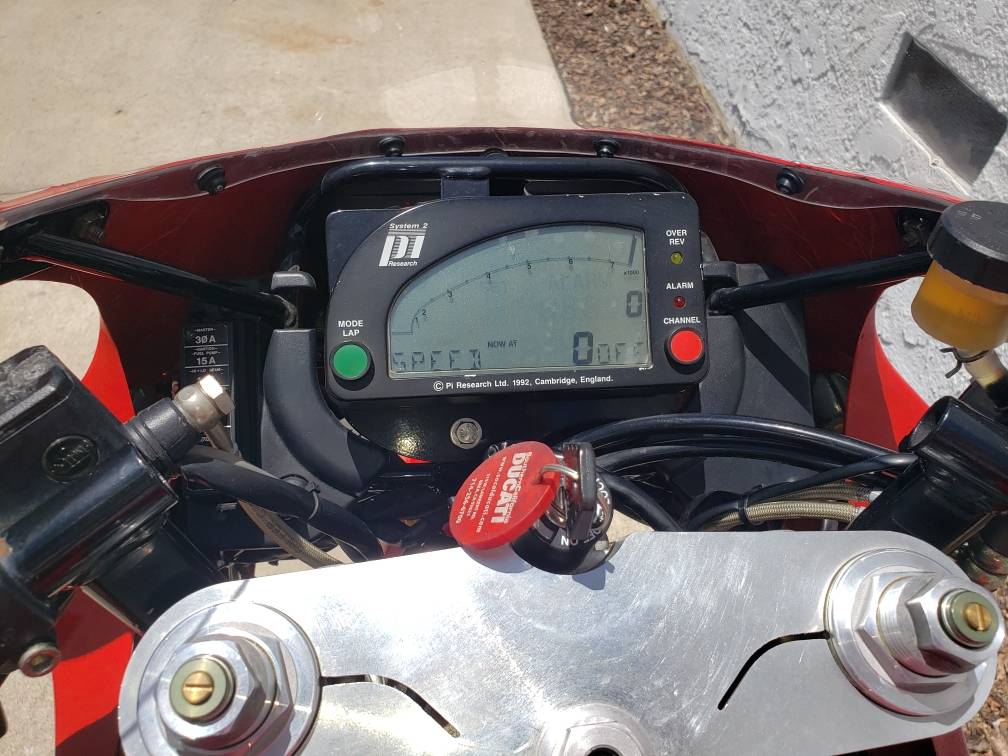 While the Supersport nomenclature had been around for decades in one form or another, it was the Pantah engine models that wear the "SS" designation. And rather thinking of the latter year Supersports as children of the bevel-era, old school Super Sport models, realize that this generation is much more closely related to the F1 and vaunted TT2 models – very good pedigree indeed. Out on the streets, riders quickly saw the potential for the "less is more" philosophy, and began to consider the 900 SS (especially the '91-'98 models) as platforms to be enhanced and customized. The bare bones were very, very good…but the aftermarket could make them better. Enter today's Featured Listing, a fantastic interpretation of the 900 SS/CR. I'll let the seller pick it up from here: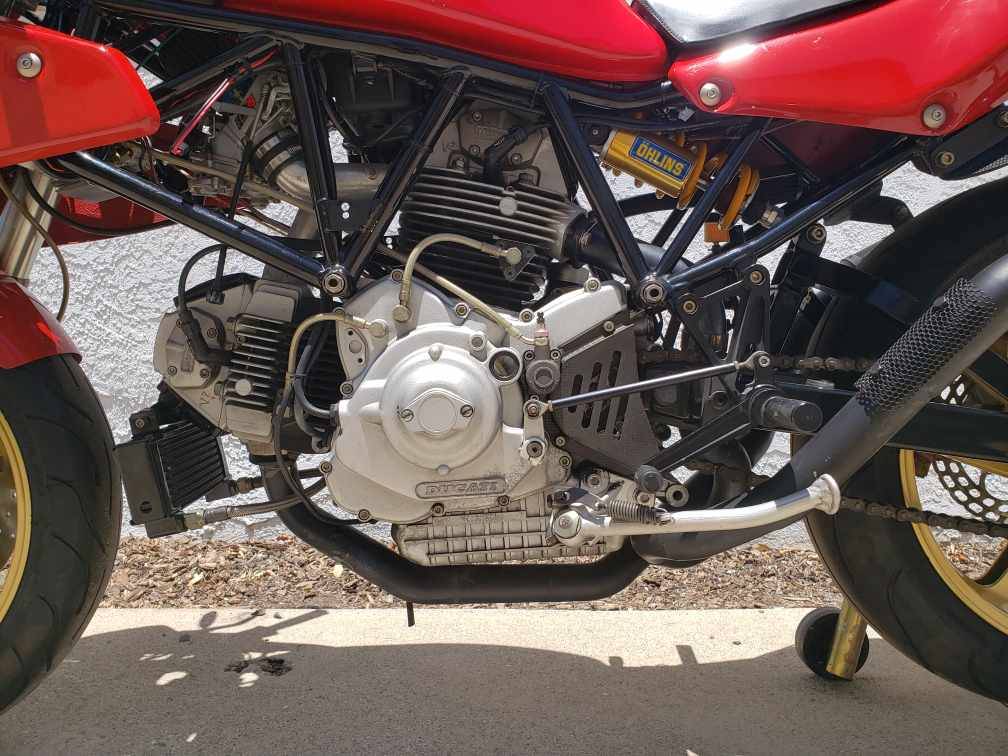 From the seller:
I bought this girl off ebay about 4 years ago. Someone had done a crazy amount of work to her and then parked her. The family I bought it from said that the builder past away. When I got her she had the items listed below. The person who did the work did a GREAT job, everything was very well done. I also did a bunch of work over the years, see below. She basically needs nothing, she has fresh everything, ride her across the country if you'd like. She is fast, light (388 pounds with ½ tank of gas), fun and increasing in value.
More from the seller:
Build work done before I got her:
Black powder coated frame, swingarm, fairing bracket, valve covers and maybe the sides of the oil cooler.
Keihin FCR 39mm Flatslides
Hi-comp stock bore pistons
Light flywheel
Light clutch basket
Magnesium Marchesini 5 spoke wheels
Rear sets
Pi Research System 2 race dash and sensors that show, Oil Pressure, speed, voltage and RPM has a few other options not hooked up.
Modified and powder coated upper fairing bracket for dash.
Fresh brake pads.
Rare D&D Full 2 into 2 exhaust, carbon mufflers and hangers (very cool, light and plenty of clearance)
Fresh stainless lines for front and rear brakes
Custom breather filter.
Customized airbox.
Individual K&N filters
Custom inner fender
Very tiddy custom wiring for the upgrades.
Full CARBON tail (with factory seat), upper and front fender, paint is track quality, 6 out a 10
More from the seller:
What I've done in the last 4 years and 1200 miles of ownership:
Fresh fluids, oil changed 7/19, brake/clutch fluid changed 10/20
New plugs 7/19
Ultrasonically cleaned and rebuilt carbs
Belts changed 7/19
Replaced battery
Replaced windscreen
Replaced bar ends
Installed bar end mirrors in place of factory mirrors to keep the bike narrow
Valves adjusted 8/17
Ohlins rear shock
900SS/SP forks
Full floating Brembo iron front rotors
Lightened rear rotor

What she needs and flaws:
The race dash doesn't have a odometer so I don't know what the mileage is, it also has it's own power switch so you have to turn it on and off.
The paint work has some bad touch ups and some flakey spots
That's it, she is ready to go
More from the seller:
If I kept her I would…. Do nothing, just keep ridding her. It's a great bike that flies between traffic, up mountains roads and commutes as well as my VFR. I've had over 12 900cc Ducati's, I'm going to regret selling this one more than any other in the past.

Asking Price: $6000 obo
Today's seller has listed several bikes on RSBFS in the past, and is a known entity. That always helps when considering a significant purchase. And from a cost standpoint, you could not build this hot rod at the price point being asked based on the parts installed and the cost of a suitable donor. That makes this a pretty good deal for a bike that has so much potential to please.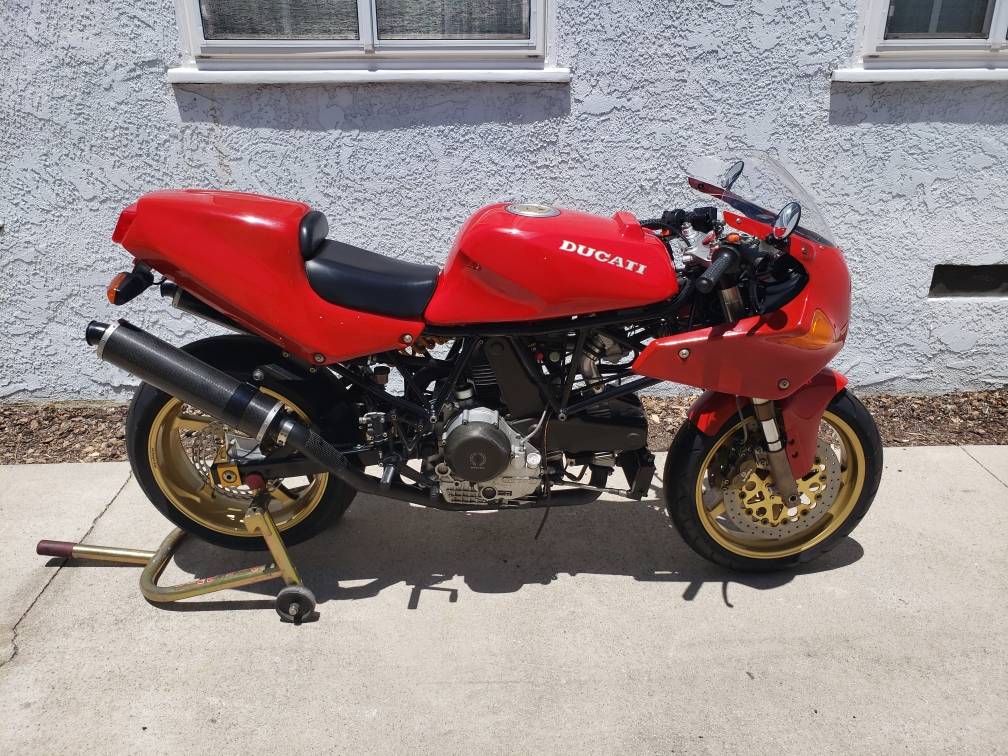 MI