Warning!
This post is in our archives. Links in this post have been updated to point to similar bikes available to bid on eBay.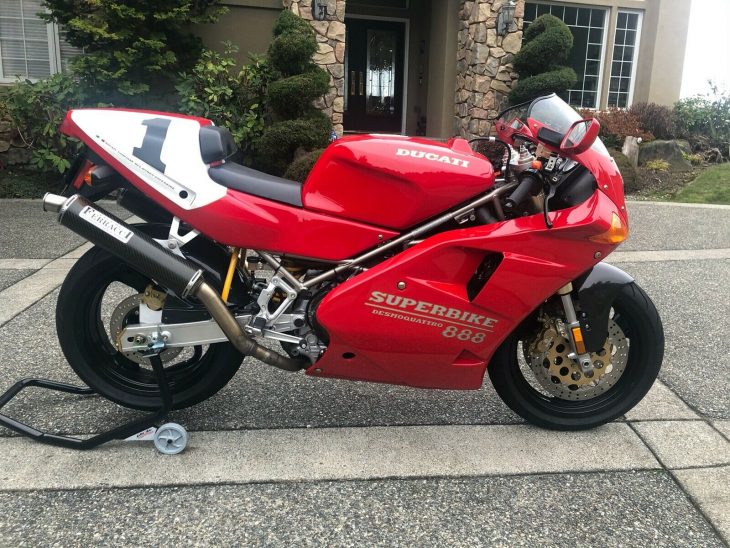 It's common for manufacturers to fudge things a bit when identifying their cars and motorcycles. Often, the name specifically referred to at least the approximate size of the engine, but liberties are often taken, especially when the displacement changes, but the name stays the same. The Mustang 5.0? Actually 302ci works out to 4948cc, which you should probably round down to 4.9 liters… But it's pretty close at least, and sounds much cooler. Can you imagine Vanilla Ice crusin' in his four-point-nine? Bike manufacturers are even worse about rounding things off to sound good. The Norton Commando 850 was packing 828cc, and the Ducati Pantah 600 had 583cc. Fortunately, Ducati redeemed themselves with the oddly-specific 888 SPO…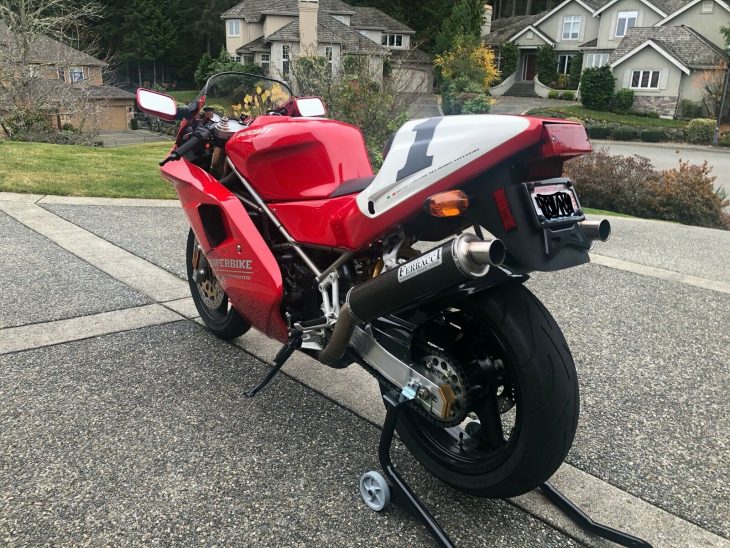 Until the introduction of the the also-accurately-named 851, Ducati made do with air/oil-cooled engines, and relied on their light weight and agility to compete against more poerful machines. Unfortunately, the handling of Japanese superbikes continued to improve by leaps and bounds, and the Italians knew the only way to stay competitive in production racing would be to evolve. Ducati's 851 superbike was powered by an extensive redesign of their 90° v-twin that added liquid cooling and four valves per cylinder, with all eight actuated by the company's famed Desmodromic system. The system basically eliminated valve float, although high mean piston speeds were a much bigger issue for a 10,000rpm v-twin. A more important advantage probably came from the ability to use more aggressive cam profiles to both open and close the valves.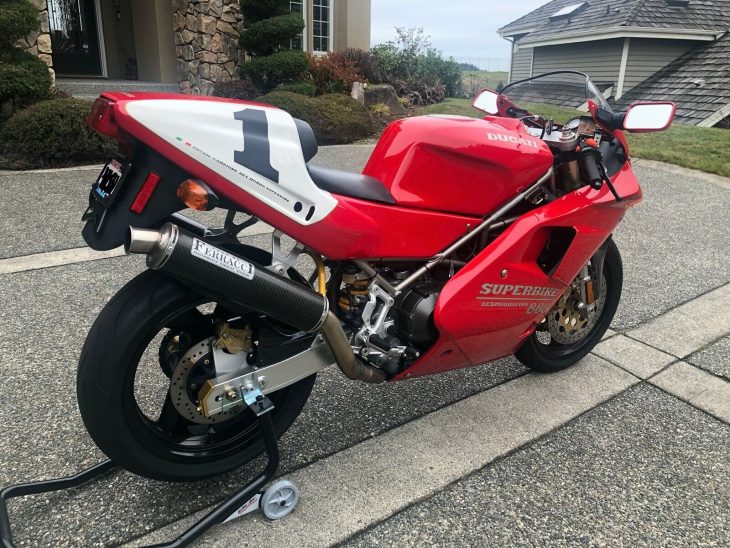 The 888 that followed naturally used a slightly larger, more developed version of that engine. A six-speed gearbox backed by an exotic dry clutch gave racing credibility, along with that characteristic Ducati rattle that is often louder than the exhaust at idle, especially on a stock bike. Two versions of the bike were available in most markets: the 888 Strada and the higher-performance 888 SP5. The SP5 wasn't road-legal here in the USA, so we got a bike that really slotted in between the two Euro versions called the SPO or "Sport Production Omologato" that was intended to homologate the bike for AMA racing. Unlike the Strada, the SPO had a solo-seat tail, upswept exhaust for more cornering clearance, and an Öhlins shock. A heavier steel subframe was used in place of the SP5's aluminum unit, and the engine was basically in the same state of tune as the Strada, with around 100hp and a meaty torque band.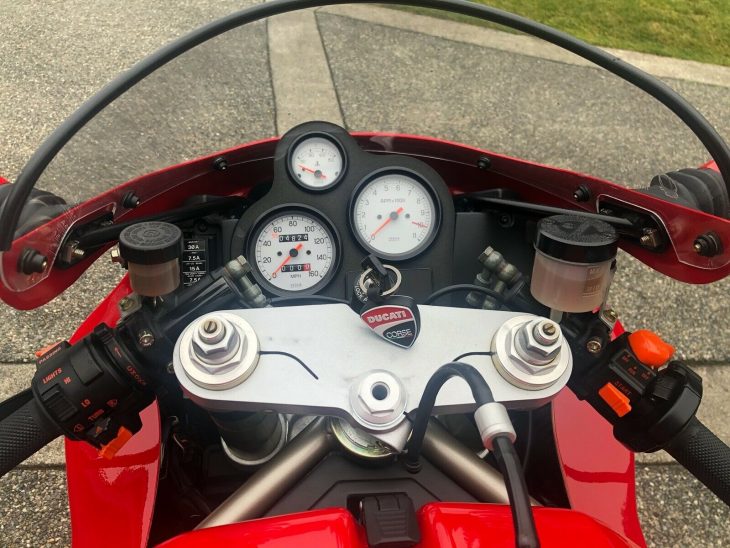 From the original eBay listing: 1993 Ducati 888 SPO for Sale
1993 Ducati 888 SPO with 4824 original miles and in excellent condition.  

Purchased new in the Seattle area and stayed a local bike all its life. Documented history throughout its 4824 miles, beginning from original purchase agreement in 1993 (pictured). Last full service (includes belts adjustment) done at 4600 miles in 2015. All major parts are original, including radiator (pictured) which shows matching usage/wear to the bike's mileage. Pipes were upgraded to Ferraccis back when the bike was new, and coolant hoses were replaced during the last service in 2015. Also recently replaced the fairing fasteners to period correct OEM fasteners as the gold plating on the originals were faded due to age.

Title is free and clear, and comes with 2 original keys and owners manual. Stand is not included.
This bike has very low miles and includes the desirable, period-correct Fast by Ferracci exhaust is a nice option that should add a period-correct exhaust note. The seller is asking a very steep $16,500 for this one, but it's very original, well-kept, and you'll likely not find another in this kind of condition if you're looking to grab an SPO for your collection.
-tad