Regular readers of RSBFS might know that I have a fetish for BIMOTAs. If you wonder why, just look at this: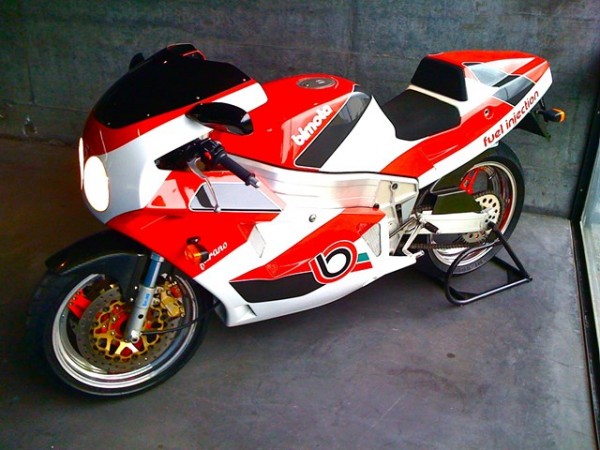 Do I need to say more ?
I am tempted to leave the rest of his article empty.
There is really not much to say here that your eyes have not already captured. A short time ago, there was some discussion on the blog about how special an MV Agusta F4 SPR 750 really is. I am not going to make comparisons. All I can say is that with about 14500 $ you have here an opportunity to acquire:
1) A beautiful and exclusive (by nature) Bimota
2) A very special and rare model within the Bimota production range
3) A hand built motorbike
4) A bike that featured the best components that a race team would have had access to in 1993
5) A bike with a full carbon fairing beautifully painted and all stock
6) A bike that had in 1993 a whopping 164 HP from the FZR 1000 power plant…that's more or less like a bike of today with 250 hp (just like a factory GP)
7) A bike that is so sexy and unique that you wonder whether viewing it should not be allowed to non adults
8) A bike that you can take apart piece by piece and you will be left with a collection of the finest craftsmanship bits made of machined blocks of aluminum
9) A bike that had in 1993 a carbon fiber gear actuator lever
10) A bike that in 1993 was so light that you wouldn't believe it (180kg = -30kg vs Yamaha FZR 1000)
11) A bike that today will still perform in any conditions
12) a bike that is the most advanced evolution of the YB4 which won a Formula 1 World championship in 1987
With less than 10.000 km on the clock, this pristine piece of art is an object of desire…literally!
Repeat after me: I want it….I want it…I want it…
Here it's not a matter of: "is there a buyer ready to pay 14500 $ cash for this", it is a matter of "first come, first serve"….
1993 Bimota YB 8 Furano in Switzerland
Good luck to you all!
Claudio