This Laverda SFC is bit of a throwback to another era, when you really could buy a motorcycle, ride it to the track, rip off the lights, and actually compete at the professional level. Sure, there are classes today that require bikes to be largely stock, but this Laverda is really more like the equivalent of a World SuperBike machine. With a headlight.
It's just too bad that Laverda name-owners Piaggio don't have room in their lineup for a revived Laverda. Their modern sporting range is taken up by Aprilia and their retro-sport line is all Guzzi, but I could see Laverda as a sort of Italian alternative to Triumph: practical, real-world sportbikes and standards with only a dash of nostalgia. It almost worked when they revived Laverda in the 1990's. Unlike many of the other recent stabs at brand-revivification, the Zane-era bikes were actually affordable, and they still make for a pretty cool Ducati alternative. Down a bit on outright power, but with superlative handling.
Of course, you'll get a lot of, "Laverda, who makes that?" at your local bike-night. But that's okay. My personal experience is that only the very best kind of people know Laverda. I have a battered old Laverda t-shirt and it attracts attention everywhere I go. Random strangers approach me in restaurants, in the checkout line at the grocery store, even at IKEA to ask me about it.
So Laverda is gone, but not forgotten, and this 1975 SFC really helps to explain the love people have for the orange bikes from Breganze, Italy.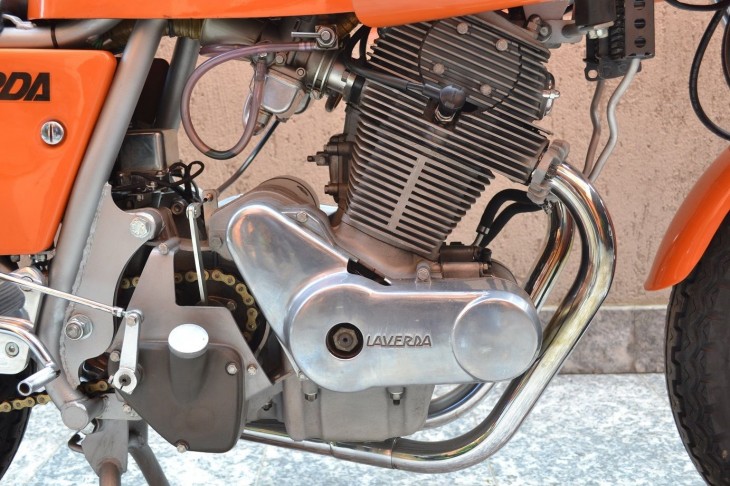 From the original eBay listing: 1975 Laverda SFC 750 "Elettronico" for Sale
VIN 18300 Engine 18300

This is "the real thing", numbers on the register and it is the rariest and most desiderable model of the serie, the "Elettronico" of 1975. On top of this it has a works race history being raced by Giuseppe Uberti Foppa (works Laverda rider listed also in the SFC register book) at the 500kms of Monza in 1975, with certification signed by him.

The bike was restored in the Factory in the early 80's and kept as a jewel since, totally original genuine parts, even the fiberglass body, throttle, all small bits, no repro's or nos.

Bike is "on the button" with even new tyres, showroom conditions. The best i have seen in the last 20 years! Bulletproof investment. Bike is currently located in Italy, 33080 Roveredo in Piano (Pordenone) but i can get them delivered all around the World at cost, no problem. We can supply US contact as reference.
Built between 1971 and 1976, the SFC or "Super Freni Competizione" was an homologation-special with an engine full of race-spec parts that pushed power to 80hp and road-legal lights and signals tacked on as a nod to streetability. Many SFC's show up for sale with those parts packed away safely in a cardboard box…
Not especially light, but very stable, the Laverda parallel twins were renowned for their durability. The 750cc engine featured five main bearings and parts not built by Laverda were sourced, regardless of origin, for their quality: Ceriani suspension, Bosch ignition, and Nippon-Denso electrics.
Only 549 were ever produced, making this one rare and very desirable machine, and the signature on the tail section and pristine condition only make it more so.
-tad