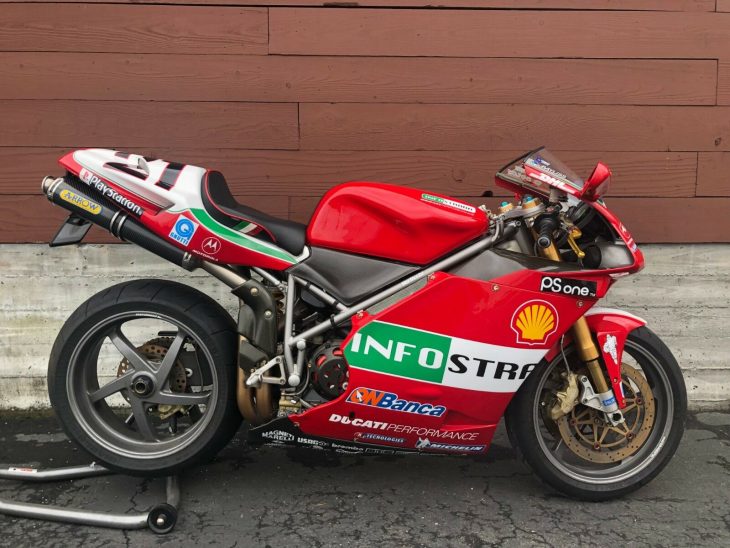 Ducati's lineup of superbikes has long included three main tiers: the "entry-level" exotic standard version, the S-version that generally includes some trim and suspension updates, and the homologation R-version, that is sometimes a step up from the S, and sometimes an altogether different beast entirely… The most desirable bikes are most often the R-version, but when you make 400 examples of the Troy Bayliss replica 998S, you create something that combines the power and dynamics of the very best of the 916 era bikes with racing heritage.
The 998 was the end of the line for the iconic Tamburini-designed four-valve superbike that began with the 916, itself an evolution of the earlier 851 and 888. And although there is some parts interchangeability between the 916, 996, and 998, they represent a pretty significant evolution of the platform that's much more than skin-deep. Bodywork appears largely unchanged, although subtle massaging of the shape between generations is noticeable if you look closely. In the 998, it was redesigned to fit the new frame originally used in the 996R, and allow different airflow to the reworked cooling system.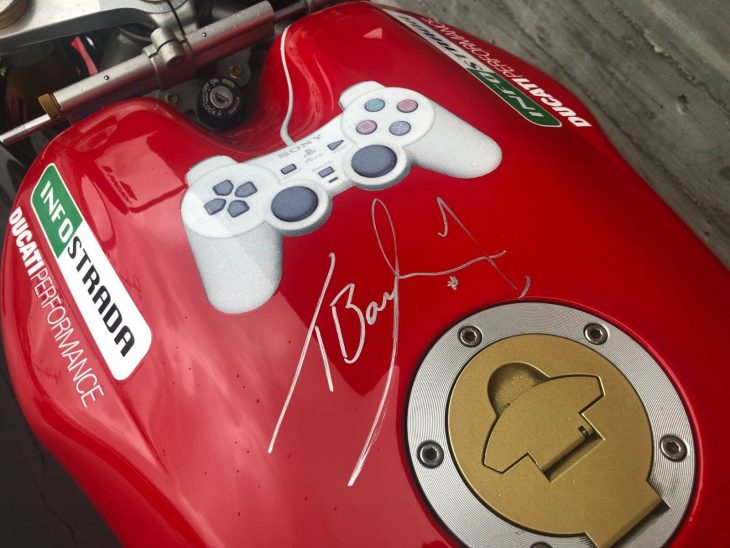 Most significantly, the 998 saw the widespread introduction of the narrow-angle "Testastretta" engine originally seen in the 996R for a big boost to performance. "Narrow-angle" doesn't refer to the angle between the cylinders, which remained at Ducati's traditional 90° for perfect primary balance. Instead, the Testastretta engine featured new, more compact and efficient cylinder heads with a reduced included valve angle of 25°, down from 40°, along with bigger valves, larger pistons, more aggressive cams, and shower-type fuel injectors. The result was a claimed 123hp in the regular 998, up from 112 in the 996, with an increase to 136 for the 998S.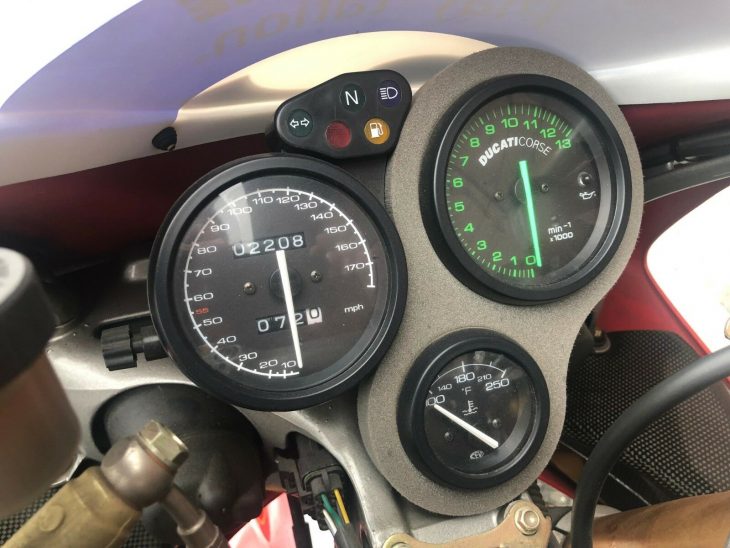 From the original eBay listing: 2002 Ducati 998S Bayliss Replica for Sale
Offered for sale is this stunning 2002 Ducati 998S Baylis #388 of only 400 made.

Built as a tribute to Troy Bayliss' 2001 WSB Championship, this 998S is in incredible condition and recently serviced.

Only 2200 miles!

Virtually stock with an Arrow exhaust, levers, Sargent seat, integrated turn signals and open carbon clutch cover with pressure plate.

A rare opportunity to own a classic. These 998's are as amazing in person as they looks in pictures.

Clean title as always.
Bayliss was a popular rider, but this particular race-replica graphics scheme is a bit bland to my eye, the kind of thing you could replicate on a box-stock 998 with Photoshop and a good quality printer. It's almost too authentic race-bike, in that it's a rolling billboard first and foremost. 916s and 996s have dipped pretty low in terms of values and seem to be on an upswing, but the 998 was never really very cheap. It was still being produced when the… controversial 999 was introduced, and many people seem to have been aware that they'd eventually be considered collectible. This one's $17,450 asking price is more in line with one of Ducati's R-model bikes, but extremely limited production and low miles make it a very desirable bike.
-tad