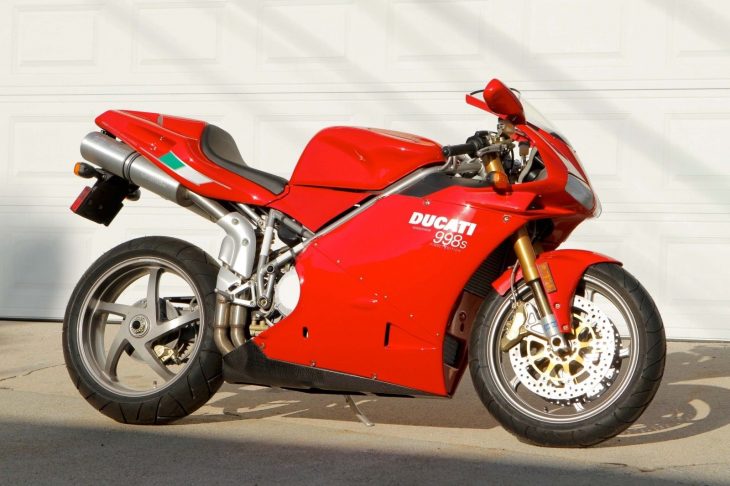 Examples of the Ducati 998S with zero miles have been popping up recently. No surprise that a few folks mothballed them in their original shipping crates, since Ducati kind of telegraphed their intent to discontinue the Tamburini-designed superbike with the whole "Final Edition" thing… I sometimes wonder just how long they could have continued to sell the bike without significant stylistic updates: it had certainly become familiar by the time the 998 was replaced in 2003 by the Terblanche-styled 999, but it's not like it's ever really looked all that dated. It's one of those few designs that skipped right from "cutting-edge" to "classic."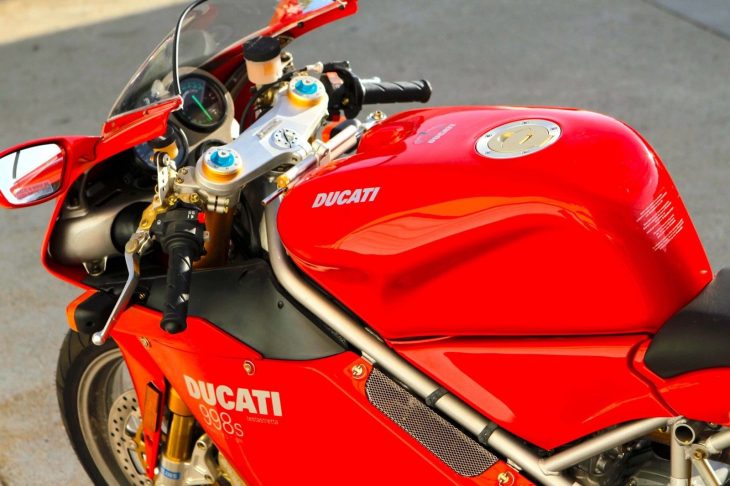 Under the wild new skin and ergonomic changes that made it almost luxurious by Italian superbike standards, the 999 that followed was more evolutionary than revolutionary. Aside from being pretty uncomfortable, there really wasn't anything inherently wrong with the 998, and most of the 999's performance improvements could have been applied to the earlier bike. Powered by the updated narrow-head "Testastretta" v-twin, the 998S produced a claimed 136hp, which sounds pretty tame by today's standards, but this was a very serious sportbike in the early 2000s. Keep in mind that traction-control on roadbikes wouldn't arrive even in its crudest form until the 2009 1098R.
The seller [famed Southern California Ducati dealer ProItalia] refers to it "considered to be the best of the bike that started with the 916" and that's an awkwardly-phrased, but accurate statement. The 916 was the original, but a gradual evolution meant that the 998 was the Ducati Superbike in its most powerful, most highly-developed form, and it's generally considered to be the best of the bunch from a rider's standpoint. Which makes this one's zero miles kind of tragic, really.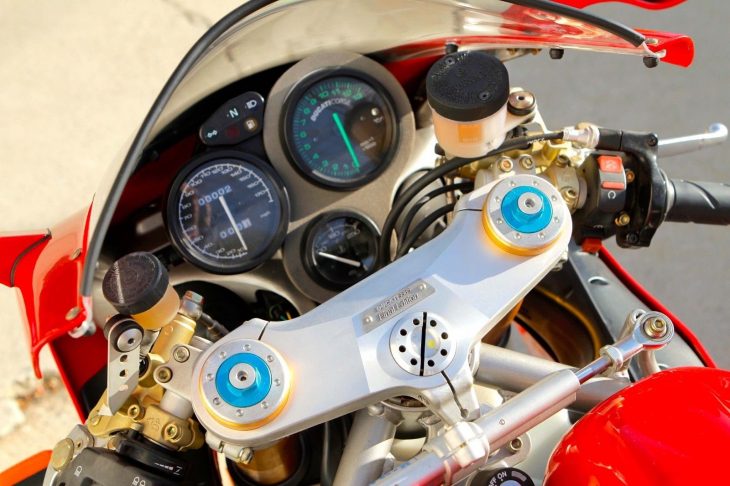 From the original eBay listing: 2004 Ducati 998S FE for Sale
2004 Ducati 998S Final Edition. New. On MSO, never registered or prepped. Never has never had gasoline in the tank or a battery installed. Purchased originally by a collector in 2005 from Motobella in Coopersburg PA. It was left in the crate until last year when it was purchased by the Indy Car driver Graham Rahal as part of his changing collection. 

Factory Ohlins forks, steering damper, and rear shock. Considered the best of the bike that started with the 916 in 1994.

Comes with MSO, keys, tool kit, 2004 parts catalog. Unique. Came out of the crate only a year ago. We'll assist with shipping to your door. Trades welcomed. If buyer wants the motorcycle prepped for road use, our certified Ducati tech will make it happen.

Pro Italia has been serving Italian motorcycle enthusiasts since 1987 and has a reputation of honesty and transparency with our customers.  
Okay, so I'll admit my headline is a bit clickbait-y: this 998S is no longer New In Box, since it was recently removed from the shipping crate, but has never seen the road. Still, $25,000 is pretty huge money for any 916 variant, so anyone considering this had better either really want a box-fresh example of the breed or have a long-view of its investment potential. Sure, values will eventually get there, but it may be a while until the new owner can actually turn around and sell it for a profit…
-tad