Update 3.22.2019: Now on eBay as well. Links added. Good luck to buyers and seller! -dc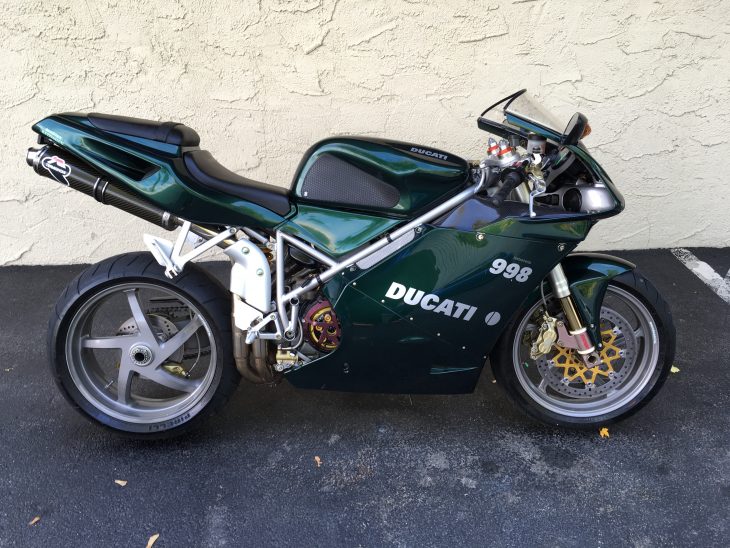 The 998 Matrix Reloaded Edition appears only occasionally on RSBFS, and this Featured Listing is owned by a collector, in primo condition with some choice updates.  It's a rarity as only a couple of hundred were made, and is one of the high peaks of the classic Ducati superbike family.
The 998 had first-generation testastretta cylinder heads, with revised valve angles for better reliability and reduced maintenance, not to mention 123 hp !  Shortened intakes and electronic fuel injection improved throttle response, and an additional cooling fan whispered a prayer when caught in traffic.  The Matrix edition had top-of-the-line Showa forks, with an Öhlins monoshock, and steering damper to boot.  Brembo brakes and dry clutch are de rigueur for a Ducati superbike and the 320mm disks on the Matrix had outstanding reviews.  It's a biposto ( after all, Trinity had to have a place for the Keymaker ) but the black seats don't clash with the deep green paint.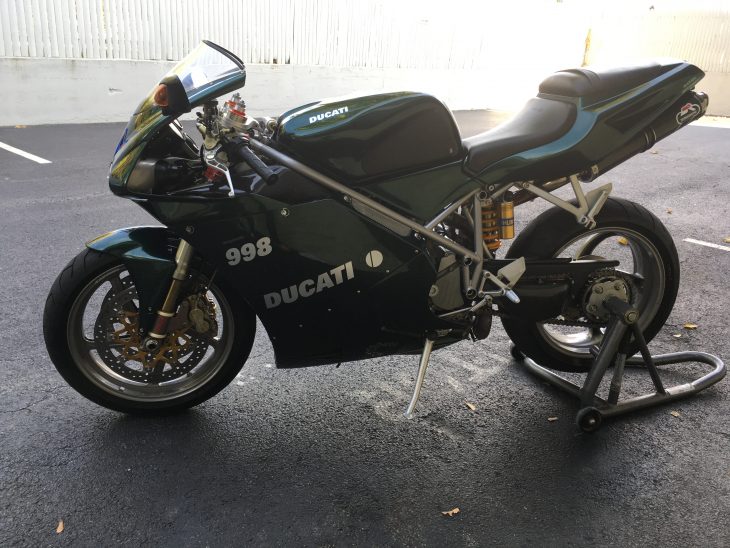 Stephen in New York has taken nice care of this 998, equipping it with nicer Termignoni carbon underseat mufflers, a billet clutch and carbon covers that top the fairings.  Mileage is just under 9,000 and it's cleaned and detailed nicely enough to be in the dining room.  The owner's comments:
one of 217 supposedly ever built w 8976 miles
adult owned and dealer maintained
kept wrapped in heated garage and never down on a tender
Full Termignoni Carbon Fibre exhaust
Carbon Fibre top panels replacing plastic stock pieces
Billet Pressure Plate and open clutch cover
Ohlins rear shock
LED integrated tail lights
Mirror Integrated turn signals
never down w 3 minor scratches (didn't want to touch so minor)
bike has been meticulously owner maintained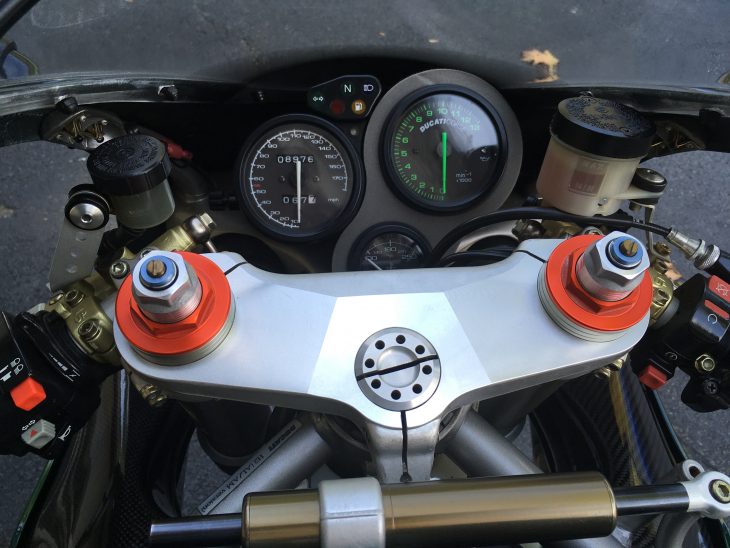 Ducati got a lot of – excitement – for their product placement in the sequel, way more than GM who seemingly rolled hundreds of cars.  Likewise 998 Matrix owners, who stayed out of the -R or -SPS spending spree but still had a very sharp-edged tool.  This 998 looks to have been carefully ridden and maintained, and Stephen asks $12,000 for his copy.  He requests questions and offers by email – here –.
-donn