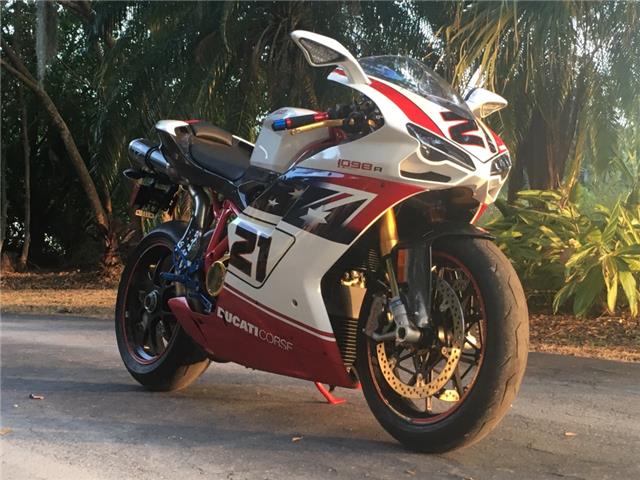 Created to celebrate his 2008 WSBK title win for Ducati, this Troy Bayliss Replica 1098R features the Aussie's racing number, along with livery matching the bike he rode during the very last race of his career, sans sponsor logos. Ducati's status as a sort of "Ferrari of Motorcycles" puts them in a tricky position. MV Agusta might be the much more appropriate bearer of that title for all the reasons obvious to the enthusiast community, but if you say "Ferrari" to anyone, even a non-enthusiast, they know exactly what you mean. They know it's Italian, they know it's fast, they know it's expensive. And probably red. The same holds true for Ducati. If you say "MV Agusta" to your average non-rider, and all you'll likely get are blank looks.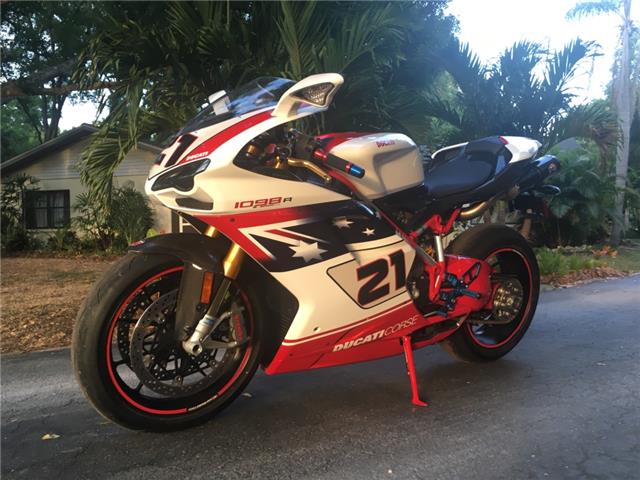 That sort of association is great for marketing and image, but it means the bike are under a lot of pressure, not only to perform, but to look the part. It's a tough balance to manage, and Ducati has learned the hard way that sometimes form needs to take precedence over function. That was clearly the case with the Ducati 999 that was introduced to replace the 998. It was a radically new bike, and threw every design cue, aside from a transverse v-twin's natural wasp-waisted silhouette and Ducati's signature trellis frame, out the window. The style was aggressively modern, with a futuristic stacked projector beam face, fairing winglets to guide air around the bodywork, adjustable ergonomics and, horror of horror: a double-sided swingarm!
And it backfired.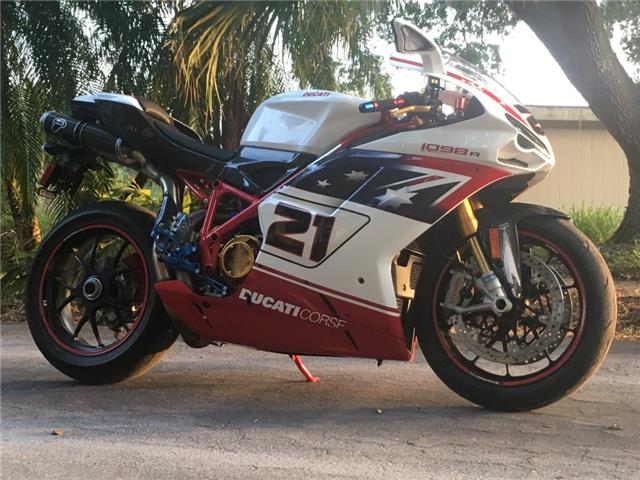 So Ducati took a stylistic step backwards and introduced the 1098, a bike that continued to develop the Desmoquattro engine and their superbike platform, but incorporated a style more familiar to fans of the brand. Out went the stacked, cyclopean headlights and in came a slit-eyed face that still reminds me of a great white shark. It remains my favorite element of the design. Out went the odd, technical, unequal-length two-into-one undertail exhaust and in came twin exhaust cans clearly meant to evoke the 916. I still hate them, especially the stock parts. And back, much to the relief of the Ducatisti, was the iconic single-sided swingarm.
The homologation 1098R offers up prodigious performance and specs that are still eye-opening today: almost 190hp and 99ft-lbs of torque with the included race ECU and exhaust. That'd be terrifying without some form of safety net, and the 1098R was revolutionary for offering eight-level traction control in the form of DTC, or Ducati Traction Control. Assuming of course that you had the above-mentioned race ECU and exhaust installed, since they were required for the DTC to function. The traction control was crude by today's standards, but was the first of its kind, a system designed to improve lap times, not provide all-weather safety, and a DDA Ducati Data Analyzer meant you could do a detailed trackday postmortem on your home computer, something of a revelation for sportbike pilots.
The R's Testastretta Evoluzione was larger than the stock bike's, displacing 1198.4cc, right on the WSBK limit for v-twins, and had titanium internals, twin injectors per cylinder, along with a slipper clutch to keep the rear tire under control during hard downshifts. Suspension was state-of-the-art with an Öhlins TTX36 twin-tube shock out back and a 43mm Öhlins fork up front. Brembo Monobloc calipers were the best available at the time.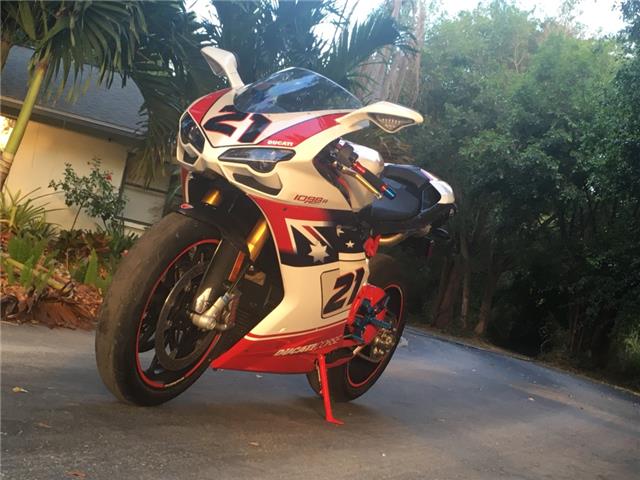 From the original eBay listing: 2009 Ducati 1098R Bayliss Replica for Sale
Up for auction (or trade for collector cars) is a very rare 2009 Ducati 1098R Troy Bayliss bike. These bikes are limited production, only 500 made in total and 150 imported to the United States. This bike is unmolested, and it has 450 actual miles. I bought it because I love Ducatis and this example, in my opinion, is one of the most beautiful bikes they have made. I do not have any of the original take-off parts, t-shirt, placard, etc. This bike is actually an 1198 engine, putting out 180hp@9750rpm and 99.1ft-lbs of torque. The bike has no issues, is ready for a collection or ready for use. I don't need to sell the bike but would like to free the $ up. It is located in Sarasota, FL.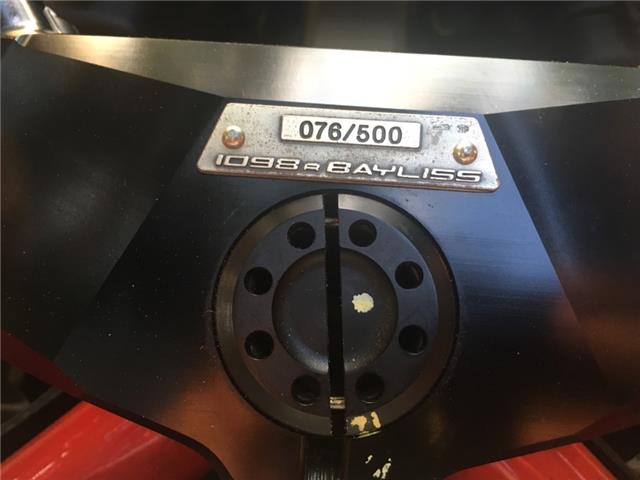 "Unmolested"? Well, let's be honest here: it has been molested. Luckily, the farkles [except for the red swingarm] can be removed and original parts sourced, but it says something about the previous owner that he'd add those godawful grips and multi-color bits, and Ducati collectors can be snobs about stuff like that… I get it: you were trying to replicate the bike's multicolor style, but just because there's blue in the design doesn't mean you can just use any color blue to… nevermind. Otherwise, this might be a great bike for collectors, with just 450 miles on the odometer. But that's a double-edged sword, since neglect is the worst thing for any Ducati. Interestingly, a bunch of these Ducati 1098R Troy Bayliss Replicas have cropped up for sale recently, which is odd, since just 500 were made, and the seller is asking $23,198.00 for this example. Obviously, if you plan to ride the bike, you'll need to go through it completely and do all the services, unless the seller can provide documentation. And then you might want to do them anyway, just to be safe.
-tad