Shopping for a road machine ?  Determined not to fall into the displacement arms race ?  Take a look at this Ducati 749S, a lot of good stuff and a limited amount of attitude.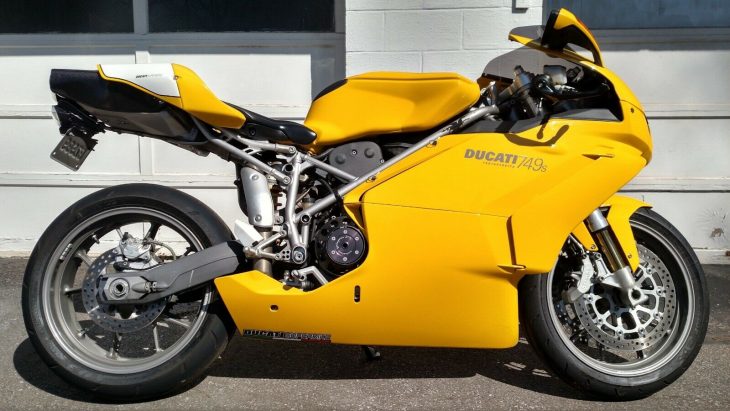 The 749 looks and was built like the Pierre Terblanche designed 999, and the innovative design suffered the same short run.  The 749S had a niche though, the rev-happy 748cc engine had higher compression than the base model, and brought 116 hp to the game, with a surprising 61 ft.-lbs. torque.  Nicer Showa forks have nitrided fork tubes for less stiction, and forks and monoshock are multi-adjustable.  Variable seat and footpeg positions accommodate the rider, and steering head angle can be set for the track.  Stateside -S models were all single-seaters.
No word on the number of owners, but this 749S appears maintained and cared for.  Beside the requisite tail tidy, just seeing aftermarket levers and clutch cover.  Not sure what race exhaust is fitted, but likely the factory cat is no longer.  The owner has a new Duc coming, but must be of a certain age, "brakes are good – tires fair" echoing a fifties song Hot Rod Lincoln and the most popular version is from – 1971 –.   Recent maintenance is claimed in the eBay auction:
Very nice top of the line bike. Essentially a 999 with downsized bore and stroke. Adult owned and well maintained. 12.3:1 compression 110HP @10500 RPM. 6 speed. Showa fully adjustable TiN upside-down fork, progressive rear fully adjustable Showa monoshock. Steering damper. Adjustable headstock rake. 5 position footpegs. Adjustable levers. New chain. Seat/tank assembly adjustable 20 mm fore/aft. Carbon fiber tail and race exhaust. Open clutch cover. Cosmetically a 9 out of 10 minor nicks, no dents. Brakes are good – tires fair. Runs, shifts and stops as it should. Recent belts and valve check. Minor fairing repair (1 inch not visible in pics. Well done and hard to spot.). Enthusiast owned and never down.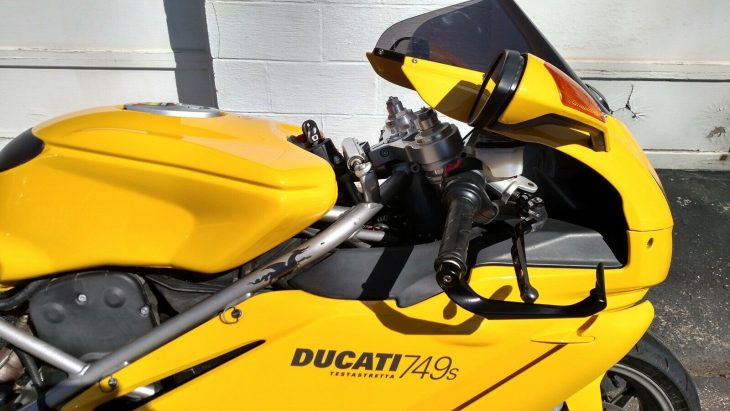 The 749S is a good alternative to a liter-plus superbike, often more fun to ride in Dragon-like sections, and of course easier on the ways and means committee.  Long low ergonomics might be something to try before you buy, and starting and cooling systems should be under less stress than on the superbike.  The old question of whether Ducati was giving away the similarly built 749S or the not-all-that-much higher priced 999 is largely past for a 15 year old machine, and this should be an efficient entry into a real exotic supersport.
-donn