Tad first posted this one in December when it had a buy-it-now of $25k. It was relisted and eBay showed a sale at just over $10k. It's back now from the same seller with a buy-it-now of $15k or best offer. Thanks for the heads up, Donn! Links updated. -dc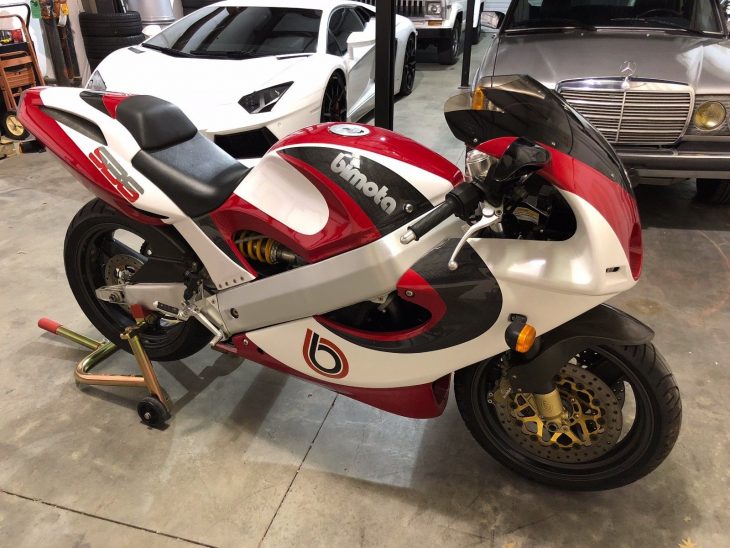 The SB6 and SB6R were some of Bimota's best-selling bikes of all time, and featured what must be the mother of all beam frames. That distinctive, very rigid aluminum unit used Bimota's "Straight Connection Technology," designed to link the steering head directly to the swingarm pivot. This improved chassis rigidity at the expense of servicing: you pretty much have to unbolt the engine and swing it forward to adjust the carburetors, change the spark plugs, replace the front sprocket, or access the alternator drive that tends to fail…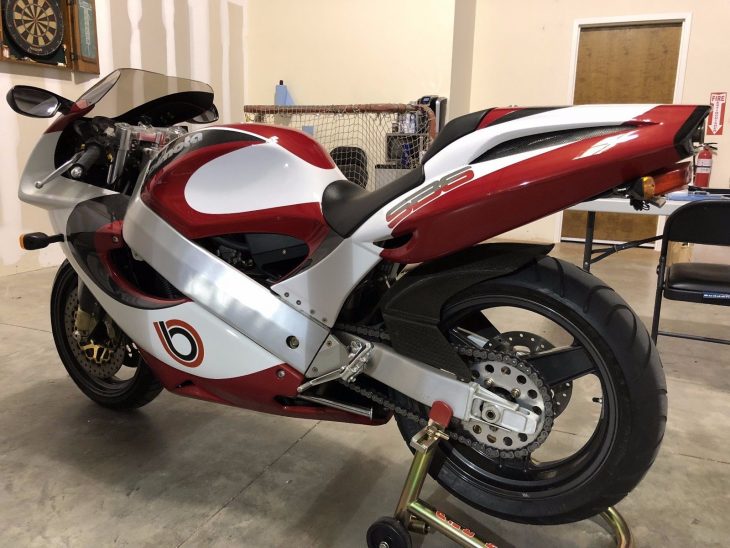 Fortunately, this earlier SB6 at least features a set of Suzuki gauges, a good thing since the later Bimota units supposedly pack it in with unfortunate regularity. They may look fairly mundane, but least they work! The engine should be pretty reliable too, and powerful to boot: those gauges are matched to the inline four and five-speed gearbox from Suzuki's GSX-R1100.
I much prefer Bimota's follow up to this bike, the SB6R which pretty much embodies my favorite aspects of 1990s styling. Sure, the 916 might be the more iconic 90s design, but part of the reason is that it doesn't actually look like anything else from that era. The SB6R has the bulbous curves of the donor GSX-R, but with better colors, less weight, and more all-around Italian-ness.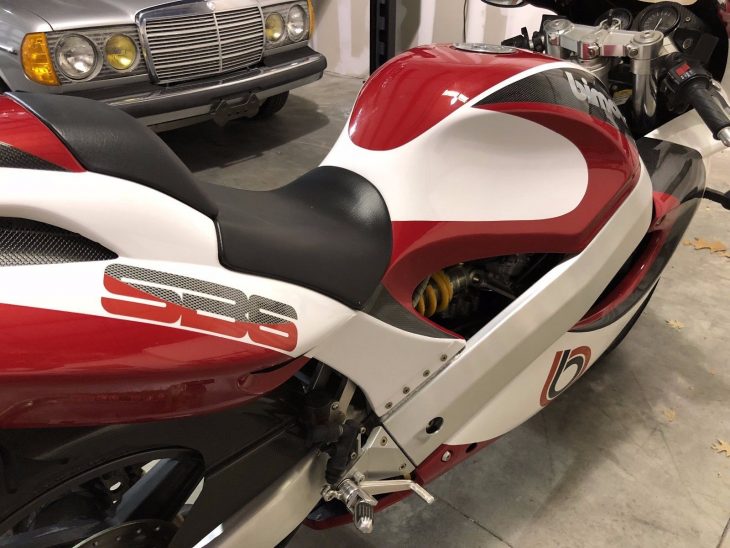 But the strength of the original SB6 is that it looks like pretty much nothing from any era, unless you count Crea's weird, organic-nightmare bodywork kits from the era… Go ahead and Google that, and then promise me you'll never complain about Pierre Terblanche's 999 ever again. The SB6 is striking wrapper that contains all the analog performance you could ever want, along with a powerplant that should be at least easy to get parts for, even if it isn't actually all that convenient to work on.
From the original eBay listing: 1995 Bimota SB6 for Sale
This is a one owner bike that has been stored inside a house.

Only 670 Miles!

The bike fluids have been drained and cleaned for proper storage. The bike is all original and near perfect.

It has never been on the market until now. I have had the bike in my house for over a year and just moved it to my warehouse and decided to let someone else enjoy it. I got the bike from a friend that knew the original owner and connected us.

I am open to fair offers. I listed the bike at top market price because someone might pay that. However make a fair offer and you might own this very rare, one owner Bimota.

Also, it has the Suzuki 1100 motor… Dyno specs in pics from years ago.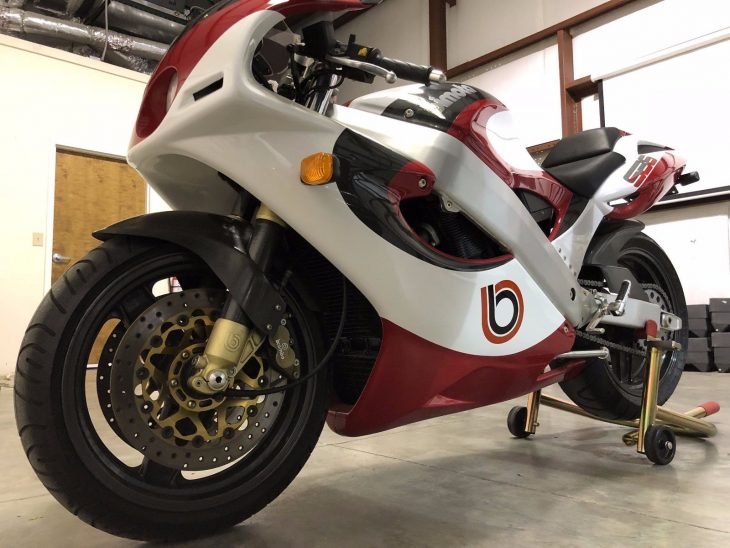 Since the seller "got the bike from a friend that knew the original owner and connected us," wouldn't that technically make this a two-owner bike? Even though the second owner only had it a year? Unfortunately, 1990s Bimotas were a bit unfinished from the factory, and great concepts suffered from pretty poor execution. If you had the time or money to go through your expensive Italian exotic to correct electrical faults and set up the suspension properly, you were left with a serious weapon for road or track. Of course, most buyers wanted their money to buy an actual, functioning motorcycle, and Bimota's kit-bike quality certainly hasn't helped values.  The $24,900 asking price is very ambitious for an SB6 but, with those kind of miles, maybe a collector who wants a very clean, low-mileage example of a very cool machine will bite. However, I'd say the seller's negotiation technique could be… stronger.
-tad