Warning!
This post is in our archives. Links in this post have been updated to point to similar bikes available to bid on eBay.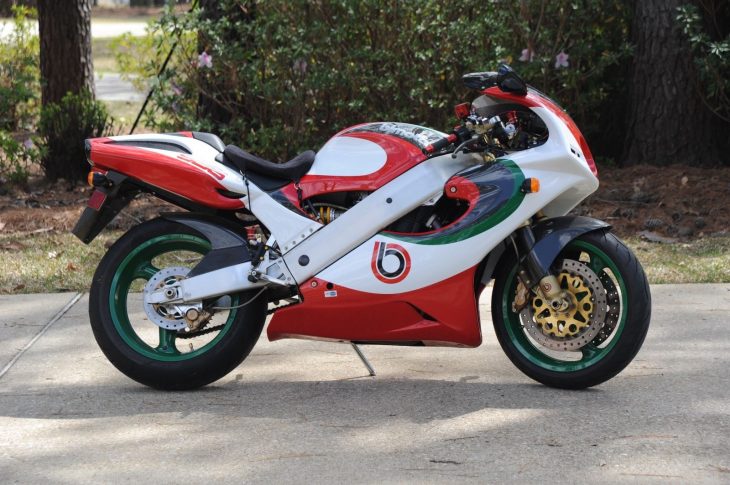 Aside from the disastrous VDue, Bimota's stock-in-trade was wrapping lightweight frames and fantastically exotic bodywork around reliable powertrains from established manufacturers. The magical formula that led to bikes like the Bimota SB6 seems so simple, it's a wonder it took so long for other manufacturers to catch on: wrap too much engine in too little motorcycle, fit quality suspension, profit. But it's obviously more difficult than it looks to make that formula work, and the Japanese tendency to overbuild was clearly blunting the otherwise very butch GSX-R1100's performance: the SB6 made virtually the same power, but weighed a stunning 90lbs less than the donor Suzuki.
With 1,700 built, the SB6 was one of Bimota's most successful models, and that means that prices are relatively low for this Suzuki-powered blaster. It's not a cutting-edge performer anymore but, with almost 150hp from the 1074cc inline four, huge midrange, and light weight, a well-ridden SB6 will certainly keep up with modern machines.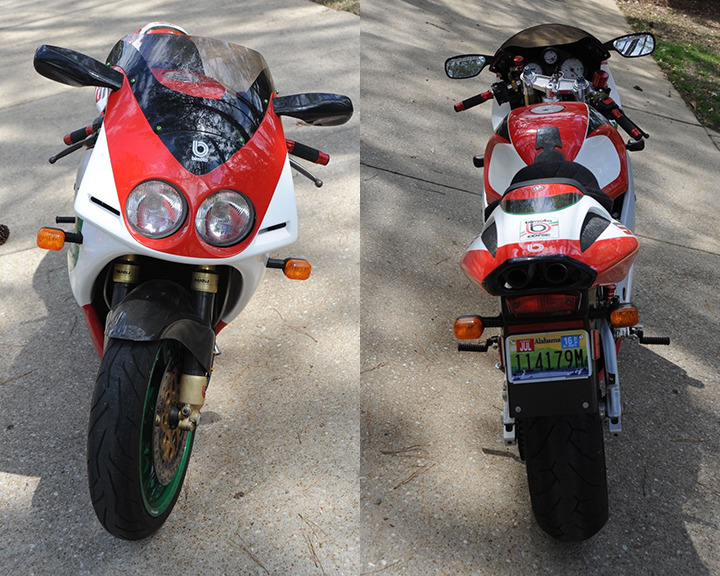 There are some very minor blemishes on this example, just some small chips around fairing fasteners. But aside from that awful touring seat pad that'd be in the garbage before I even got the bike home, the bike is pretty much immaculate and looks great in the very Italian tri-colore paintwork on the swoopy body panels. I personally prefer the look of the later SB6R, but there's no doubt this is a very striking motorcycle.
From the original eBay listing: 1995 Bimota SB6 for Sale
9809 miles

excellent condition

72 year old owner can no longer ride
Well, that's not all that much to go on, but considering the low mileage and the condition evident from the photos, maybe it's all we need. This is a new listing, and there are no takers yet at the $4,800 starting bid. From what I've seen in the past couple years, an SB6 could be a very nice way to get a fast, relatively reliable motorcycle with exotic credentials, distinctive looks, and big, four-cylinder power. Keep in mind that, although the Suzuki powertrain should be easy to service, at least once you get access to it, some other parts like bodywork, electricals, and suspension parts could be hard to come by. It's a real bummer when your beautiful Italian exotic is sidelined by unobtainable seals for those snazzy Paioli forks… So you'd never want one as your only ride but, considering what these Bimotas are going for, they're looking very, very tempting at the moment.
-tad