Update 11.21.2014: The seller has updated us that this SB6 has sold in just 24 hours. Congratulations to buyer and seller! -dc
The fine folks from Rimini certainly have a different way of looking at the world. Ignoring all but performance and visual artistry, Bimota consistently delivers on both ends of the performance-art spectrum (DB3 Mantra notwithstanding). It takes a great deal of focus to beat the Japanese and Italian manufacturers at their own game while using their major engine & trans components, but that is exactly what Bimota has done, and continues to do. And this SB6 – S for Suzuki (GSX-R1100 engine in this case), B for Bimota, and 6 for the number of Suzuki iterations Bimota has created – is in great shape and looking for a new home. Of all of the classic (pre bankruptcy) Bimotas, the SB6 is probably the most well-rounded model – although that Gixxer powerplant still packs a major wallop!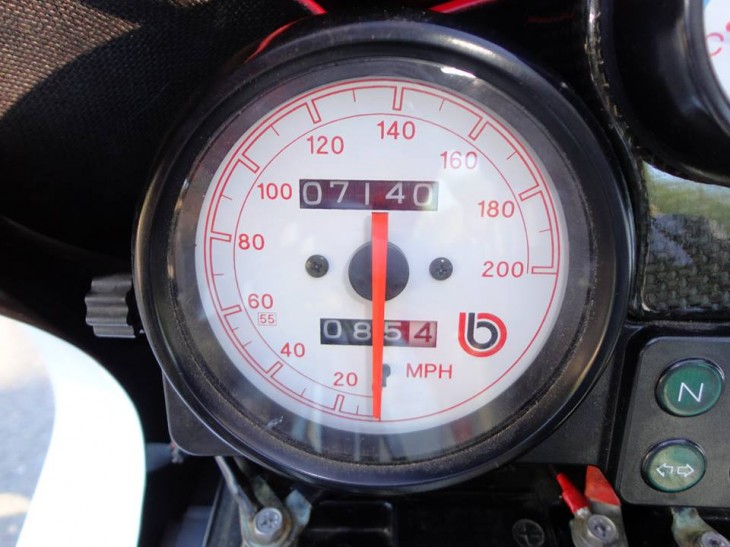 Among the trio of Bimota founders you will find none other than Massimo Tamburini; the "Ta" in the Bimota name comes from his last two initials. You may remember Tamburini from such other hits as the Ducati 916/996/998 as well as the MV Agusta F4 series. With a design portfolio like that, you would expect something special, and the SB6 delivers on all fronts: From the tasteful mix of aluminum chassis, carbon bodywork, CNC-milled trees and miles of paintwork, to the chassis detail including the "peek-a-boo" offset rear shock and the under tail exhaust. Interestingly Tamburini (who we sadly lost in April of this year) was no longer a partner in Bimota after the mid 1980s, yet he continued to return and do contract work for his former company. His legacy is obvious in the SB6.
From the seller:
1996 Bimota SB6. Original bike in excellent condition. Has 7,140 miles. It's been in a private collection of 7 other Bimotas and many other bikes for the last 8 years. This is the last of the Bimotas in the collection; wasn't planning on selling it, but maybe it's time for it to go as well. Currently being serviced and new battery being installed.

Asking $7700 or serious cash offer for this Bimota. Bike is located in Paradise Valley, AZ. Clean/clear Arizona title. Appointments can be made for serious buyers to view the motorcycle.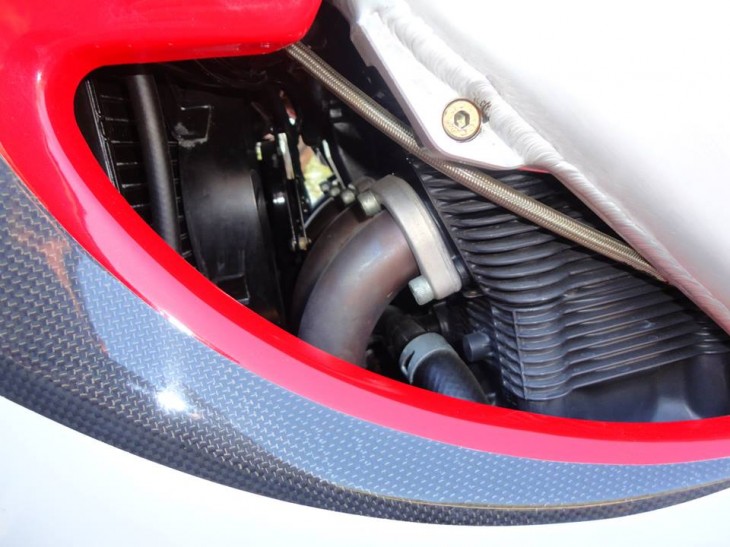 This particular bike is a Featured Listing from RSBFS reader Tony. The asking price is *very* reasonable considering the condition of the bike and the mileage (yes, there are some folks that actually enjoy riding their Bimotas!). If you are looking for an exotic, you could do much, much worse than an SB6. And if you are looking for an SB6, this one should be worthy of consideration. Jump over here to take a look at all of the details on the bike, and then give the man a shout. While Bimota is still in the bike business, they don't quite make them like this anymore.
MI