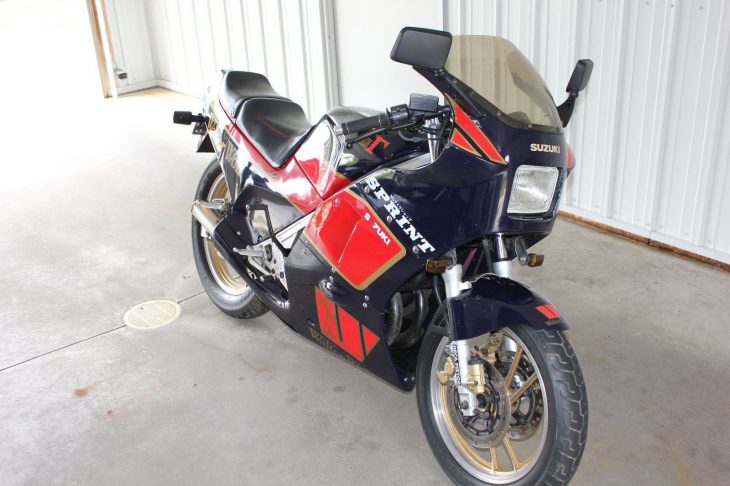 Looking very much like a little brother to the RG500, this Suzuki RG250Γ offers up sophistication to match its larger stablemate: anti-dive forks, Full Floater suspension, Suzuki's Automatic Exhaust Control that increased the weedy two-stroke midrange, and a six-speed gearbox. The package was very light, weighing in at 286lb dry and the water-cooled 247cc parallel twin came restricted to 45hp from the factory, although more was available with tuning.
Available between 1983 and 1987, this generation of the RG250 was available in traditional Suzuki white and blue, but the dark blue, red, and gold Walter Wolf colors seen here are especially striking, and those proprietary gauge faces look very trick. Born in Austria, Walter Wolf's name can be found on both the RG250 and RG500. Wolf made his fortune in the Canadian oil business and sponsored racing cars and bikes in the UK.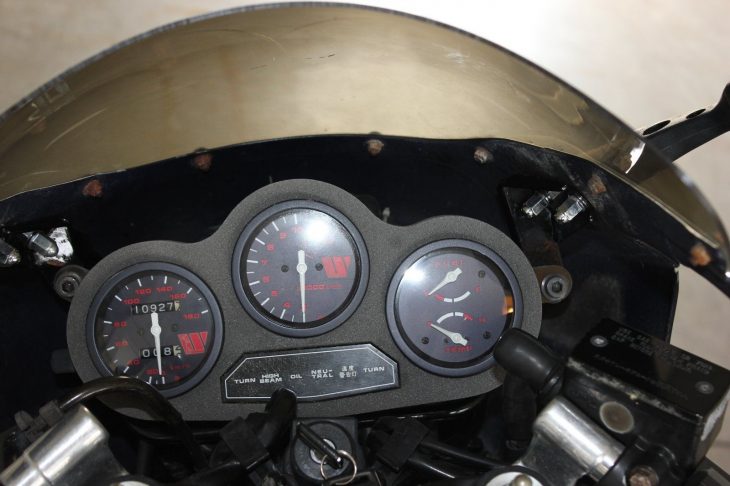 This particular example is very clean, with little pitting on the aluminum parts, although there is some rust on the steel subframe and brackets visible. Unfortunately, the bodywork, while complete, has some bad cracking around the headlight and scuffs and scrapes from a lifetime of riding. Some of the decals have peeled so folks might think you're riding a "S 7UKI" and the paint on the tank is in poor shape. Mechanically, the bike is claimed to be in excellent condition.
From the original eBay listing: 1986 Suzuki RG250 Walter Wolf for Sale
1986 Suzuki RG250 Walter Wolf  version very rare to find one titled in the United States . This bke was brought from Japan with a U.S. service man in 1990 it is completely documented with all the custom papers and has a clear title . Good luck finding another. The bike starts one kick and runs and handles perfect. The plastics have some issues but are very restorable. I have some nos. Suzuki parts that go with bike new gas cap. new factory grips service manual and a few other Suzuki factory parts that will go with bike.  10927 kms, not miles.
There is no interest yet at the $3,000 opening bid, and the seller has set the Buy It Now price at $6,000. Walter Wolf Gammas come up for sale occasionally, but this is only the second 250 I've seen for sale: they were never common, and are especially rare here in the US. This one needs some cosmetic attention but, considering the rapidly escalating value of two-stroke sportbikes in general, it could be a great rolling restoration for someone living in a state with a permissive DMV.
-tad