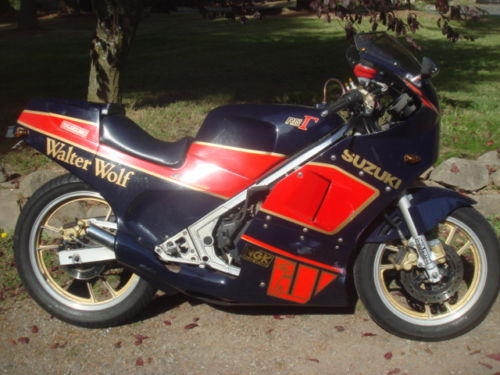 Monday morning brings us yet another whippy little "you can't get parts for it" two-stroke ripper. This RG250Γ is one of only a couple I've ever seen for sale in the US, and it's in striking Walter Wolf blue and red colors as a bonus!
The little Gamma doesn't have the mini-modern sportbike styling and 17″ wheels of the later RGV, but still has the usual two-stroke virtues: it weighs in at 286lbs dry and features one of the first mass-produced aluminum frames with anti-dive forks. Automatic Exhaust Control helps to boost the two-stroke's weedy midrange and DecaPiston brakes have, as you'd expect, four pistons.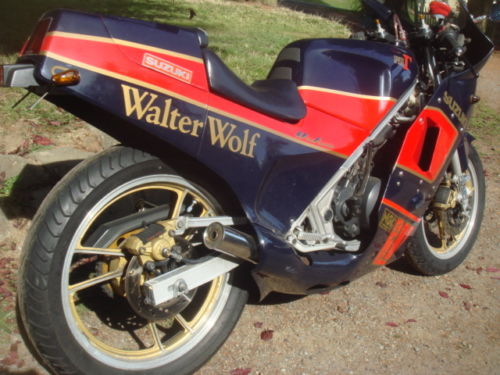 Powered by a water-cooled, perfectly square 54mm x 54mm 247cc two-stroke parallel twin, the bike was restricted to 45hp in the Japanese market, but is capable of more with simple tuning. Backed by a six-speed gearbox and packed with modern technology, it was basically a cutting-edge sportbike in miniature.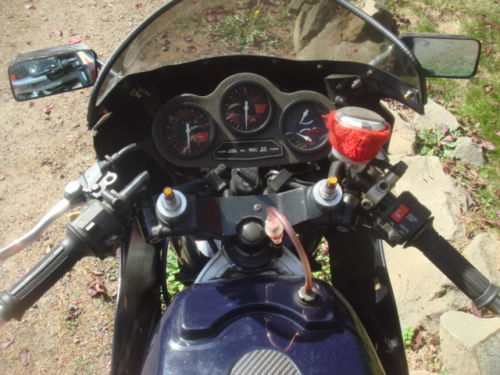 This example features the classic Walter Wolf replica dark blue paint and subtly menacing red graphics. And while you could always just paint your little RG to match, the missing WW-specific gauges would give the game away. This example does have some scuffs from a low-side or some really careless storage, but appears to be a mechanically solid example.
From the original eBay listing: 1985 Suzuki RG250Γ Walter Wolf for Sale
Just imported from Japan through U.S. Customs, this 1985 Suzuki RG250 comes with a clean and clear street legal title ready to be transferred into your name in your state.

Your new Walter Wolf RG250 is showing just 9820 original miles (15803 kilometers) on the odometer so it is a lower mileage bike. The original bodywork is intact and the original gauges (unique to Walter Wolf editions) are present and accounted for. Nothing has been swapped out for aftermarket except the mirrors. This is a 30 year old motorcycle with 10k miles so it isn't perfect; you have to expect paint wear and the normal scratches and chips and cracks on the bar ends and levers and fairing mount points; please see the scratches on the left fairing and left muffler tip as an example. Tires are newer and the seat is in good condition but the pillion seat has a previous repair on the factory stitching. The signals are original and the exhaust is original which is rare for a 30 year old used bike and the gas tank has 2 dents on the left side – please check with a paintless dent repair professional to see how cleanly those dings can be removed.

Here's your chance to own a titled Japan market only Suzuki RG250 Walter Wolf edition but don't let this one pass you by because you'll never see another one listed for no reserve. Someone is going to own it – why not you?

I can get great shipping rates (anywhere in California for $300 as an example) so don't let the cost of shipping keep you from owning this collectible Japanese streetbike. This rare two stroke is not a grey market import, it has been imported through proper legal channels and is already titled in the USA and ready to be transferred into your name just like any other vehicle purchase and title transfer. You will not need my US Customs documents and EPA documents but I will include them in the sale of this bike so you have documentation your RG was legally imported.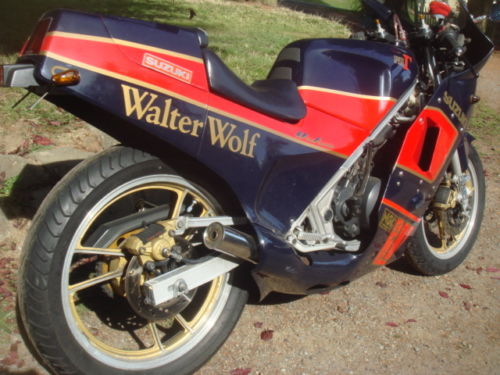 This seller has listed several other fresh-off-the-boat strokers and, as always, includes a short clip of the bike running. Parts may be difficult to obtain for this Japan-only import, but hey: this isn't "Easy to Maintain and Get Parts For Sportbikes.com" after all.
Once again, I'm super-excited these have become easier to import. Even if titling them for road use here in SoCal is impossible, they'd make a great addition to someone's collection or, in the case of later bikes, a great track day toy.
-tad