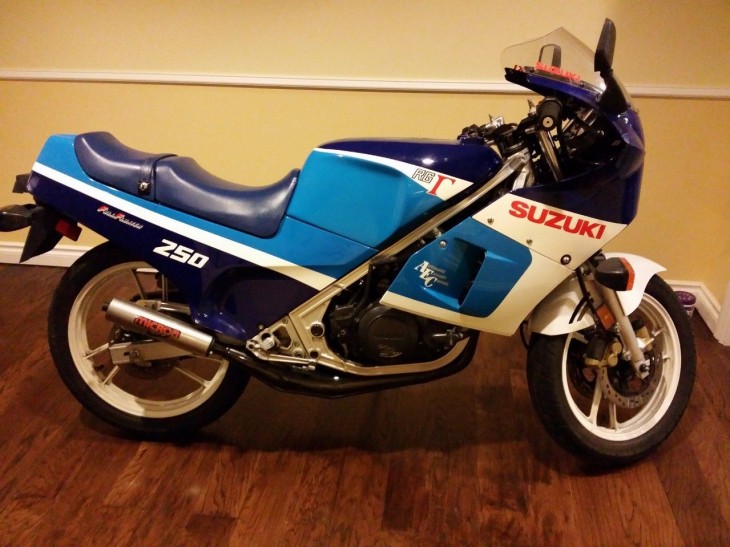 Make no mistake about it, the bike you are looking at is artwork. Literally. Given that it does not currently run, its only purpose is to look fantastic in your living room, den or man cave. Of course if you have the means, the connections or the wrenching chops to get this one to fire, then you have artwork and a pretty serious canyon (or track) carver as well. The RG250 is the lesser loved of the quarter liter set, but in the day the RG set the standard. This 1987 model is the last of the parallel twins for Suzuki; the next year the vaunted RGV model was introduced. Expect between 45-49 HP for a stock Canadian example, which is really not bad for a bike that weighs in at 290 lbs or so. This one sports an aftermarket set of pipes, but there is no additional info on the state of tune.
From the seller:
I am going to be selling a few of my bikes from my collection, here is a 1987 Suzuki RG250 Gamma. As you can see from the pictures the bike is in amazing shape, a few scratches and scrapes that I have tried to show, (please ask if there are any specific pictures you would like me to take). The previous owner told me that the CDI unit packed it in and that was all it would need to have it up and running. The bike has never been started and or ridden by me and it has been kept in a temperature controlled showroom in the basement of my house.

I bought this bike with the intentions of using it as a weekend track bike but as with many things never got around to it, so it is time to sell it to someone who can enjoy it. Mileage shows 17,500 kms (that's just under 11k miles# but I have no idea how accurate it is. The bike comes with a BC registration in my name along with a Bill of Sale.
There is no question that this bike looks pretty clean. It has some cosmetic damage to the right side exhaust can, clutch cover and water pump housing – consistent with a low speed tip over. There are some cosmetic issues to be sure, but the unknown may be what is keeping bidders away from this one. Without any ring a ding ding in its step, this RG250 could be a bargain, but it could also be a basket case. Worth the risk? Check it out here, and let us know what you think!
MI