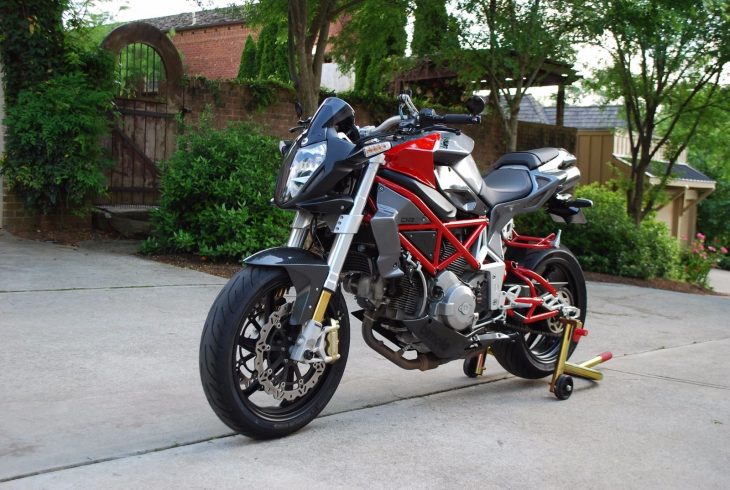 A practical, naked standard, the DB6 Delirio is a pretty far cry from Bimota's roots. The company made its name building barely streetable racebikes with lightweight trellis frames, wild styling, improved suspension, and a raft of racebike details. The DB6 definitely has top-shelf suspension and innovative details, but it was designed as Bimota's "entry-level" model. Of course, lowest-priced doesn't necessarily mean cheap and if you're looking for $30,000 of performance from what was originally a $30,000 motorcycle, you won't really find it here. But if you want something practical and very exotic, this might be your ride.
Powered by Ducati's highly-evolved but relatively simple air-cooled L-twin engine, here in "Dual-Spark" [twin-plug] form, the bike is an ideal road machine: 90hp and 70lb-ft of torque with tons of midrange are perfect for motivating the claimed 390lb wet weight…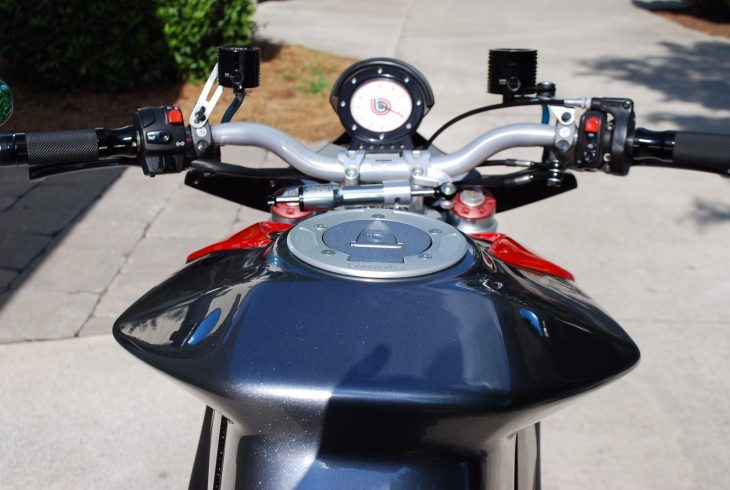 The Delirio really isn't all that pretty when you're standing twenty feet away: it's certainly striking and exotic-looking, but the overall design is a bit too busy, too angular to rank among Bimota's best. However the closer you get, the better it looks and the devil truly is in the details: a hybrid frame made up of traditional trellis sections and aluminum side-plates and a swingarm that uses similar construction. Up close, the bike is absolutely stunning and you can really get lost just taking in all the clever bits and all the amazing components.
From the original eBay listing: 2007 Bimota DB6 for Sale
Up for Auction is my beautiful hand built Bimota DB6. This bike is powered by a Ducati DS1000 dry clutch motor. It has been meticulously maintained and is in perfect condition. Many upgrades include: Carbon belly, Carbon front fender, Carbon Belt Covers, Carbon side panels, DB6R Steering damper, Brembo RCS brake and clutch master cylinders, Carbon Clutch Cover, Zard Exhaust and more. Comes with all books records, both factory keys, and diagnostic CD with "mini tune" software and cable. The bike currently has just over 10K miles . Do your research on this bike, it is incredible to ride. I've had a lot of fun on it.
There has been some interest in the bike, and bidding is up north of $9,000 with very little time left on the auction. This example comes with a set of Zard exhausts that would have cost a pretty penny new. Zard exhausts can be a bit overstyled, but compliment the looks of the Delirio very well and should sound even better. It's also had the usual Rizoma bling thrown at it, although those grips seem like they'd be pretty uncomfortable after more than a few minutes. Miles are relatively low, and given the air-cooled Ducati engine's general reliability, at least you don't have to worry too much about the powertrain letting you down.
-tad