Warning!
This post is in our archives. Links in this post have been updated to point to similar bikes available to bid on eBay.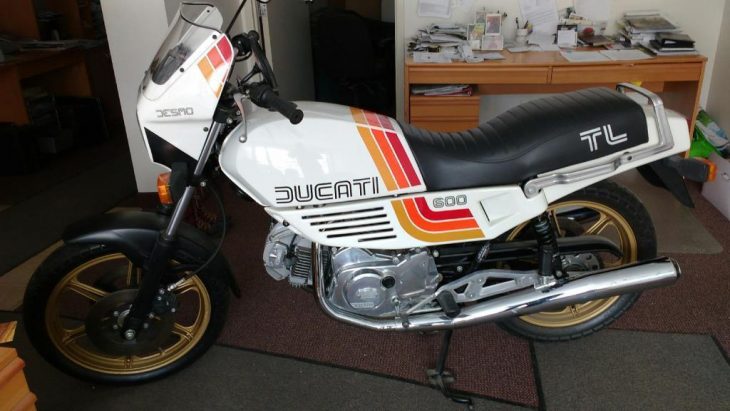 Pantah Week continues with this very rare, and very oddly-styled machine. When you say "Ducati" to pretty much anyone, it conjures up images of sleek, exotic, often uncomfortable machines designed to win at all costs on track and inflame the desires of motorcyclists all over the world. What you wouldn't normally imagine is something like this basically brand-new Ducati Pantah 600TL…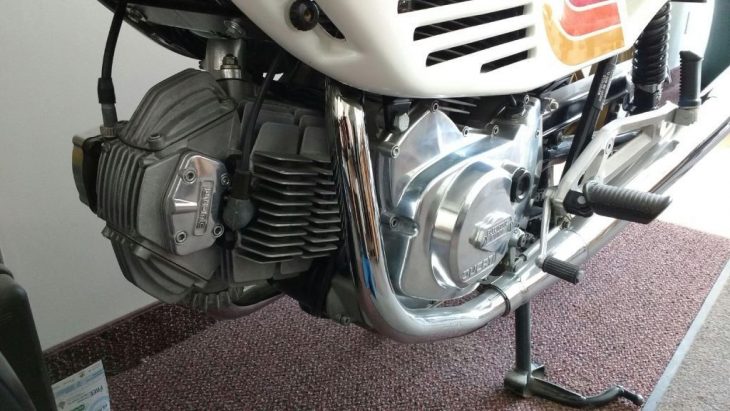 While the sport-touring oriented bodywork of the 600TL may not be to everyone's taste, there's nothing wrong with the components under the skin: it's motivated by the same 583cc, two-valve v-twin and five-speed gearbox as the 600SL sportbike. It uses the same as well, so handling should be excellent, although it is less stable at high speeds than its sportier brother and the top speed is lower. That funky black front fender looks like a replacement item, but period ads and photos suggest that this is in fact the original part.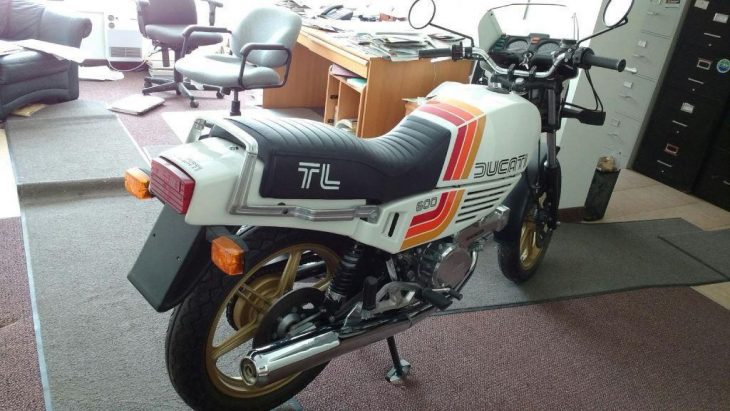 Obviously there have been a few styling misfires from Ducati over the years: their Giorgetto Giugiaro-styled 860GT was certainly not well-liked when new, although time and a general love of all things bevel-drive have seen values of even that much-maligned machine steadily increasing in value. And sportier 600SLs languished in unloved obscurity until recently, when prices have begun to rise, along with bikes like yesterday's 750 F1. Will time be as kind to the the 600TL? It may be too soon to tell, but this particular bike has virtually no miles on it and is basically a museum-piece, so it might be a good place to start for weird Ducati speculators.
From the original eBay listing: 1982 Ducati Pantah 600TL for Sale
This is a brand new 1982 600TL.  It has 2.9 miles on it.  It comes with book, tools and parts manual.  I bought this bike from the stocking Ducati dealer in Ohio.  He told me that in 1982 30 600TL came to the US and that this is one of them.  The bike has never been driven, the battery has never had battery acid in it.  It has a Conti muffler, 36 Din Delorto carbs.  This bike has all custom papers and duty paid for Canada, but the US title is still on hand.  This bike is extremely rare, it may be the only new one in the world!
Normally rare, zero-mile bikes are a recipe for a static display. But in this case, all the parts you'd need to get it roadworthy should be readily available. You could probably even slot in a much larger, more powerful version of the venerable L-twin with a bit of work… The starting bid is set at $8,250 with no takers as yet although there is still plenty of time left on the auction. I've never seen one for sale before, and it's very rare here in the USA, but that doesn't necessarily mean that it'll ever really be worth all that much to collectors, except as an oddity.
-tad