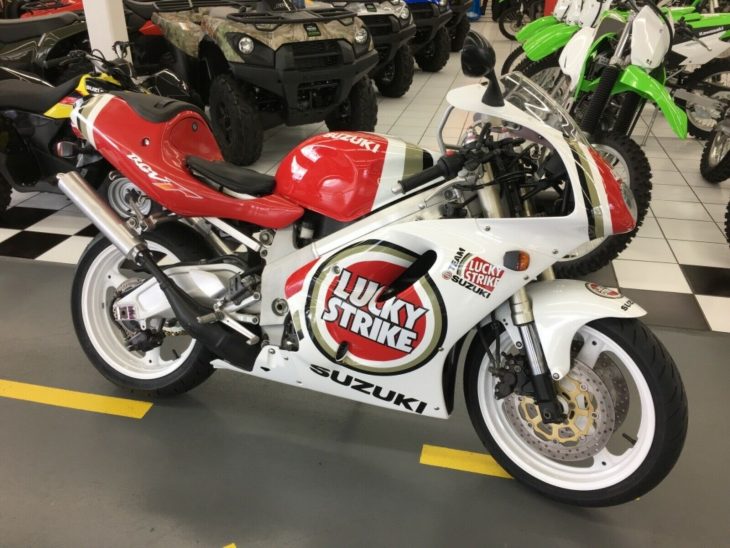 The 1996 Suzuki RGV250 VJ23 was basically the last gasp for road-legal two-stroke sport bikes, and one of the most technologically advanced. Sure, Aprilia made the RS250 for a few years beyond that, but it was actually powered by the previous generation of Suzuki's RGV250 engine, and the final examples weren't even road legal in many markets. Earlier versions of the RGV250 were powered by the expected 90° v-twin, but the VJ23 was pretty much new from the ground-up, and was powered by a more compact 70° unit with slightly undersquare internal dimensions and a dry clutch for the six-speed transmission. Interestingly the new engine's bore and stroke of 54 x 54.5mm match the Honda NSR250R's specs exactly, and I'm assuming the increased torque contributed to the new RGV's improved rideability.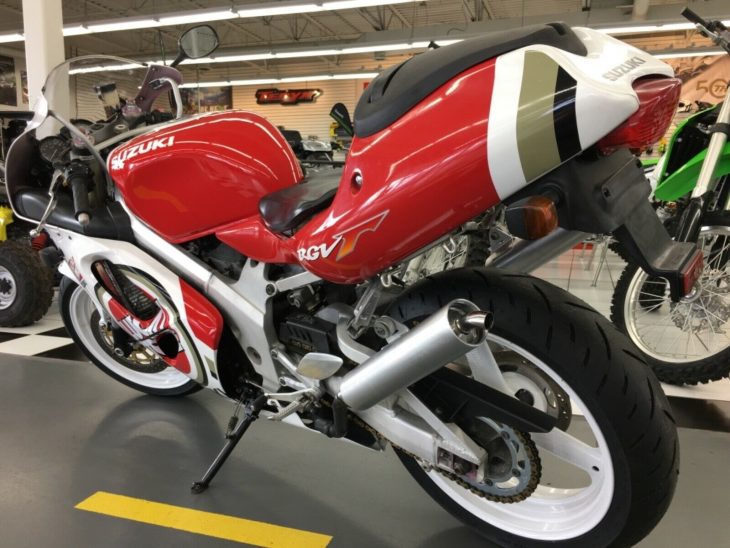 Bodywork was completely new for the bike as well, and resembles the SRAD GSX-R of the period, all curves and bulges, with a functional ram-air duct in the fairing. The new VJ23 also featured an electric starter, a very unusual feature for a flyweight two-stroke, but very civilized and refined. Other revisions meant weight stayed basically the same as the outgoing VJ22, in spite of the starter. Frame was the expected twin-spar aluminum unit, along with the usual asymmetrical banana swingarm.
The biggest concern buying one of these desirable Lucky Strike race-replicas is… whether or not it's a replica replica. It's obviously pretty easy to buy new, pre-painted bodywork of varying degrees of quality from overseas, or even have a good-quality paint-job applied to standard bodywork yourself. How can you tell if it's the real thing? As always, caveat emptor. Consult with an expert before parting with your money to avoid disappointments, especially at the $14,500 asking price.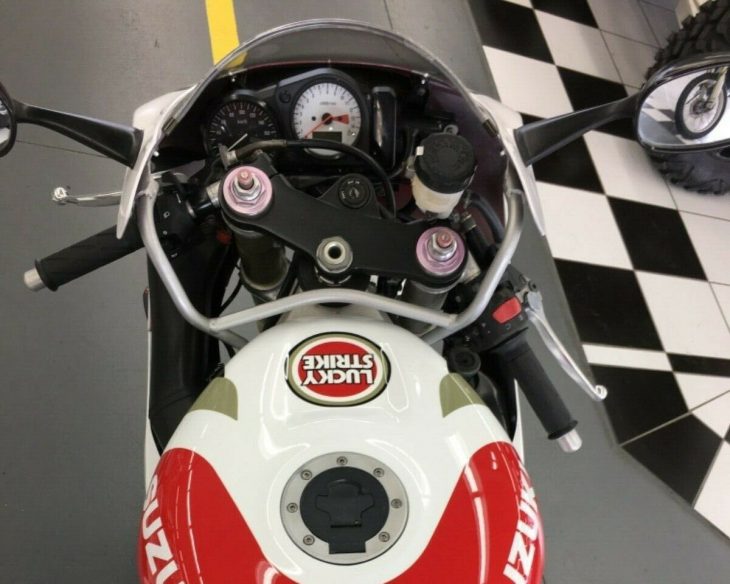 From the original eBay listing: 1996 Suzuki RGV250 VJ23A Lucky Strike Replica for Sale
Up for sale is a genuine 1996 Suzuki RGV250SP VJ23A Lucky Strike with only 1,444 kilometers (897 miles). Just imported from Japan. Bike is in mint condition showing very little patina. Tank is perfect, upper and lowers are mint no scratches, no dings, no dents, no handling marks. Rear fairing has a few very light surface scratches or boot marks that don't show up in pictures. All fairings are 100% genuine OEM Suzuki factory. Frame number confirms genuine factory Lucky Strike model. (Number 133 of 200 manufactured) Bike is completely stock. It's in gorgeous collector quality condition. Runs like new. Comes with new fluids, carb cleaning and new Dunlop Sportmax tires. Comes with two keys and Utah state title. It is titled as a street bike for road use. This Lucky Strike will be the Crown Jewel of any collection! Please text 801-358-6537 for questions and pictures.
Keep in mind also that, if you plan to keep your collectible GP-replica bone stock, that these were intended for the Japanese home market and limited to just 40hp from the factory. This example was imported directly from Japan, according to to the seller, so I'd assume it is the limited power version of the bike. A few "export models" were made, just 360 or so of the 2218 VJ23s that were built. Either way, this was one of the most highly-developed two-stroke sportbikes ever made for use on public roads, and represents the very end of development for the breed.
-tad