Warning!
This post is in our archives. Links in this post have been updated to point to similar bikes available to bid on eBay.
Some motorcycle enthusiasts are looking for a perfect, time-capsule example of their favorite bikes. Me? I'm glad perfect examples are out there for collectors, but I want something I can ride and enjoy without being worried that a tip-over or low-side or just a few extra miles on the odometer will destroy the value of some pristine collectible. Today's Honda NSR250R SP is a little rough around the edges, with some scratches and scuffs, but it seems like an honest bike, and very solid mechanically.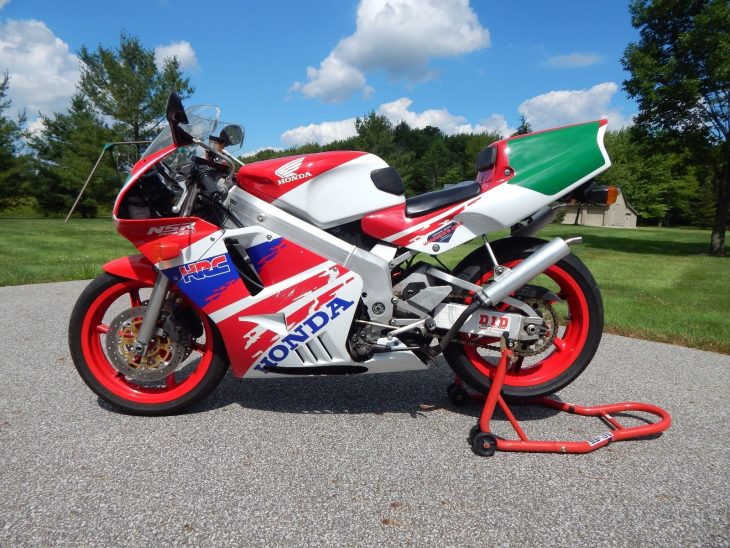 The NSR250 featured Honda's familiar 90° liquid-cooled 249cc v-twin with a six-speed "cassette" gearbox that allowed owners [or pit crews] to rapidly swap out gearsets to suit different race tracks. Obviously not all that useful on a road bike, but still pretty slick. The NSR may have sucked fuel through a set of carburetors, but it used a very sophisticated PGM-III system that controlled the bike's ignition based on throttle-position, revs, and gear selection.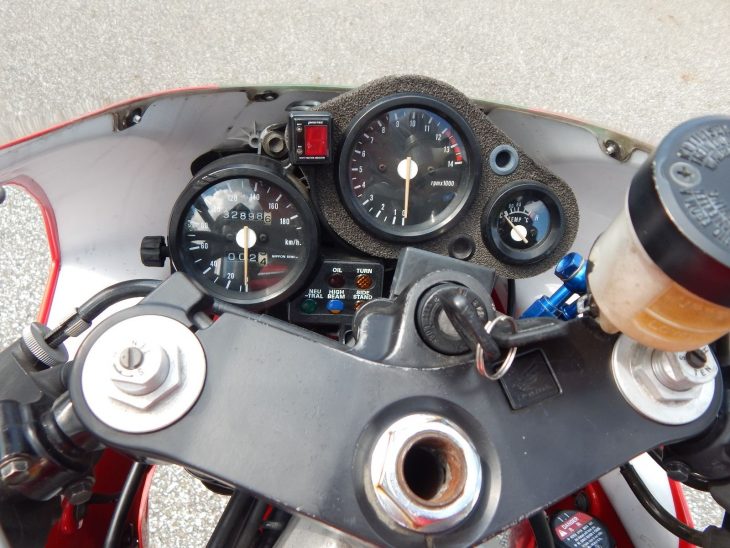 This particular NSR250R is the desirable MC21 version of Honda's agile two-stroke, as indicated by the asymmetrical "gull-arm" aluminum swing arm that curves on the left-hand side to clear the exhaust's expansion chambers to maximize cornering clearance. The swingarm looks very trick, but helps make the MC21 a little bit heavier than the MC18 that preceded it. Dry weight is still under 300lbs, so even the bike's artificially-limited 45hp will move the bike out smartly, although I'd definitely check with the seller to see if the bike has been de-restricted, as anyone outside Japan will want the bike's full-power available.
From the original eBay listing: 1993 Honda NSR250R SP MC21 for Sale
20,441 Miles (32,898 Kilometers) This is a Very Rare only 900 made Last Model MC21 SP. Mostly original and unrestored.  Perfect opportunity for a budget minded MC21 SP for restoration. All fluids are fresh.  Shifts and revs to redline perfectly.  Starts effortlessly every time. OEM Fairings have hairline scratches and cracks. upper fairing has a broken section near the mirrors and the lower fairing has a section cut out near the expansion chambers along with a couple dents on the fuel tank near the stay, included close up pictures featuring defects. The Red on the tail fairing doesn't match each other exactly also. No respray or rattle can. Red Magtek wheels are in excellent condition. Otherwise straight from the factory.  Bike has Vin Matching State of Ohio Title as a 1992 model MC21-1070*** "Buyer is responsible for their own State Requirements."  Imported into the States through all legal channels. EPA and Declaration papers provided.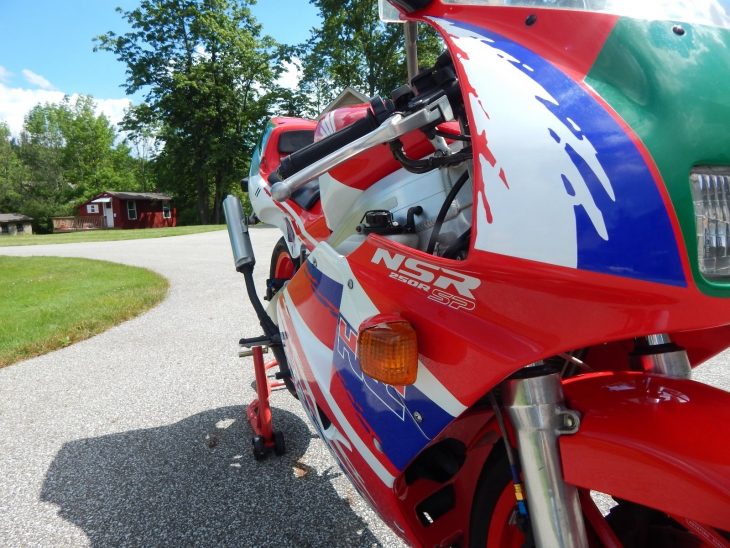 Bidding is up to $6,500 with about 24 hours left on the auction. If it stays in that neighborhood, it's on the low side for an MC21, but that's in keeping with the less-than-perfect condition. This example is obviously not perfect as described by the seller, but is claimed to be mechanically in good working order. If you're buying one of these and worried about sourcing parts, that may be a weight lifted. Even if you end up on a quest for a perfect set of original bodywork, you can at least ride your machine in the meantime, and this looks like it'd be pretty nice from ten feet, certainly a good place to begin for a restoration. Personally, I'm okay with replacement bodywork, as long as the frame and everything else are clean and straight. Get a decent set of Rothmans replica bodywork from the internet, spend the weekend fitting it, and then ride your little smoker with no fear of destroying a priceless, pristine collectible.
-tad