Warning!
This post is in our archives. Links in this post have been updated to point to similar bikes available to bid on eBay.
Every post will be sent right to your inbox every morning when new posts are made. We will never sell our list or spam you. Plus you can click links to bid or buy right from the email and skip the site entirely. Subscribe to Rare SportBikes For Sale today!
A perennial mainstay on the pages of RSBFS, the Honda NSR250R should require no major introduction. Often considered the darling of the quarter liter smoking set, the 90 degree vee twin is named similarly to – and looks quite a bit like – Honda's race-only NSR250. However the similarities are only imagined, as the two bikes share no parts in common. That being said, the NSR250R road going machine is a typically Honda-engineering wonder, sought after by riders and collectors, and a blast to ride. Today's example, a 1994 MC28 model wearing original Rothmans livery, is a prime specimen.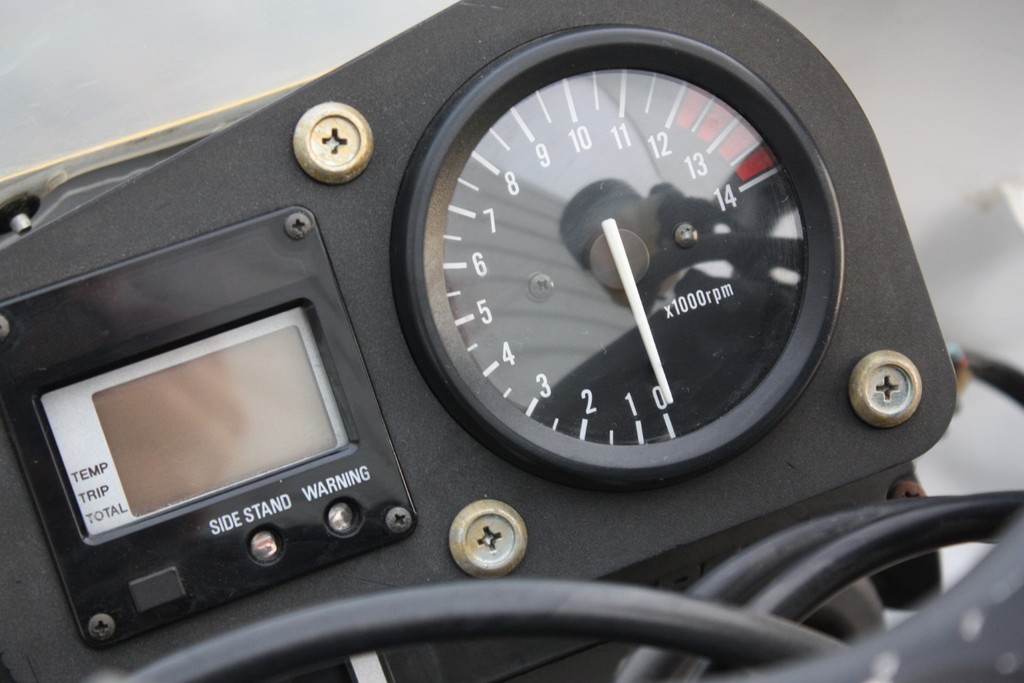 The original NSR was released as the MC16 back in 1987. Over the next (nearly) ten years, the model evolved in form and function. From a variety of swing arms and different suspensions to various states of tune, dry clutches and the PGM-I through PGM-IV ignition systems, the NSR changed with the times and what Honda believed the needs of the riding community to be. Not all changes were popular, although offering the bike in a variety of race-worthy livery was always a favorite. The Rothmans colors, emulating the tobacco-sponsored racers, remains among the most striking of the options. Often copied by way of knock-off body panels or re-spraying existing plastic, it is not easy to come by an original bike in these colors in this condition. Here is more from the seller:
From the seller:
1994 Honda NSR 250R SP MC28 Rothmans !
Original stock 1994 MC 28 SP U.S.title, plate, reg. very low original Km's.

This is a original un-molested all stock 1994 Honda NSR250R MC28 SP. This is an *original* low Km Rothmans SP, NOT one that has been put together from parts.

The bike has the correct VIN, it has the correct R3R subframe sticker and even has the original rear fender decal with R3R code and matching VIN to the frame.

1,500 were made and not many survive in low Km's original condition. Prices for 28 SP's in Japan are already over a million yen for less than perfect examples. Not much is left.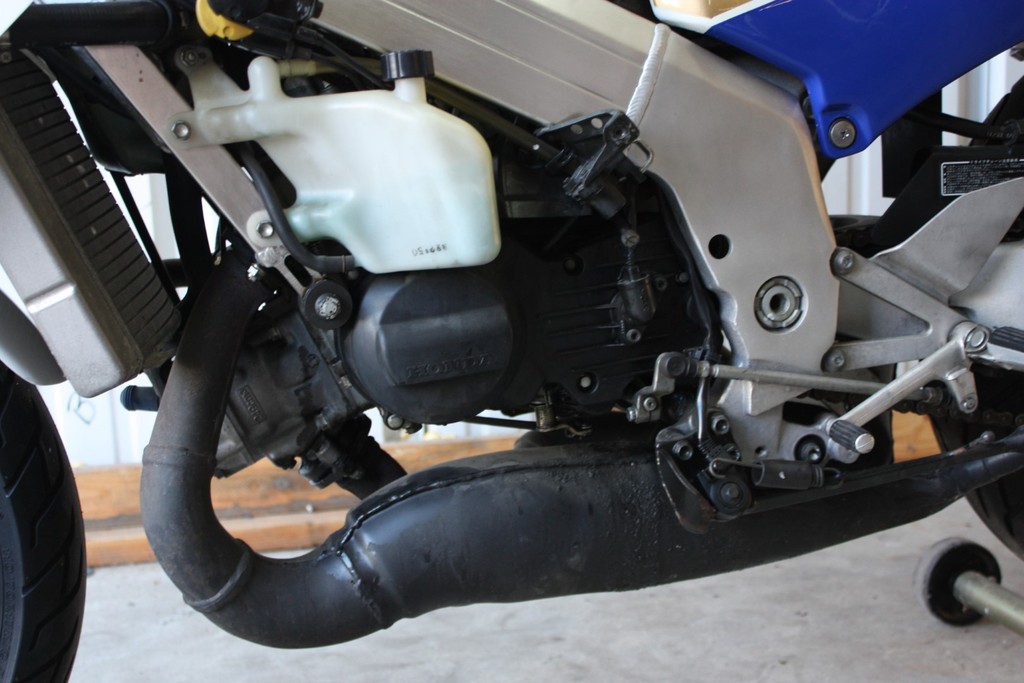 More from the seller:
This bike has 6695 km or about 4100 miles. This bike has both original key cards and the code sticker. It also has the original tool kit.

Bike has all the original and correct SP parts including Magtek's, forks, dry clutch engine. All original OEM Honda bodywork. The bike had a small dent on the tank, various scratches and scuffs and I had everything touched up, saving the original decals and clearing over some of them. You can still see some rash on right clip on, exhaust can etc from a light tip over. I still have all the original pictures of how the bike looked when it was in Japan.

As you can see there is some corrosion on the fork legs as is common with most of the bikes from Japan, but otherwise it is very corrosion free. Still has a small sticker from Red Baron on lower right frame (easily removed). The inner small white plastic piece in the right side tail cowl is in poor shape, but that is easy to remedy. I am leaving the bike as near original as possible and will leave it to a new owner to restore/clean it up as they see fit.

The original rear fender is cracked, but repaired, you need to look under it or remove the tail cowl to see it. The right lower fairing stay that mounts inside the bodywork is cracked (where they all break) and could use a repair, but its all there and a minor nuisance.

The bikes starts, runs and rides as it should.
More from the seller:
100% stock, restricted, not modded in anyway. All electrical works, no error codes. Has a new battery installed and had a recent service, brake fluid, coolant, etc. Tires are quite older and should be changed if you plan to ride it.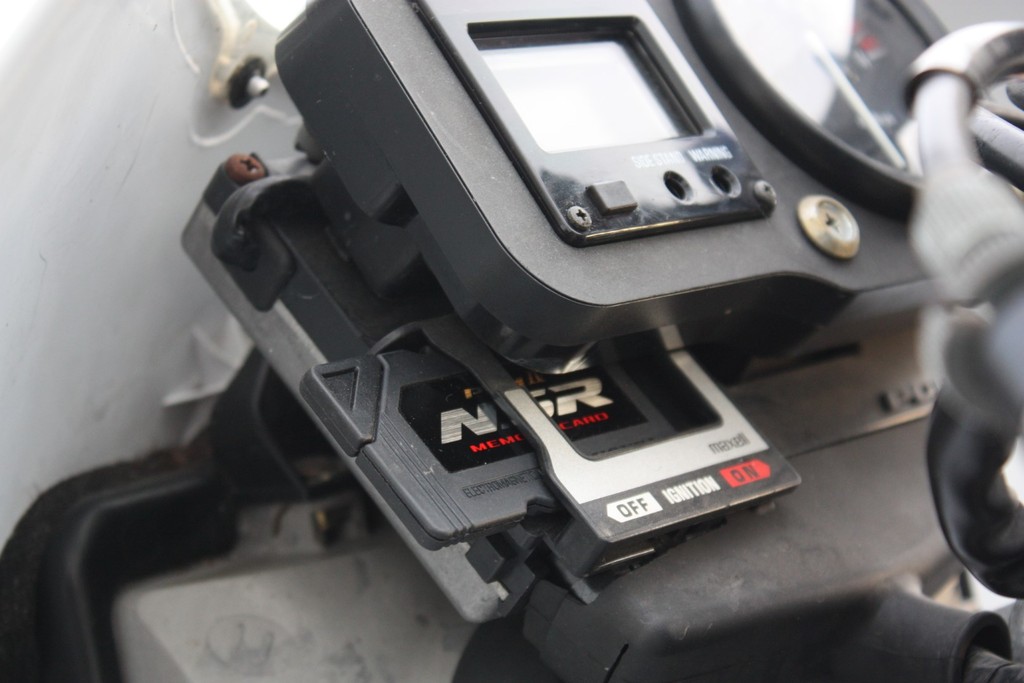 Honda Fun Fact: The name "NSR" is based on the fact that these bikes utilized a then-new process known as nikasil-sulfur lining in the cylinder bores. This process provided a hardened cylinder for better longevity, without the weight of iron or steel liners. The technology was effective, but nikasil-sulfur makes for a terrible motorcycle name. Hence the "NS" part of the NSR was born.
This NSR is available now on eBay. It is a Buy It Now listing rather than an auction, and the seller is asking $17,500. That is big money for a NSR, although the low miles and original condition helps it along nicely. Check it out here for the details, including the opportunity to purchase a livery matching Honda Cub EZ90 to ride alongside! Good Luck!!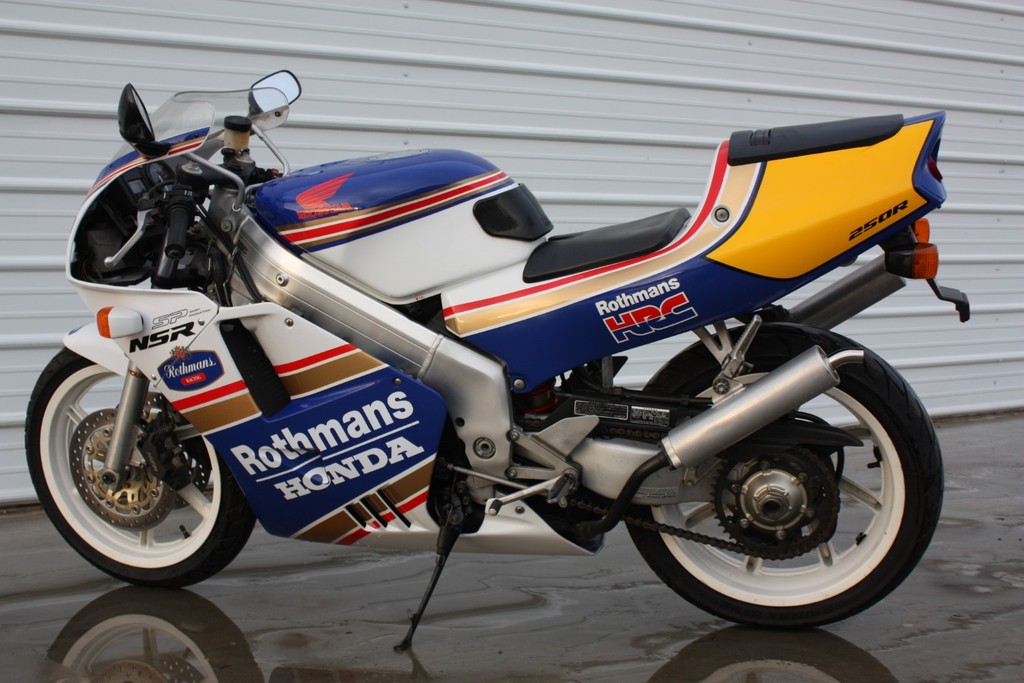 MI