The gearhead culture in Southern California never ceases to amaze me. Sure, all kinds of weird and wonderful cars and bikes and the folks that love them can be found all over the country, and all over the world. But the intensity of it here is something else: you almost get blasé about it, since any weekend drive in the Los Angeles area will expose you to a veritable parade of exotic cars, vintage bikes, rat-rods, and all manner of weird, is-that-even-legal-here machinery. Oh look, was that Jay Leno driving a pre-war, aero-engined race car? Yes, yes it was… The irony is that the CA DMV is among the most draconian in the country, largely a result of a famously bad smog problem caused by vehicle emissions during the 60s, 70s, and early 80s. Which is why something like this Honda NSR250R SP Rothmans Replica with a clean California title is something of a unicorn!
The NSR250R was the definitive quarter-liter sportbike of the period, and featured Honda's 90° liquid-cooled 249cc v-twin with a six-speed cassette gearbox that allowed gearsets to be quickly and easily swapped to suit different race tracks. Fuel was delivered via carburetors, but the ignition system was Honda's sophisticated PGM-III that controlled the bike's ignition based on throttle-position, revs, and gear selection. Note that the seller refers to this as an "SE" but the fairing proclaims it an "SP." I'm assuming it's the former, and the SP is there to match the Rothmans livery. The SE generally didn't come with the Magtek wheels, but this one has them, bringing it up to SP spec, since both the SE and SP had the dry clutch, versus the regular NSR250R's wet clutch.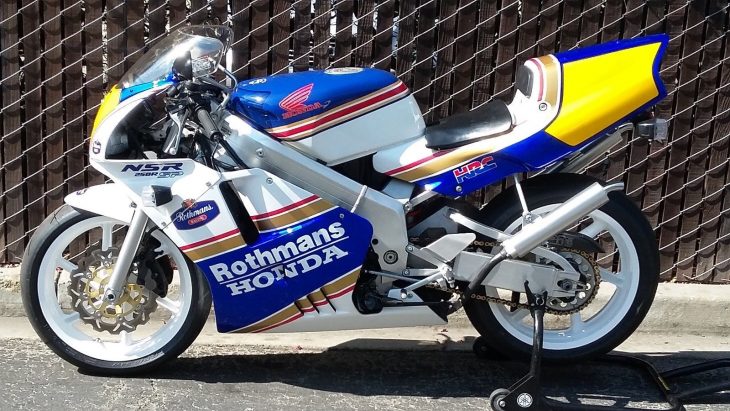 I have seen a few late 80s and early 90s grey market two-strokes running around the Malibu canyons on the weekend, but still an MC21 done up in Rothmans livery is something to celebrate, especially in such sharp condition. From the description, it looks like the bike has undergone a cosmetic restoration, and looking at some of the photos, that restoration appears to have been more than just skin-deep. Appropriate maintenance has been taken care of for the new owner as well, and the bike appears to be ready to roll.
From the original eBay listing: 1993 Honda NSR250R SE Rothmans Replica for Sale
This is a beautifully restored 1993 Honda NSR250 SE Rothmans Replica MC21. This bike has the factory dry-clutch and adjustable suspension along with the Magtek wheels. This low 4490 mile (7226 Klm's) NSR has just undergone a cosmetic restoration, as in: new bodywork, new wave-rotors, brake pads. 

Add-on's include, a Tyga, GP style rear brake caliper hanger and a Brembo billet rear brake caliper, along with clear turn-indicators and tail light (adds a nice modern touch along w/the wave-rotors).
Also, freshly powder-coated Magtek wheels, with new Pirelli Diablo SuperCorsa tires. All hardware  has been re-zinc or re-chromed. Other items refinished include, the mufflers, fork bottoms, top triple clamp, etc..

Forks rebuilt with new oil and seals. All other fluids changed or flushed. Recent tune-up with new plugs, air-cleaner. De-restricted ECU. (Full power). Small scratch and chip on gas tank, (no dents). Comes with clean transferable (in your name) California title and street registered. (lic. plate off now for photos) Can help with shipping, but up to buyer to make all arrangements.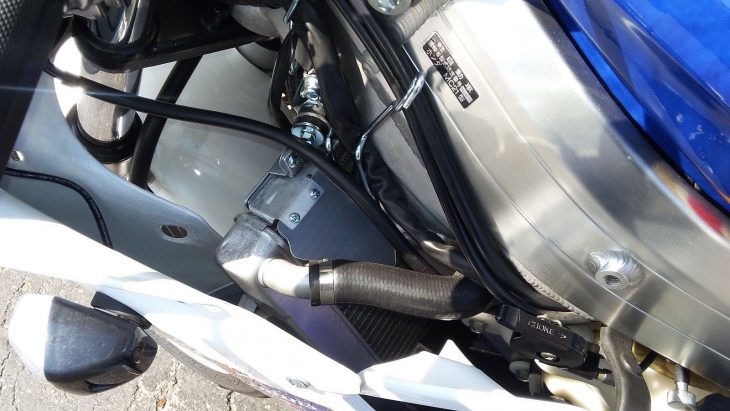 There's plenty of time left on the listing, but all my two-stroke LA peeps should pounce on this before it gets away! $11,500 seems a very fair price, considering the California title and the exceptional cosmetic and mechanical condition: many of the two strokes that populate the US eBay listings these days are recent arrivals from Japan where they've been affordable, thrashable, and often left out in the salty sea air for years, so surface corrosion and wear-and-tear are common, even on low-mileage examples. Obviously, the turn signals and tail light lenses seen here aren't actually the original bits, but those shouldn't be too hard to source if you're after something completely stock. Whatever shenanigans are normally required to register an NSR in California should be largely mitigated here, and this bike should quickly be ready to draw stares and thrash canyons for the new owner!
-tad