Rare as hen's teeth here in the USA, Honda's little RVF400 [NC35] superbike made it into the country exclusively through grey-market imports, often via Canada. The RVF400 replaced the VFR400 in 1994 and used a smaller version of the bigger 750cc bike's gear-driven V4 engine.
Like the 750, the 400 used a 360° "big-bang" firing order to aid handling and increase tire life. The theory being that, when all of the combustion events occur close together instead of being spread out evenly, the rear tire is able to "recover" in between power pulses, making break away more predictable. Possibly superfluous with such a small displacement machine, but cool nonetheless, and big-bang bikes tend to sound better as well!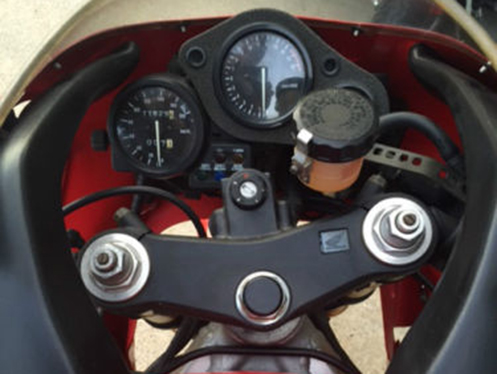 Power is relatively unimpressive on paper: between 50hp and 60hp, depending on whom you ask, and that power is all up near the redline, so the bike needs thrashing to make progress, although you're rewarded with one of the best-handling chassis of all time. Kind of like a two-stroke 250 for people who think two-stroke motorcycles sound like chainsaws…
The RVF400 looked very much like a miniature version of the RVF750, down to the updated cat-eye lamps and those giant, snorkel-like tubes to feed the engine fresh air, although the bike did not technically use ram-air to pressurize the airbox. The update also saw a change to upside-down forks and 17″ wheel front and rear, which makes it easy to source modern, sticky rubber today, and many of these still see use in club racing.
From the original eBay listing: 1995 Honda RVF400 for Sale
I have too many bikes and not enough time. It's time to let a few go to new homes where they can be enjoyed and ridden. This rare Honda RVF400 is the V4 little brother of the RC45.  It's titled as a 1995, but the research I've done on the VIN and color scheme seem to indicate that it is actually a 1996 (the final year of production).  It small when compared to a 600cc sportbike but not super light like my Aprilia RS125.  It was originally marked only in Japan, so the small scratches you see in the pictures are probably no worse than a 20 year old CBR600 would be here in the states.  They probably weren't considered collector bikes in Japan at the time.  Considering that it's travelled half way around the world, I think it looks great.  I'd give it a 7-8 on a scale of 1-10.  There is a small paint discoloration between the headlights, a small crack on the right side of the rear fairing, a little road rash on the right mirror bottom and the left headlight has a little moisture in it.  The leather on the rear seat straps also has a small crack.  It's a really cool bike to ride and nobody in your town probably has one or may never have even seen one in the flesh.  The speedometer is in kilometers per hour and the odometer is in kilometers so I converted to miles for the listing.  Reserve is $7000. 
This bike has a few minor cosmetic scuffs, but the seller's reserve price seems very reasonable: if you want into the V4 Honda Club and funds are limited, this is going to be your best bet. And your investment is probably secure: in spite of their limited straight-line performance, their links to Honda's racing heritage, relative rarity, serious good-looks, and responsive handling make these very desirable to both riders and collectors.
-tad