For Sale: 1993 Ducati Supermono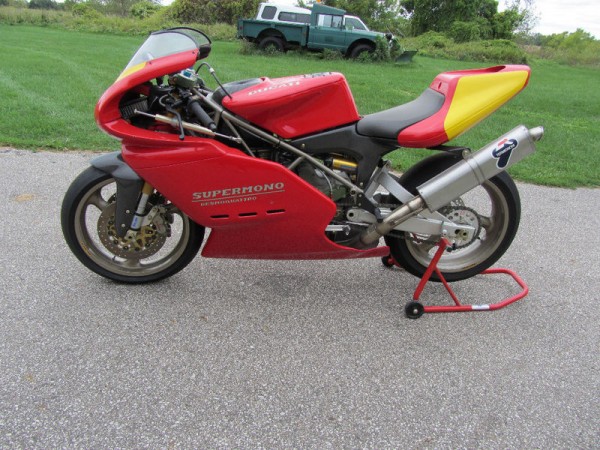 OK sports fans. Let's put away our seemingly rare Superlights, ditch the Desmosedicci, park the SS/SP and various SP0,SP1,etc., and leave the 748L behind. Anything with a serialized numberplate likely has a number higher than this. Sure, there might be a few one-off Ducatis available that rival this in rarity, but when it comes to "mass" production rare Ducs, this one is it.
Designed by Ducati in between the 888 and the iconic 916, the Supermono has technology and styling cues from both bikes. The Supermono was created to race in the Supermono class – a European class of racing involving single cylinder racebikes. Ducati, drawing from their legendary history of racing, created a 550cc single with four valves per cylinder operating in desmo fashion (based off of the 888 cylinder head). To quell vibration inherent in singles, Ducati actually fitted a second connecting rod (but not connected to a piston) to fool the engine into thinking it was a twin. With fuel injection and a 12.1 compression ratio, the Supermono was good for 61 hp when initially introduced. Later versions of the bike were bumped up to 570cc, significantly increasing horsepower.
The chassis of the Supermono is typical Ducati – lightweight chrome moly tubing. As weight was such a concern, there are many carbon fiber pieces on the bike, including the fairing (check out the pre-916 styling!), rear seat section (including subframe) and fuel tank. Magnesium was the other exotic alloy used on the bike, and you will see it in the engine cases as well as coated magnesium in use for the triple clamps (look for the green coating). Ready to go the Supermono tipped the scales at 267 pounds.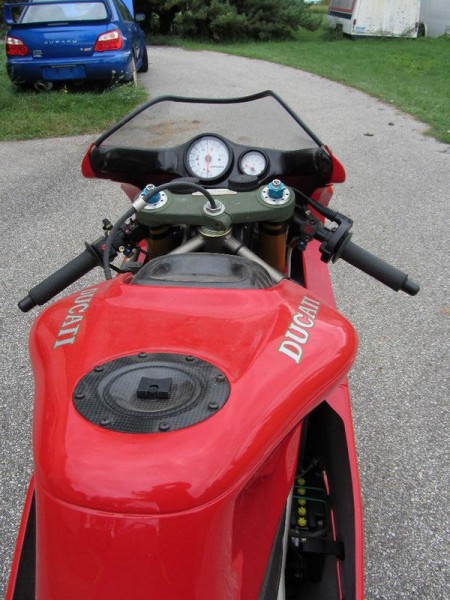 Componentry is exactly what you would expect from a factory Ducati racebike. The front forks – 42mm inverted Ohlins – are textbook 888 bits. To ensure the bike stoped as well as it went, Brembos were used all around, with twin 280mm units in front. Wheels were magnesium Marchesini 3 spoke units, there was another Ohlins at the rear, and Termignoni was the standard exhaust fitted. The build sheet looks impressive, but the completed machine was a work of art.
From the seller:
Extremely rare and collectable motorcycle from a private collector. Total of 67 built world-wide; this bike is number 30.
Specifications:
Single cylinder, four stroke, liquid cooled, fuel injected
549 cc (100 x 70mm)
76 bhp@ 10,500rpm
Weight 267 lbs
Wheels are 17″ Cast Magnesium
Transmission 6 speed, chain final drive
Maximum speed: 145mph

THERE IS NO OTHER BIKE LIKE THIS IN THE WORLD!!!!! PURE HEAVEN TO RIDE!
To give you an idea of the capabilities of this little single, here is an onboard video of a Supermono in action. Note that the bike in the video is not the bike being offered today, but with only 67 units total in production, these are very, very similar machines. Check out the sound of that single – and the agility of this amazing machine!
So how rare is rare, and what does rare cost these days? The last Supermono we featured here on RSBFS had well-documented racing history – it was, in fact ridden by the winningest Ducati Supermono racer in history, Kiwi Robert Holden (1958-1996). That bike was bid up to $75,000 in a previous auction without meeting reserve. It wasn't too long ago these bikes were fetching $50k. Maybe this is a better investment than that pesky 401k….
How much this one will go for is dependent upon who is interested. But as these rare machines do not come around very often, this will certainly be an interesting auction to watch. The bike started with a $20k opening bid, and action has been lively thus far. For more information and details, or just to watch the fun, click on the link and jump over to the auction. Good luck!
MI