For Sale: 2005 MV AGUSTA F4 1000S with full Mamba kit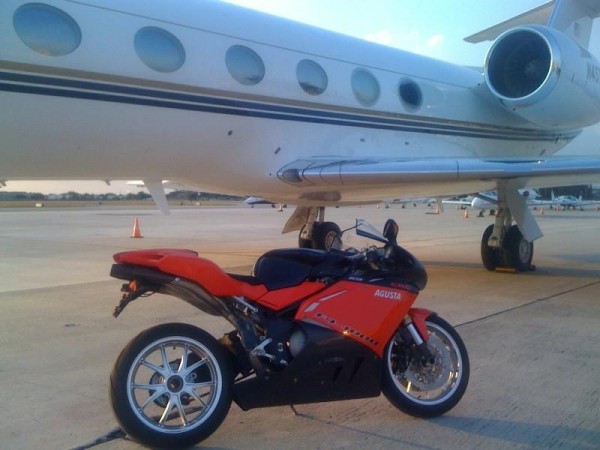 When you think about it, the modern incarnation of MV Agusta produces some pretty sweet – and pretty expensive – motorcycles. Back in 2005, the base model F4 1000S retailed for $21,795. At that price some degree of exclusivity was automatically in the cards, but the S was not nearly as exclusive (or expensive) as the Ago, Tamburini or Senna models. What's an MV owner to do to stay current and unique?
To address this issue, MV Agusta released a series of Mamba kits, which allowed owners to dress up their pedestrian rides and convert them into carbon fiber wonders…. for a price. There are multiple levels of Mamba kits: A Standard kit, with no limited numbers, a Base kit, limited to 300 units and containing more bits than the standard kit, and finally the range topping Full kit, limited to 300 units and offering a complete "stem to stern" upgrade of the bike. The top level kit retailed for nearly $13k – which was placed on top of the cost of the bike!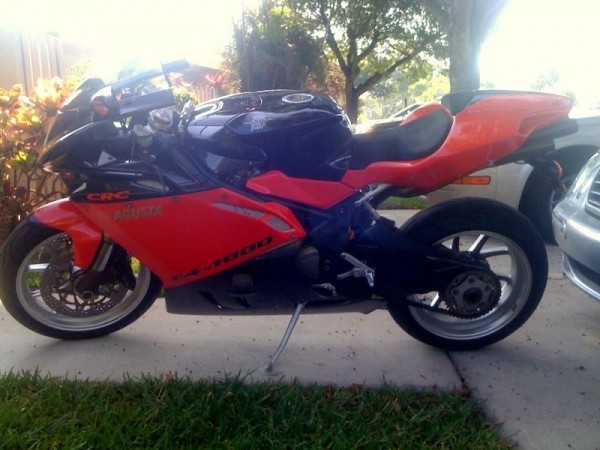 From the seller:
THIS IS THE BEST OF THE BEST OF MOTORCYCLES $22000 BRAND NEW + 10000.00 MAMBA KIT OPTION IS A $30000.00 DOLLAR BIKE

at the crankshaft) 122 Kw (166 HP) at 11750 – Lim. 12700 r.p.m.

THIS IS A FULL MAMBA KIT ONLY 300 MADE IS A $10000.00 DOLLAR OPTION

MVSP F4-1000 MAMBA Full Option Kit
Part Number SP 03 – Limited Edition of 300 Mamba Kits worldwide

The Full Option Kit includes:
Carbon Fiber front mudguard, Red/Clear painted
Titanium treated Red-tint windscreen
Carbon Fiber front fairing, Black/Clear painted
Black painted plastic right and left mirrors
Carbon Fiber right air duct
Carbon Fiber left air duct
Carbon Fiber right wire harness cover
Carbon Fiber left wire harness cover
Carbon Fiber ignition switch cover
Black painted plastic airbox
Carbon Fiber right side airbox panel
Carbon Fiber left side airbox panel
Black painted metal fuel tank
Red painted plastic right side fuel tank panel
Red painted plastic left side fuel tank panel
Carbon Fiber right side fairing panel, Black/Red/Clear painted
Carbon Fiber left side fairing panel, Black/Red/Clear painted
Carbon Fiber lower fairing, Clear-coated
Black "Alcantara" seat
Black "Alcantara" back pad
Carbon Fiber single seat tail fairing, Red/Clear painted
Carbon Fiber plate support
Carbon Fiber upper chain guard
Carbon Fiber lower chain guard
Carbon Fiber exhaust guard
Carbon Fiber right footrest guard
Carbon Fiber left footrest guard
Silver Marchesini ten-spoke forged aluminum front wheel rim
Silver Marchesini ten-spoke forged aluminum rear wheel rim
As you can see, the Full Mamba kit is really quite extensive! And there is no doubt that the Mamba kit adds a unique look to what is normally the classic sliver/red MV Agusta. I think it looks sharp, and adds a menacing look to an already superbly designed motorcycle. It is also shockingly expensive as a package. The good news for collectors is that sticker shock on used bikes is not really a worry.
This auction is on right now, and there has been a good number of interested bidders. The current bid was up to $9,000 (with reserve still in place) at the time of writing this piece, and the BIN is set for a very reasonable $12,999. The seller appears to be motivated, and the sharks can smell blood in the water. To get a glimpse of this ultra rare MV before it heads off to a new home, click the link and jump over to the auction. Good luck!!
MI