For Sale: 1986 Suzuki RG500 Gamma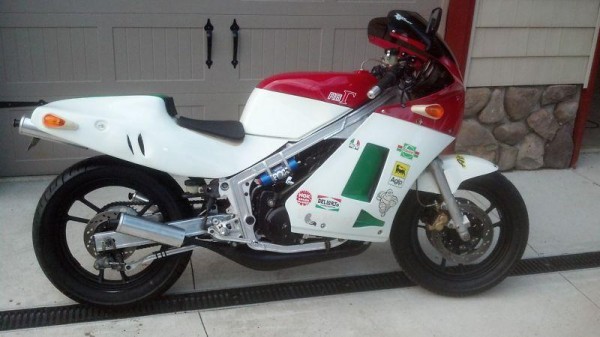 Hot on the heels of another rare and limited 1986 Suzuki (GSX-R 750R Limited) comes this RG500 Gamma. And just like the Gixxer, this one has been modified a bit by the current owner.
With non OEM plastics (Air Tech) and the solo tail this bike has a rather unique look about it. The tri-color paint is also interesting, adding an almost-Italian flair to the affair. The rest of the bike is a regular potpourri of who's who in the two-stroke world, including Lance Gamma (engine rebuild, carb parts, tranny parts), Tommy Crawford (pipes), Race Tech (suspension), Bob Truelson (carb work) and more.
From the seller:
THIS IS THE SUZUKI GAMMA YOU HAVE BEEN WAITING FOR . ONE OF THE FINEST EXAMPLES IN THE TRI-STATE AREA. THIS BIKE IS ORIGINALLY FROM CANADA AND HAS HAD BEEN TITLED AND REGISTERED IN NEW JERSEY. I HAVE OWNED THE BIKE SINCE 1997. THE MOTOR WAS REBUILT
BY LANCE GAMMA WITH ALL THE CORRECT OEM SUZUKI PARTS EVERY BEARING EVERY SEAL EVERYTHING . THE CARBURETORS WERE BORED OUT BY BOB TRUELSON AND HAVE THE UP DATED LANCE GAMMA BALL FLOAT VALVES , TRIPOD AIR FILTERS AND SUPPLEMENTAL PETCOCKS . THE TRANSMISSION HAS UPDATED GEARS ,LANCE GAMMA CLUTCH AND SPRINGS AND WERE UNDER CUT BY FAST BY GAST IN NEW YORK STATE . THE EXHAUST WAS CUSTOM MADE BY TOM CRAWFORD. THE FRAME IS STRAIGHT AND UNTOUCHED. SWING ARM IS POLISHED AND IS SUPPORTED BY A FOX SHOCK. THE FRONT FORKS HAVE RACE TECH EMULATORS THAT WERE DONE BY LANCE GAMMA AND IS HELD STEADY WITH A STEERING DAMPNER. FRONT AND BACK RIMS ARE ORIGINAL AND HAVE NEW BRAKE PADS FRONT AND BACK. FRONT TIRE IS METZLER ME33 LAZER AND BACK IS METZLER MEI MBS NEW O-RING CHAIN AND 40T SPROCKET. REAR CALIPER IS NOT STOCK AND IS MOUNTED UNDER THE SWING ARM. REAR MASTER IS ORIGINAL AND THE FRONT IS 5/8 BORE WHICH IS BIGGER THAN STOCK. BRAKE LINES ARE GOODRIDGE S/S. BIKE STOPS GREAT. FUEL TANK IS ORIGINAL. THE BODY WORK IS MADE BY AIR TECH INCLUDING THE RARE ONE PIECE TAIL SECTION . WIND SCREEN IS ZERO GRAVITY. THIS BIKE IS READY TO RIDE, HANDLES GREAT AND GOES LIKE CRAZY. I ALSO HAVE THE ORIGINAL PARTS, OWNERS MANUAL, MICROFICHE, SOME EXTRAS AND AN UPSIDE DOWN GSXR FRONT END THAT WAS MODIFIED BY LINDEMINN ENGINEERING TO MATCH THE RG500'S WEIGHT. SIMILAR BIKES HAVE SOLD FOR CLOSE TO $18.000.00 .
Here's the deal with a modified bike like this: It could be an outstanding example of all the mods working in harmony, or it could be a collection of parts waiting to suck you in with promises of high performance but in reality becomes a long slog of chasing down issues and re-modifying the modifications. I have no reason not to believe what the seller says above – that this is a crazy fast and well sorted machine – but my spidey sense always starts to tingle in this situation.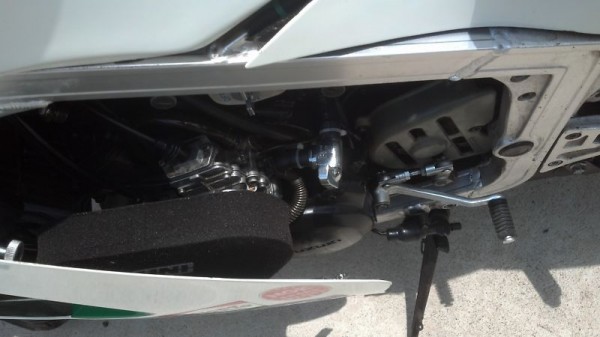 This modded and rodded Gamma is available right now via auction. Opening bid is set way up high at $10,600. This number is not out of the range for the bike, but such a high bid has likely scared off a lot of bidders. It doesn't help that the seller references an $18k number – which is something that I don't see this particular bike reaching (although I've been wrong before). For more info, a peek at pics of the stock parts included with the sale and more, click the link and jump over to the auction. Good luck!
MI