Location: Leicester, North Carolina Miles: 7,000     Price: Currently $5,590 with No Reserve
Well if that isn't every two-stroke lover's favorite collection of words to see together in a for sale ad, then I don't know what is! The RG500 is definitely my favorite of the big smokers, and for it to be a Walter Wolf edition is icing on the cake. Now, you take those two things and throw in the Lance Gamma designation and that's like having said freshly iced cake hand delivered by a supermodel. Sign me up!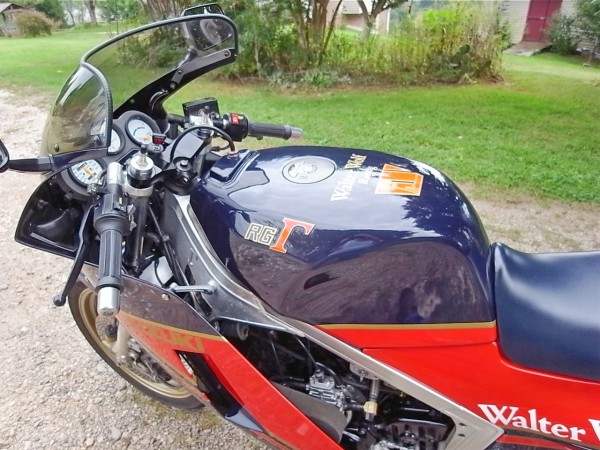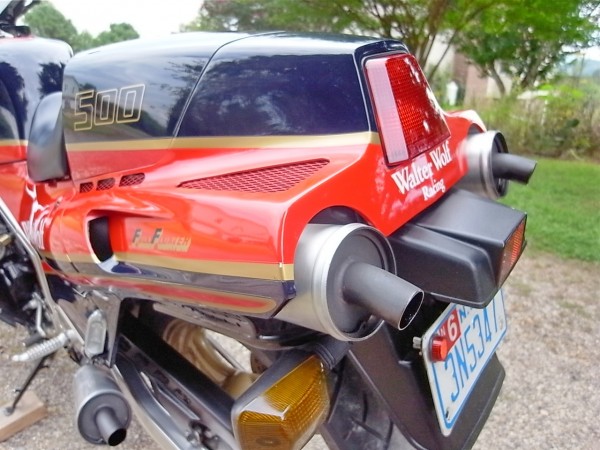 I could give you the run-down on an RG500 like I have done so many times over, but I will let the seller take this one because I don't think I have put it any better.
Some things are rare today because when consumers could buy one brand new, practically no one did, the marketplace having found them simply undesirable. Now they are hard to find because there were so few put into circulation. Such is not the case with this bike. Of all the 10,000+ RG500 Gammas Suzuki produced over a five year period in the mid '80's, none of them were unwanted. Perhaps undiscovered for a while but never unloved. The most coveted Gamma of all was to be the full power export model Walter Wolf RG500 Gamma of which only 100 were produced. These bikes were only exported toCanadawhere Mr. Wolf resides. No other venue (including theJapandomestic market) was to ever receive the real deal 95 hp Wolf. Canada WW's are distinguished by a dedicated series of VIN's beginning with the last three digits of 883 and ending with 982, this machine being #936. Other race replica export market RG500s would later appear but the only one that was factory sanctioned and manufactured by SuzukiJapanis this model you see here. Of the 100 production Canada WW's, a surprising number went toMexicowhere Walter Wolf was a big name in F1 auto racing circles. Perhaps as many as 30 of the new bikes were shipped there to very appreciative owners, never to be seen again north of the border. Today only a few dozen remain in recognizable condition and precious few are seen looking this nice. The Walter listed here was purchased new by a collector with ties to American Suzuki Motor Corp where the bike lived a pampered Southern California life until coming into my possession 5 years ago. Modifications include a fine set of Tommy Crawford pipes (these things are even more rare than the Wolf), Katana rims and Nissin calipers along with my Lance Gamma TriPod air filter kit and LG adjustable ride height strut. The bike performs really well and feels new from the saddle. The bike is titled here in the States and is easily transferred for street use. If you are disappointed that the bike is no longer in absolutely stock trim, I understand. I am sure that a nice original bike with 26 year old ABS plastic and untouched motor will be along any time now. Be patient and don't compromise your beliefs by considering such a well developed and highly functional RG in place of your dream machine. If however, you are wanting to discover for yourself what all the hoopla was about at the release of these bikes some 27 years ago (you remember, GP bikes for the street? What were they thinking??), this is one which will bring you up to speed, so to speak. It simply begs to be ridden. If you wish to discuss this bike in further detail or explore the options in my extensive Gamma inventory, please give me a call at 8287774076. I would be happy to put your mind at ease concerning such a frivolous purchase. Test rides happily accommodated to hearty souls willing to take the trek toWestern North Carolinaand visit my shop. And now for your viewing pleasure…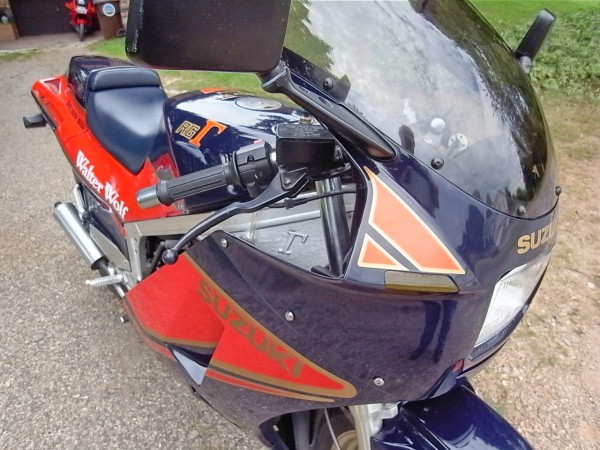 There you have it, another fine bike from the Lance Gamma shop. The last couple RG's from here have commanded some serious prices, as they are generally better put together than a stock example. This isn't a bone stock unit, but it is very well sorted by someone who knows what they are doing. Oh, and it has a title as well. Bidding is active already and No Reserve in sight. I will be following this one closely and you can do the same. Just go here to check this one out and place your bid.
-JS