Location: Leicester, North Carolina
Mileage: 30,000
Price: Auction, currently $10,000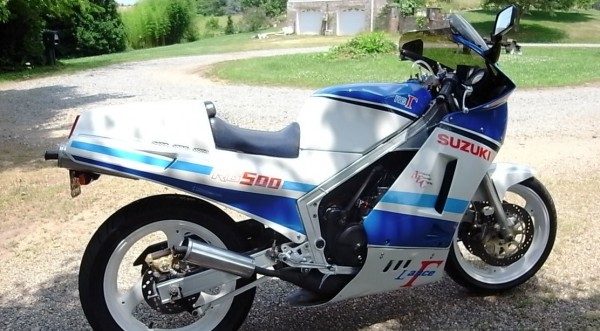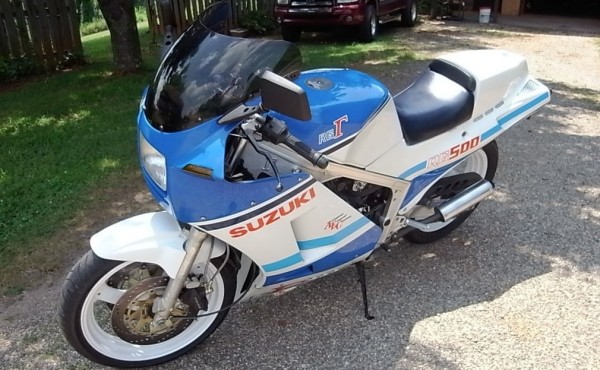 We see Suzuki RG500's on RSBFS from time to time and they command some significant attention. Never imported into the U.S., the Gamma was a potent two stroke 500cc bike and a rider's ticket to Grand Prix racing on the street. The two stroke motor offers an incredible combination of power and weight, and power that comes on like an earthquake wrapped in a tornado. Lance Gamma likes to build, tweak, and well, improve on an already insane formula. So while you may not get the pristine, all original, Gamma you've been waiting, and waiting and waiting for, you do get an awesome ride that will probably scare the hell out of you.
Here's the description-
I have always enjoyed a classic blue and white Gamma around the shop. These things came in several paint schemes along with many custom options performed afterward, but there's something about one in traditional Suzuki racing colors that just seems right. This RG is in excellent shape both mechanically and cosmetically with a complement of Lance Gamma goodies. The bodywork is all new with my premium fiberglass and paint/graphics applied. The motor is freshly rebuilt and performance tuned by the premiere RG specialist, Lance Gamma (hence the eBay handle). This motor is at factory second overbore and assembled with all correct and OEM stock Suzuki parts with ported cylinders, bored carbs and milled heads. You can expect to see my clutch kit, ride height strut, petcocks and Crawford pipes along with my LG TriPod filter kit and inline oil check valves. The Fox shock and 3.5″ rear wheel along with a 3″ front rim fitted with a set of Continental radial tires assure traction when needed. Upgraded brakes and Race Tech fork mods complete the chassis for a fine handling experience. If you are disappointed that the bike is no longer in absolutely stock trim, I understand. I am sure that a nice original bike with 26 year old ABS plastic and untouched motor will be along any time now. Be patient and don't compromise your beliefs by considering such a well developed and highly functional RG in place of your dream machine. If however, you are wanting to discover for yourself what all the hoopla was about at the release of these bikes some 27 years ago (you remember, GP bikes for the street? What were they thinking??), this is one which will bring you up to speed, so to speak. It simply begs to be ridden. If you wish to discuss this bike in further detail or explore the options in my extensive Gamma inventory, please give me a call. I would be happy to put your mind at ease concerning such a frivolous purchase. Test rides happily accommodated to hearty souls willing to take the trek to Western North Carolina and visit my shop. And now for your viewing pleasure…..
And photos for you to drool over-
Since this is a Lance Gamma bike, you will see that it's been gone through and rebuilt. The bodywork and paint is fresh, as described. So you should be getting a bike that runs well and looks good. Granted, it's not stock, but looks real good to me and the overhaul should hopefully provide you with a reliable bike that you can enjoy riding while scaring the hell out of other people.
Clearly this isn't a bike that's gonna be cheap. You are already starting at the $10k mark. So it's up to you to decide how much money it's worth to you. Whatever you decide, you should at least treat yourself and go give the auction a look!
-RN