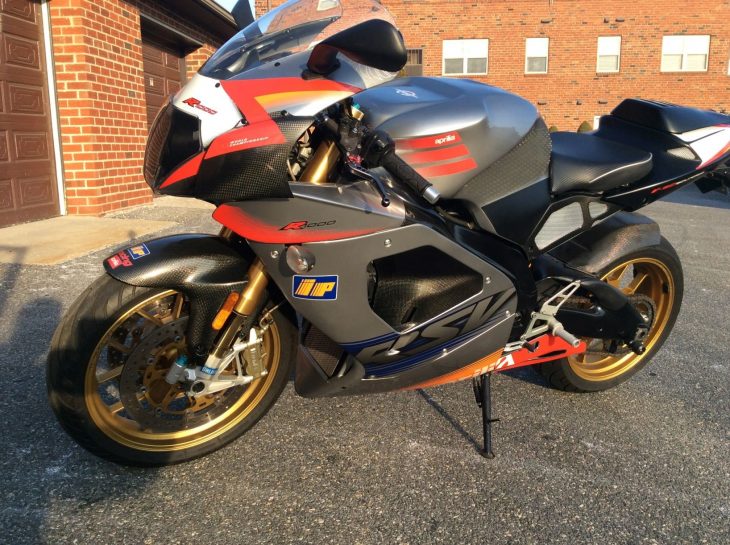 Thanks to a successful shopping trip on RSBFS, our buddy Marty has to let go of this beautiful 2003 Aprilia RSV Mille R. I think given his druthers, he'd hang on to both early-aughts Aprilias, but life is full of tough choices. The decision to let go of the big Mille must have been especially tough given that this one is a well-ridden but well-maintained example of Ohlins-sporting R model with a factory titanium exhaust.
In addition to the normal Mille's 1,000 cc, 115-horsepower v-twin, the Mille R had a lighter, shortened subframe, OZ Racing forged wheels, a carbon fiber front fender and the aforementioned Ohlins suspension. The results, predictably, were ludicrous speed backed up by prodigious grip and micron-perfect handling. Marty bought his bike three years ago from an Air Force aircraft mechanic, who was predictably fastidious about its care. As the pictures show, its condition belies its 17,000 miles.
With a recent and thorough going-over, this beast is ready to make someone's fall riding season perfect.
From the seller:
Up for sale here is a classic version of pure Italian rolling artwork. A beautiful 2003 Aprilia RSV Mille R. Approx 17500 miles on the 60 degree V twin but you would never guess it as it has been extremely well cared for. I purchased the bike a few years ago after much research and a two year hunt with the intent of putting it on the track. And even though RoadCarver mag called it" one of the very best production bikes you can ride on a track" , I just could not bring myself to thrash it around NJMP. It had survived it such a state that it was meant to be enjoyed in other ways. The bike is a joy to ride, does not stretch you out in the riding position, and turns heads everywhere you go. And did I mention the sound. I ride mostly on the track and this is up for sale to pay for my addiction and recent new addition to my collection.
This was an almost 20000$ bike in 03 and the list of state of the art racing components Aprilia had to offer reads well.
A few highlights
60 degree Rotax Bulletproff V twin
Alloy twin spar frame
43 mm Ohlins inverted tele. Forks
Ohlins monoshock and steering damper
Forged Aluminum OZ racing wheels
Close ratio 6 speed gearbox
Twin 320 fronts with Brembo 4 piston radial calipers
Carbon fiber everywhere
Bike has been garage kept and routinely gets frequent neighborhood rides all year long. Starts right up and pulls like a freight train.
New battery earlier this year. Bike was sorted by Markbilt racebikes in NJ when I got it. Ohlins serviced, brake lines flushed and refreshed, clutch adjusted, new fuel pump.
Has factory Aprilia racing exhaust(stock included in sale), and a carbon fiber Sargent seat. Also have a complete set of factory decals.
Clear title.

$8500.
Contact Marty at 267-530-2818.

Do your research. This is a up and coming collectors item. Great to ride. Even better to stare at. And did I mention that sound! Thanks for looking.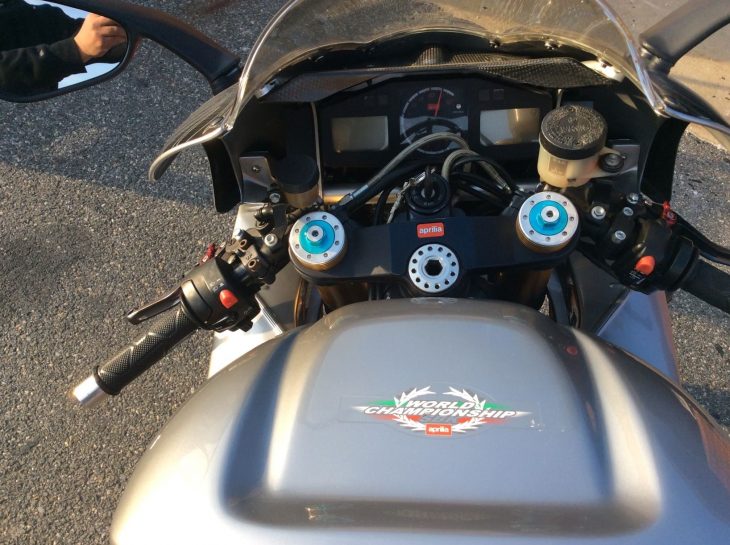 At $8,500, it's hard to go wrong with such a well-maintained and beautiful machine. It may not say Ducati on the side, but it'll run with the Bolognese bruisers all day, and just try getting a special-edition Duc for that.