An MV Agusta F4 Senna 750 is enough by itself to justify a modifier like "legendary," but this one carries around a couple extra big names to back it up. Not only does it bear the name of The Man Himself, the bike wears 10-time GP World Champion Giacomo Agostini's signature and was first owned by NHL legend Sergei Fedorov.
If you're not a fan of the Detroit Red Wings, or you don't remember the early 1990s, Fedorov's name likely doesn't mean much to you. But the dude won three Stanley Cups with the 'Wings, after a gutsy defection to the United States after an international game. Look him up.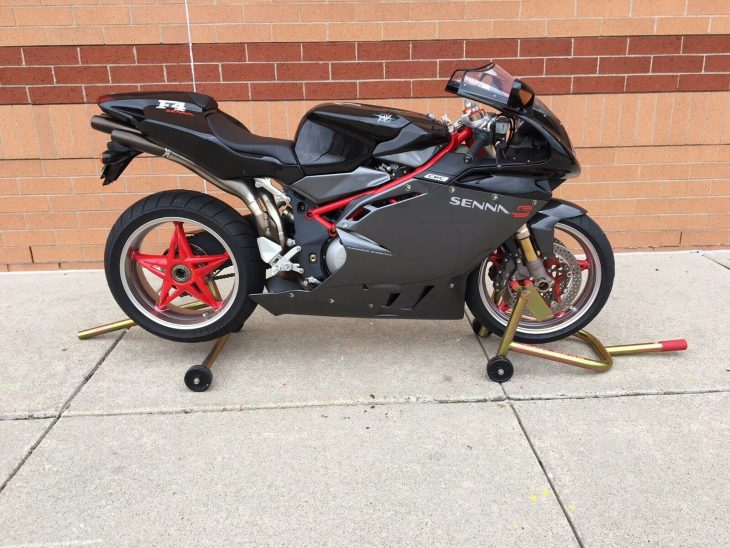 Setting aside the signatures and ownership of famous men, the 2002 MV Agusta Senna 750 is a force to be reckoned with. The 750cc inline four was designed with the help of Ferrari, and in the Senna managed about 140 horsepower. They're serious machines, but there are a raft of cheaper bikes that went faster. The Senna is one you buy, because, well, look at it.
This is number 192 of a worldwide production run of 300, and it looks to be in very good shape, commensurate with its scant 3,500 miles. The pictures don't tell us much, and the description doesn't go into huge detail either.
From the eBay listing:
Extremely rare and beautiful. Part of a small collection of bikes purchased new by NHL Hall of Famer Sergei Fedorov. Bike has been personally signed by legendary MV Agusta rider/ champion Giacomo Agostini! This bike is number 192 of 300 built for worldwide production. MV reported that only 50 of these bikes were imported to North America. Inline 4 cylinder engine designed with cooperation from Ferrari produces 136hp at 13900 rpms. 0 – 60mph in 2.9 seconds. Quarter mile in 10.7 at 136mph. Lightweight and extremely fast. These bikes are legendary not only for performance and handling but for design and collectability!

This bike is in excellent cosmetic, running and riding condition at 3500 miles. The sale includes original owner's manual, spare key, spark plug tool, and factory red rear wheel bike stand.

This bike is currently for sale locally as well.
With a starting bid of ten grand, and no word on the reserve, we'll be interested to see where this one will go. Will the whiff of fame and provenance drive the value above similar bikes? Let us know what you think in the comments!