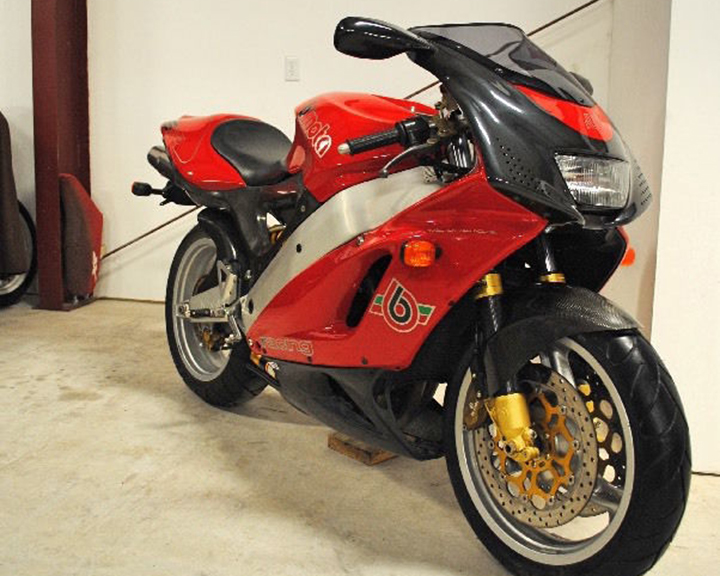 Although it's nearly twenty years old now, it's likely very few people would realize that this Bimota SB6R is anything other than a modern motorcycle: while many 90s designs have quickly become very awkward or dated at the very least, it's clear Bimota knew what they were doing when they styled this thing.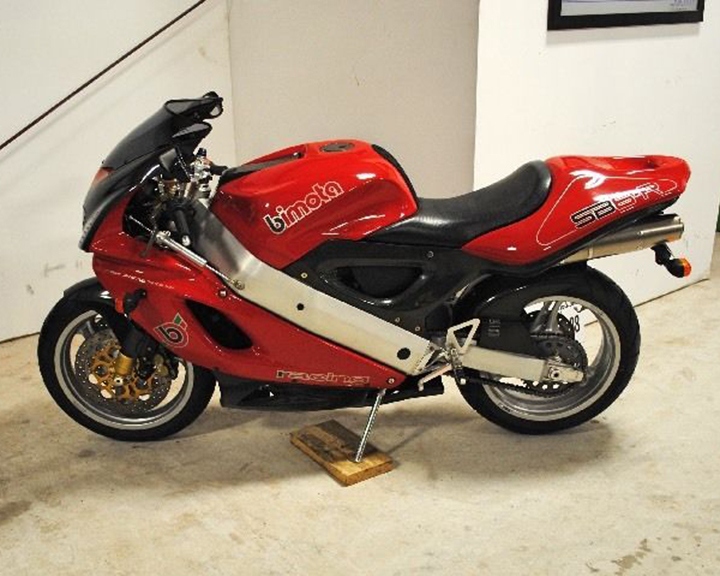 With Italian looks and the heart of a Japanese superbike, the SB6R epitomizes Bimota's philosophy. Instead of reinventing the wheel, they used dead reliable powerplants from major manufacturers and wrapped them in lightweight bodywork and decked out the resulting motorcycles with the best suspension money could buy, creating bikes that were lighter than the donor bikes and generally easy to source parts for, if not exactly easy to work on.
The SB6 was powered by Suzuki's GSX-R1100, so it wasn't exactly difficult to build something ligher. Weighing in at 90lbs less than the Gixxer with a genuine 150hp the bike was a fierce performer then and now. The SB6R featured a fully adjustable Öhlins shock, huge Paioli forks, and a self-supporting carbon-fibre seat unit. Although the bike was a pretty big seller for Bimota, just 600 of the R models were made during their production run.
From the original eBay listing: 1998 Bimota SB6R for Sale
This 1998 Bimota BS6R was Bimota's most popular bike and is a fine example of a rare Japanese / Italian hybrid. The BS6R (upgraded BS6) features brutal power from a Japanese engine with the style of a a fine Italian chassis. As is typical with most Italian motorcycles, they cost 2x more than their Japanese counterparts…back in 1997, this Bimota would cost you $35,000 new. To help justify some of the price difference, unlike many Japanese sportbikes – the BS6R comes loaded with some of the best components available at the time – Paoli suspension, Brembo brakes, Marchesini wheels and more.

This Bimota SB6R has been well loved, rarely ridden and stored inside its entire life. A rare find indeed, with low mileage and pristine condition.

Features of this 1998 Bimota SB6R

– Frame & Engine Numbers Matching: ZESSB6009WR000010
– Only 2,505 Original Miles
– Original Red Paint and Bimota Badges & Decals
– Carbon Fiber Fairing Inserts and Wheel Covers (Front & Rear)
– 5-Speed Transmission with Chain Drive
– Electric Start with White Gauge Cluster (tachometer & speedometer)
– Liquid Cooled 1,074cc Engine
– Four Stroke, Transverse Four Cylinder w/DOHC (4 valves per cylinder)
– Paoli suspension, Brembo brakes, Marchesini wheels
– *156 bHP with 174 Top Speed (per Bimota)
– *29.7 Seat Height and 419 lbs Dry Weight (per Bimota)

All lights and electronics work perfectly. There are blinkers and a mirrors installed so it will easily pass vehicle inspection in Texas.
As you can see in the close up pictures, some of the carbon is slightly faded, although that seems nearly impossible to avoid on a bike of this age… And a bit of elbow grease or some new clearcoat might take care of that. The auction is currently sitting at $9,000 with one bid and plenty of time left on the auction.
That's certainly not chump change but nine large seems like a pretty small price to pay for a piece of Italian exotica. Performance certainly won't be as eyeball-flattening as a modern literbike, but the performance on tap should be enough to keep things interesting for all but the fastest or most jaded riders… And if you're feeling the urge and aren't too worried about originality, the aftermarket makes plenty of go-fast bits for the venerable Gixxer motor that should give you all the power you can handle, confident that the chassis will deal with anything you throw at it.
-tad