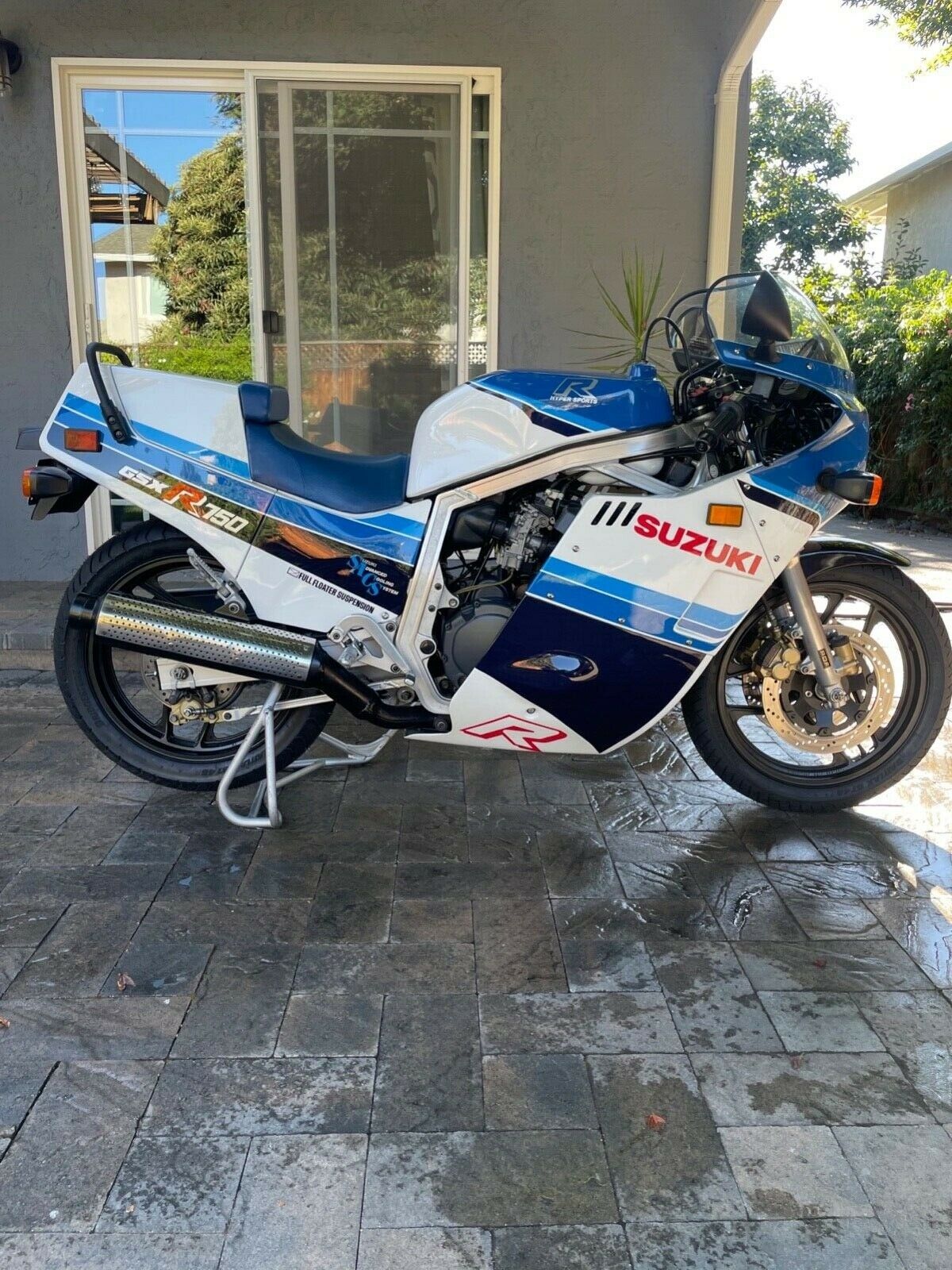 $15,550 is the BIN price for what cost right at $4,500 36 years ago . . . ?
Not the best ROI, but not too shabby for a Japanese sport bike either!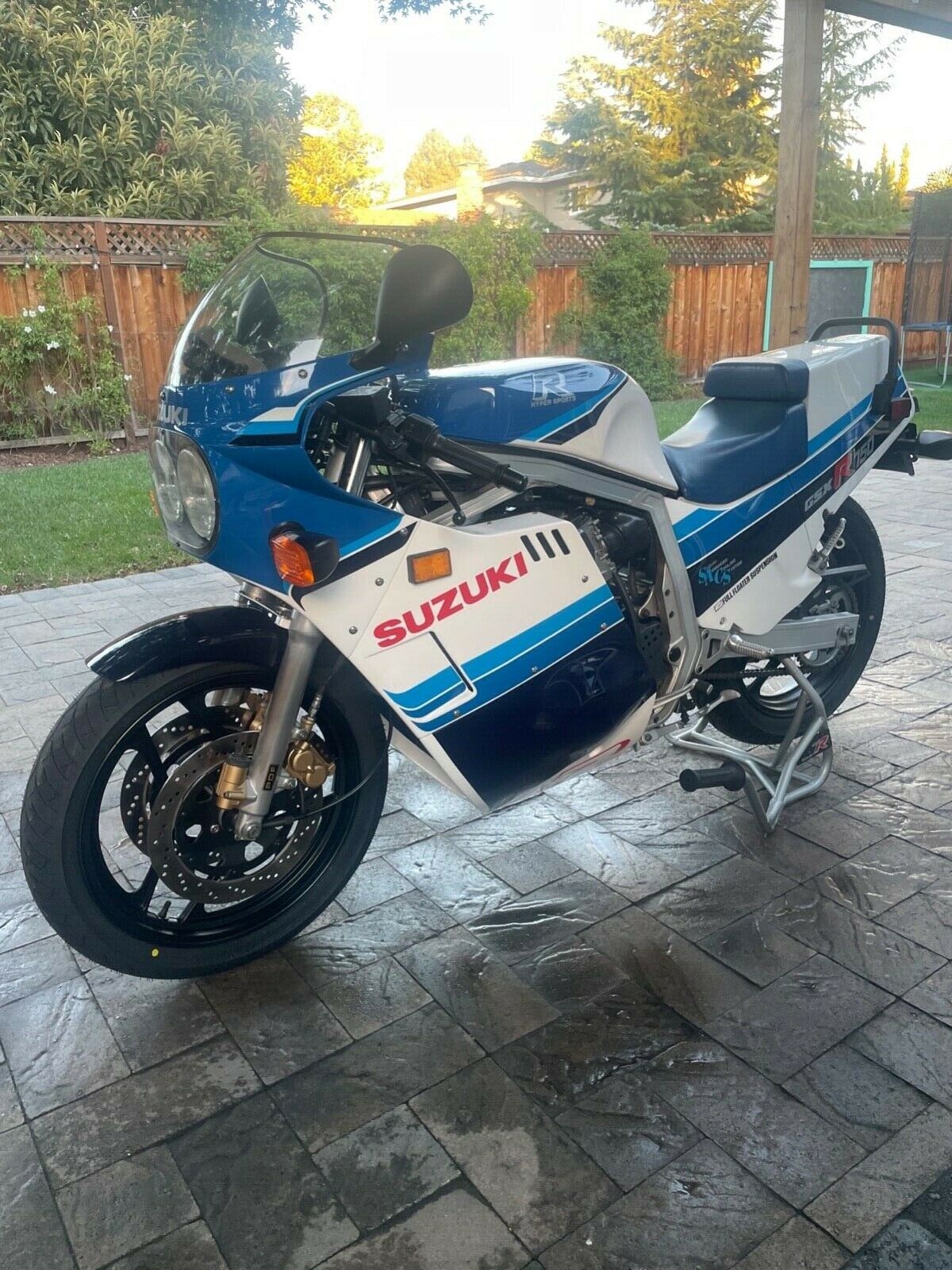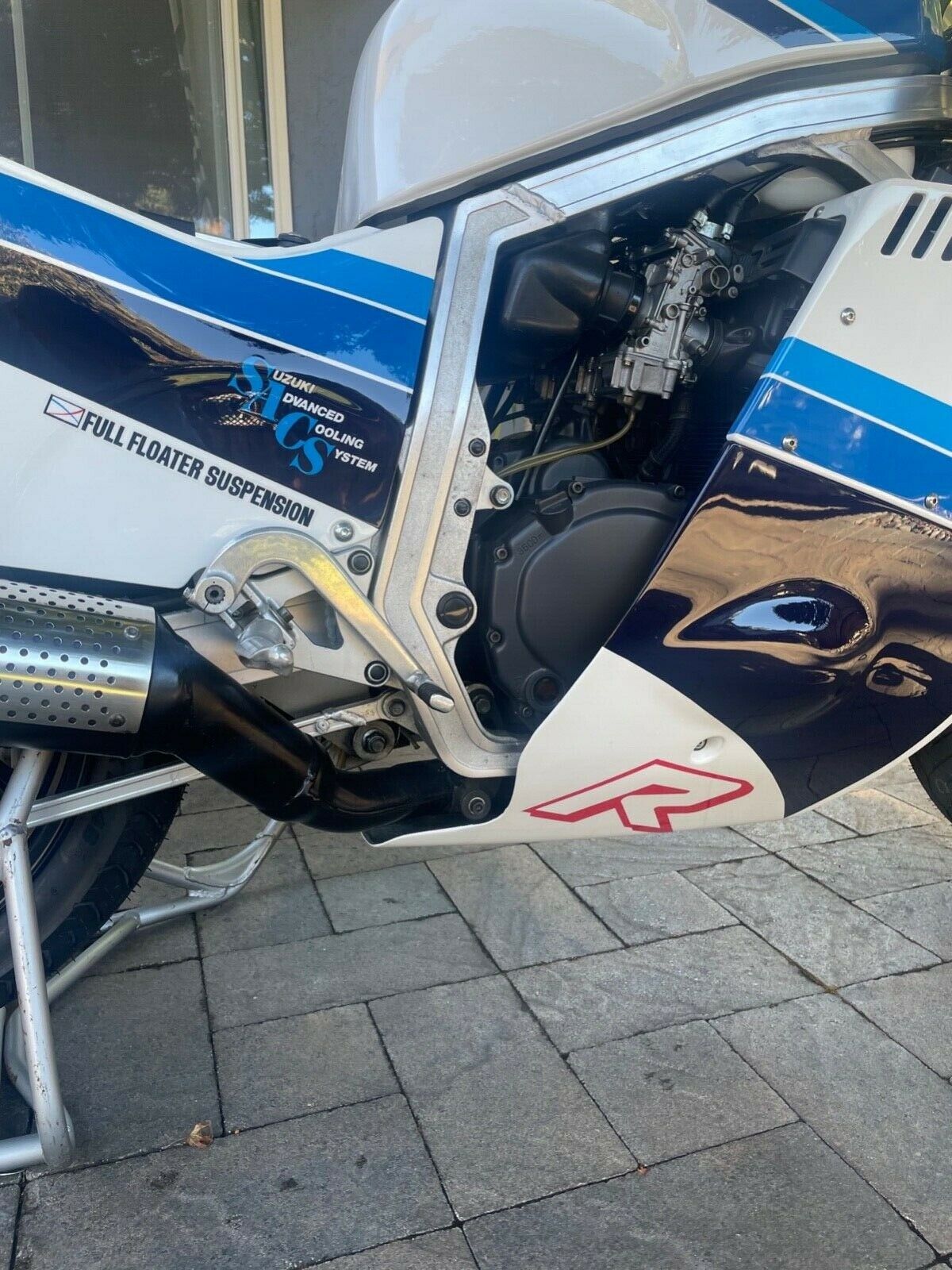 Well, what do you think? It looks pretty amazing in my humble opinion. I think the biggest surprise to me is it's survived 36 years without being modified.
From the seller:
Here is a first year GSX-R 750. The bike that started it all 36 years ago. It was imported a few years ago from Canada. 100% bone stock. All bodywork is original. No cracks. No hairline cracks. No scratches. Original windscreen/turn signals/air box/exhaust/flatslide carburetors. Come with the original rear seat/toolkit/owner's manual. It had a repaint a few years ago with RDdecals. Bike runs/idles/shifts great. No leaks. No smoke. All electrical works as it should. New tires. New starter. Fresh motul oil. Suzuki oil filter. NKG spark plugs. New stock air filter. New float needle valve assembly. Carbs gone through/cleaned and adjusted. 25,092 km 15,591 miles

These bikes are hard to come by and only increasing in value. Comes with a clean California title. Currently registered. I have additional photos. I also have a video of the bike running. The pictures do it no justice. A beautiful bike in person. An awesome bike to rip on or stored in a collection.
Traditionally, I think folks frown on sport bikes being re-sprayed, but just like in the collector car world, the older a machine is the more receptive we'll have to become to re-sprays. I've spent the better part of my morning viewing photos of this machine side-by-side with official Suzuki photos and I can't see a difference. I know RDDecals.com does a great job, but being completely transparent- I've never compared photo's of their work side by side with intent. *From the photos- the decals look perfect to me. I don't dare comment on the respray colors/tints/shades because I know every computer monitor is different.
Based on the sellers description and how well this one looks in the photos, I'm thinking this one might be one for the showroom, but I also think this one would fit right in at your local bike night or weekend show. Wouldn't it be a hoot to ride this 100hp, flat-slide carbed, 18″ wheeled antique side by side with a modern day 150hp, FI, 17″ hooped machine? 🙂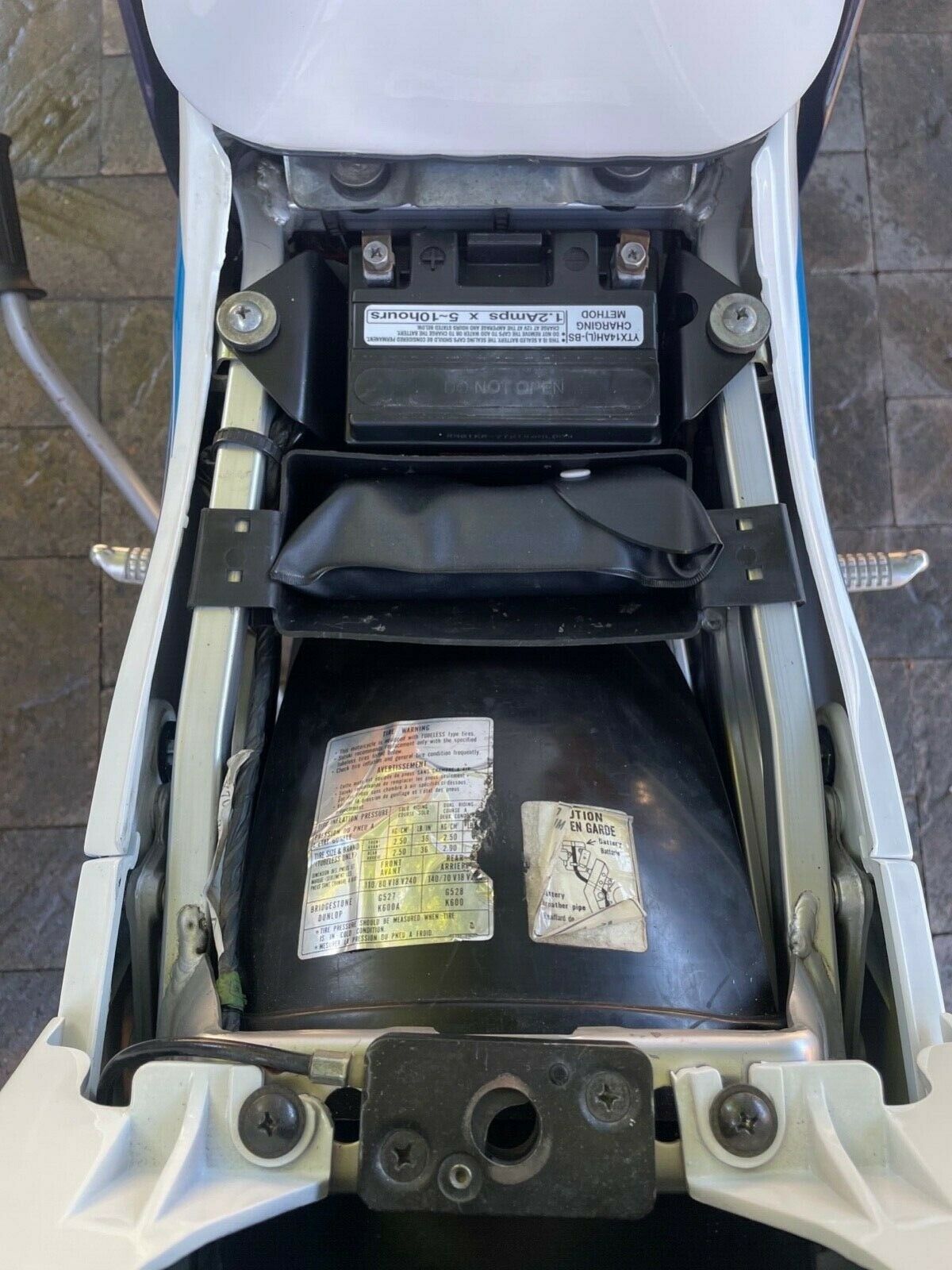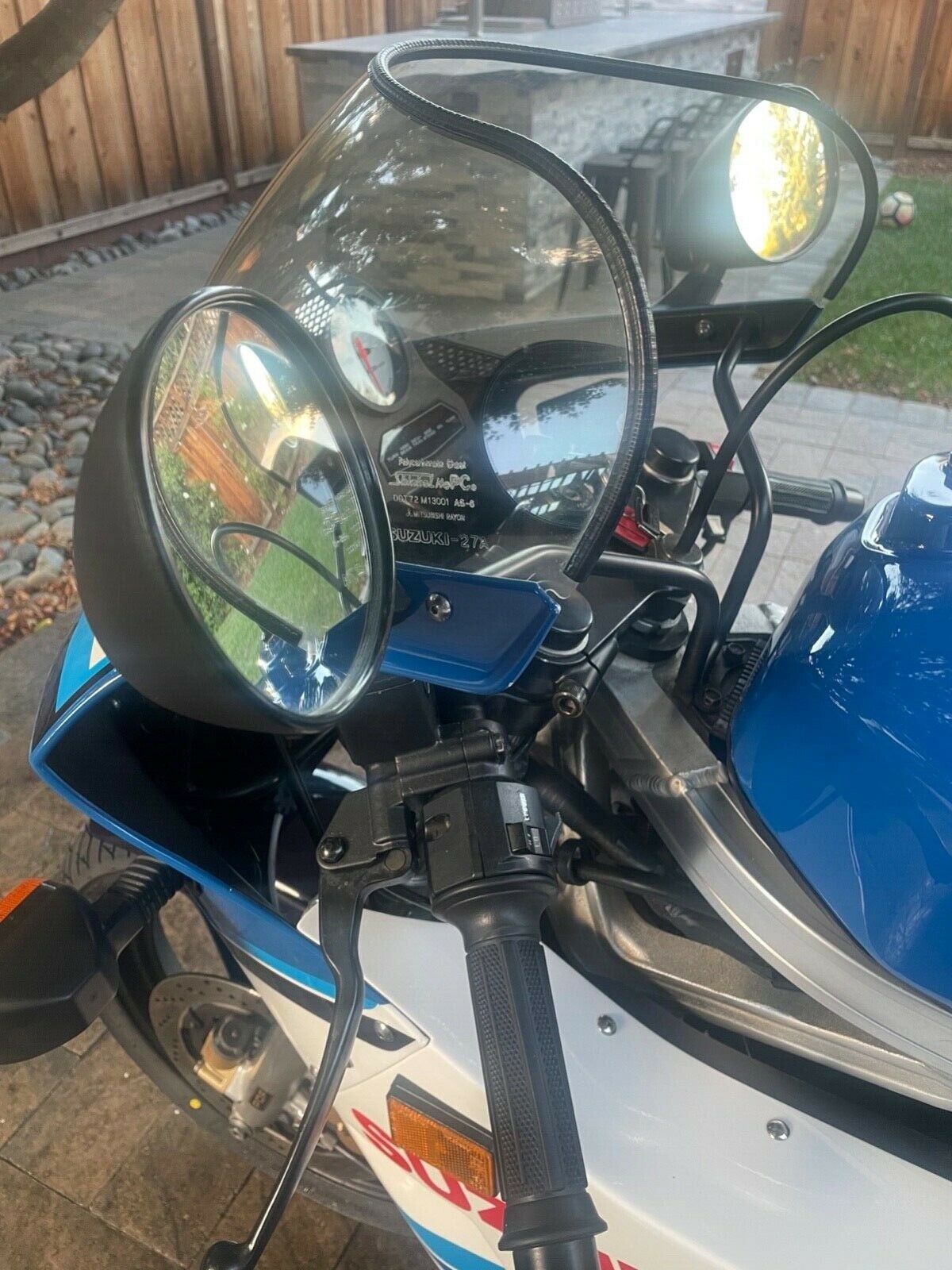 The seller has supplied many hi-res photos and even offers a video should you want to make contact and request it. They've listed their phone number over on the auction site. You can make contact here-. I watched the video and I will say it made me smile hearing it come to life.
Cheers!
dd