There is no doubt that the Suzuki GSX-R 750 is one of the all time "bad boy" bikes of the sport bike world. RSBFS readers seem to love these slab-sided retro rockets, and we have seen a wide spectrum of machines offered on these very pages. From low mileage museum queens to higher mileage survivors, it seems our readers love them all. Today's bike is somewhat different, as it has gone through what is claimed as a complete nut and bolt restoration. While this was clearly a labor of love, it is uncertain if this was a prudent financial move. Gen I GSX-R models – while coveted in a nostalgic sort of way – are not exactly fast risers on the monetary appreciation scale. The seller notes that he is unlikely to recoup the investment made. But he is giving it a good try by pricing this example at $15,000 – which would be a record for a non LE model GSX-R.
From the seller:
I have spent the last year restoring this bike from the ground up and spared no expense! Every part on this bike has been cleaned and refurbished or replaced with OEM direct parts! I have every Suzuki label from the parts put on to prove it along with all of the parts and maintenance receipts. Direct OEM new and NOS parts are VERY expensive for these bikes. I have over $12k invested in parts alone.
There is a lot more text and pictures if you make the jump over the auction. The seller does list what has been done to the bike in excruciating detail. I would think that a restoration to that level would bring everything back to stock – and for the most part it has. Many original OEM parts are included in the sale, so be sure to go through the listing carefully. Is this worth it to you? Is it "better than new," or would you rather have a true survivor? Check it out here, and then let us know your thoughts. Good Luck!!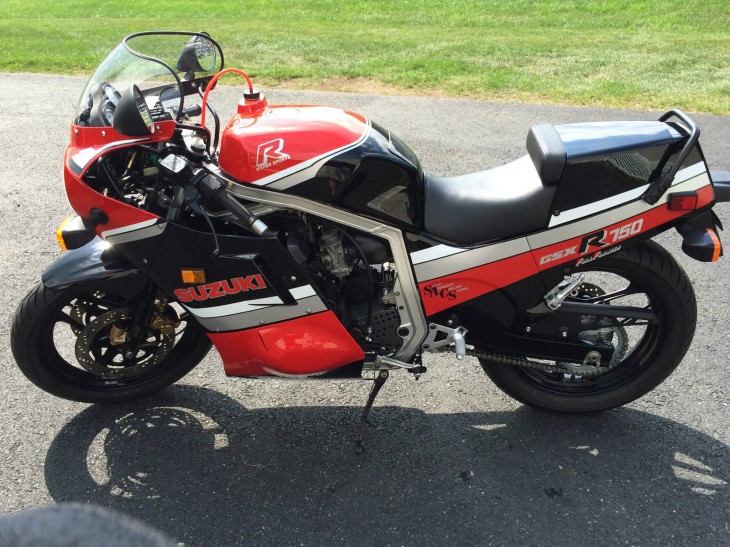 MI